Very Important:

Rains and Flooding Across Peru

The Government of Peru continues to assess the effects from unseasonably heavy inland rains and associated flooding along the coastal areas of Peru. Rains are expected to continue for few more weeks. The most widespread, severe effects are in the northwest of the country, in the regions of Tumbes, Piura, Lambayeque, and La Libertad.

More concentrated incidents of flooding, mudslides, and inundated roads and bridges have occurred around Lima and the Ica Region. Some roads in the central highlands, especially in the regions of Ancash and Junin, have experienced travel delays and disruptions. Areas in the south of the country around Cusco and Arequipa have been affected less severely by the rains than areas farther north. Our Tours and treks in Cusco have not been affected at all, the trains are running as normal, tours visiting sites and we don´t have delays neither cancelations of our trips.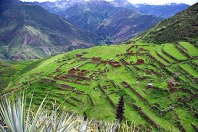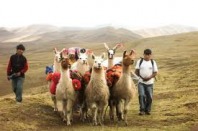 Price Information
US$ 190.00 p/person
(Based on Double / Triple accommodation)
Please Note
Daily Departures.
2 - person US$ 190.00 each.
3 -6 person US$ 160.00 each
Huchuy Qosqo Trail 1 Day Trek (Daily Departures)
Last Minute Information
DAILY DEPARTURES !!!

You must book and pay a deposit well in advance. For high season (May to October, 5-4 months in advance.) Low season (November to April, 3-1 month in advance.)

COUPLES or GROUPS BOOKING:

Choose on the Calendar the date of your preference, fill out with your personal details, then below fill out details of your group in

Traveling with:

once you have finalized you will receive an email with a Reservation Code (Purchase number) to pay a booking deposit with.
Huchuy Qosqo The Little Cusco is an archeological site north of Cuzco, Peru it was originally an administrative and military center as Pisaq, with many constructions around, Inca buildings with perfect fine stones work, graneries structures called Collcas to store and preserve food, because it was an important agricultural center to produce corn. Its name is Quechua for Little Cusco It lies at an elevation of 3650 meters (11,800 feet), above the 3000-meter high town of Lamay and the Sacred Valley. The site received its name in the 20th century previously it had been known as Kakya Qawani. Pedro de Cieza de León, in his Second Chronicle of Peru, claimed that the palaces were built by Viracocha, the Eighth Inca. Amongst a large number of buildings, some stone, some adobe, is a kallanka (great hall), 40m long. Providing water to the site is an Inca built irrigation channel, lined with stones for about 800m. The site is inaccessible by public road.
Program Itinerary
What is Included:
Collection from your hotels at 05.30 -05:45 am

Transfer in private vehicle to Patabamba (starting point of the trek)

Experienced english speaking guide

Meal: 1 packed lunch and drinks,

First-aid kit

transport from Lamay to Cusco in private transport
What is not Included:
We recommend that you bring:
A daypack with a change of clothes for the whole period of the trek

Rain jacket or poncho (plastic ponchos can be purchased in Cusco)

Strong footwear, ideally trekking or sport shoes

Snacks: biscuits, energy bars, chocolate, fruits,

Camera, film and batteries (batteries consume more quickly under cold conditions)

Hat to protect you from the sun, rain and cold

Insect repellent, minimum recommended 20% DEET

Sun bloc.
Booking Information
Choose your preferred date on the Calendar

(Leaving Dates)

fill out with all the requested details, you can book for 2 or more person just complete details on

traveling with:

soon you will receive a reservation code (Purchase Number)

HOW TO PAY A DEPOSIT.-

1.- TRANSFERRING BY WESTERN UNION.- Pay a booking deposit of US$ 100.00 per person (or the total cost of the tour) through Western Union to Mr Juan Carlos VALER SANGA (Peru)

2.- ONLINE DEPOSIT WITH VISA OR MC .- with 5% extra $105 pp

3.- Pay with Paypal with 6% extra USD$ 106 pp

* After you complete your payment please send us a copy of it by email.

Final Balance of your tour must be paid at your arrival to Cusco in our office is US$ cash.