Very Important:

Rains and Flooding Across Peru

The Government of Peru continues to assess the effects from unseasonably heavy inland rains and associated flooding along the coastal areas of Peru. Rains are expected to continue for few more weeks. The most widespread, severe effects are in the northwest of the country, in the regions of Tumbes, Piura, Lambayeque, and La Libertad.

More concentrated incidents of flooding, mudslides, and inundated roads and bridges have occurred around Lima and the Ica Region. Some roads in the central highlands, especially in the regions of Ancash and Junin, have experienced travel delays and disruptions. Areas in the south of the country around Cusco and Arequipa have been affected less severely by the rains than areas farther north. Our Tours and treks in Cusco have not been affected at all, the trains are running as normal, tours visiting sites and we don´t have delays neither cancelations of our trips.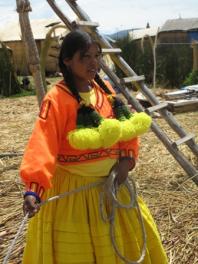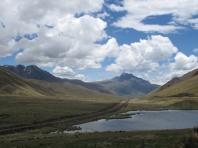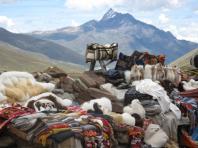 Price Information
US$ 240.00 p/person
(Based on Double / Triple accommodation)
Please Note
Price per person based on double occupancy.
Single supplement is $ 70.00 to cover single room for 2 nights
Overview
The lifestyle of the Aymara is one where men, women and children live without the superficial trappings of western civilisation. Working in unison with the land, lake, family and neighbors. Here, to be lazy is a sin. People will constantly be working their fields, women attending to daily chores and dressed in the most beautiful traditional garments, the men will be walking the trails drop spinning or knitting intricate patterns into their world famous woven garments. Each tells a story and you will be fascinated by each while you eat probably the best trout you have ever tasted on Taquile Island before returning to Puno!
Is it for me?
We would suggest you don´t need to backtrack to Cusco unless you have further tours departing from there or a flight.
If you have not already organised flight from Cusco to Lima then you can fly from Juliaca (Puno) to Lima without backtracking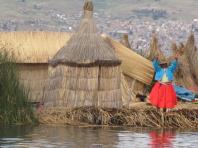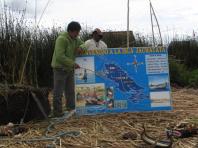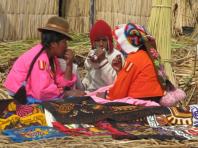 Transport
Tour Bus transport to Puno with English speaking guide, motor boat for Islands tours
Recommended Hotels
If you are heading to Cusco we highly recommend Marqueses Boutique Hotel in Cusco, it is a beautiful and charming Colonial house built at the end of XVI century that has recently been restored and refurbished, located just one block from Cusco`s mayor Plaza. This great location is part of its popularity, close to all of the most important tourist attractions in the famous capital of Inca`s Empire. Well known for its incomparable hospitality and professional service. We can reserve the hotel and transfers you from the airport on your arrival and back on your return, you will enjoy a safe visit, wonderful attention and be pleasantly surprised by the warmth of the Andean Hospitality.

Due to the safe and strategic location you are within easy walking distance of the many historical places, museums, restaurants, cultural, artistic and traditional places of the Imperial Inca City.

SAS Travel Tour Operator & Agency offices are located alongside Hotel Marqueses so we at SAS Travel can assist you at any time.
http://www.hotelmarqueses.com/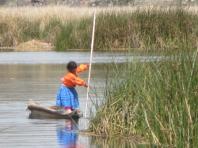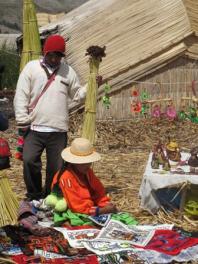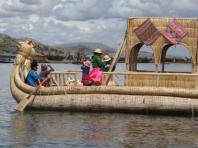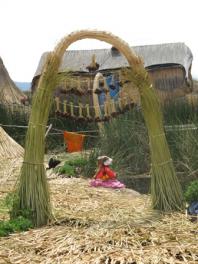 Titicaca Lake Islands Puno 3 Days / 2 Night from Cusco (end in Puno)
Last Minute Information
DAILY DEPARTURES !!!

This tour is for those who only have enough time for a one day tour on the floating islands.

How to Book

SEE

BOOK HERE:

Choose your preferred Departure Date(Leaving Date) at the Calendar (left side) Fill in your details and group as requested and Pay a deposit on Step 3. Or follow instructions below in

Booking Information.
Program Itinerary
What is Included:
-Transfer at 07:00 am from your Hotel in Cusco to Bus Terminal.

-Guided tour enroute to Raqchi, Andahuaylillas, Pucara.

-Buffet Lunch in Sicuani,

-Reception and transfer to Hotel Qalasaya in Puno.

-2 night at Hotel Qalasaya (4 stars hotel at centre of Puno)

(Double or Triple Private accommodation, Buffet Breakfast)

- Touristic shared boat transport.

- Entries fees to the Islands.

- Tour guide in English, guided tours at the islands.

- Meals 2 Lunch 2 Breakfasts
What is not Included:
Entrance to 3 tour sites on Inka Express journey to Puno sites are totally optional to visit (Andahuailillas 15soles + Racchi 15 soles + Museo Pukara 10 soles = total 40.00 soles approx. US$15.00)

-Dinner on Day 1 and Day 2 in Puno.

-Snacks.

-Drinks or water not included with meals.

-Tips for your guide and boat driver, are not mandatory.
Additional options:
We recommend that you bring:
Warm clothing, sun screen/hat, water for the boat, money for snacks, bottled water, souvenirs.
Recommendations
To avoid backtracking from Cusco to Puno and then back to Cusco.

This package can be organised if you have a flight from Lima to Juliaca (Puno) Airport ( which is 45 minutes drive from Puno) we can organise to pick you up from the Juliaca Airport and package from there.

See Titicaca Lake Islands Puno 4 Day Tour starting from Juliaca Airport.
Please note
If you are not doing any other tour with SAs travel then… we need a scan or photo of your passport photo page plus Tam after you arrive through immigrations in Lima. The reason is that the Tam is only given to you as you are processed by immigration on arrival and the TAM is the white piece of paper that they put in your passport that you need to show frequently in Peru whenever you are checking in at hotels etc. We need the photo or scan to be of the photo page of your passport and on the other side the Tam slip. It is very important otherwise there are extra taxes that the Govt will charge. Could you let us know when exactly you are arriving to cusco from Lima and where you are staying in Cusco?
Frequently Asked Questions
Booking Information
Select the month and date and click on the Calendar the Departure Date (Leaving Date) of your preference. Then fill out with your personal details and details of your group. (If you are travelling as a couple, or with more persons you must book and pay with one reservation Code.) But please complete details of your companion on lines below:

Travelling with:

(write Full names, Passport number, Age and Nationality). Once you finish sending us all your details you will receive a Reservation Code (eg: 240611001). Then you just need to pay your deposit online on Step 3 (pay for 2 or more person in your group with ONE reservation code, so we can guarantee all your permits, tickets for Machupicchu, train tickets and tour all together in a group.)

BOOKING DEPOSIT REQUIRED.-

USD$ 200 per person.

1.- Pay on Step 3 a booking deposit ONLINE with VISA or Mastercard.- US$ 210 per person. (US$ 200+5% card fee). Payments by credit card will carry a surcharge of 5%.

2.- Pay on Step 3 a booking deposit with Paypal.- US$ 212 per person. (US$ 200+6% card fee. Payments by Paypal will carry a surcharge of 6%.

3.- Pay a Booking Deposit with WESTERN UNION: US$ 200 per person through in order to Mr: Irwin POMA-FLORES (Peru). Upon transferring the money email us the Money Transfer Number (MTCN) copy of your reservation and amount paid to: [email protected] and [email protected] OR pay into our Australia Bank (ask for details via email).
FINAL PAYMENT:

We require a full payment of your tour transferring 1 month before OR pay in our office in Cusco 5-3 days before of your departure date in USD$ cash.
Terms & Conditions
SAS TRAVEL TERMS & CONDITIONS OF THE LAKE TITICACA TOUR PACKAGE.

1. You must pay for your tour in full 1 month before your departure.

2. Cost of tour is based on double occupancy Single supplement is $ 70.00

3. Please Note: If you are not arriving to Cusco before doing this tour and not doing any other tours with us, you must send us a copy of your passport and the TAM immigration slip you receive when you pass immigration on arrival to Peru.

4. Please note that if you do not request a return to Cusco or extension transport on to Bolivia, the tour ends after Breakfast on the morning of the 3rd day.

5. Change of dates up to 5 days before departure is possible if there is availablity in the bus and accomodation for an alternative date but if this change is requested less than 4 days before the tour an administration charge of $10 per person would need to be paid.

6. Cancelation of tour before bookings and tickets finalised incurrs only 10% fee in high season this is generally before 1 month in advance of departure.

Cancelation of tour within 1 month to 7 days before departure incurs a loss of 30% of total tour cost

Cancelation of tour within 7 days - 2 days before departure incurs a loss of 60% of total tour cost,

Cancelation of tour within 1 day of departure incurs a loss of 90% of total tour cost, but you are provided with discounted accomodation in Cusco at Hotel Marqueses to assist as we assume cancelation at this stage is due to illness.

7. In the case of Cancelation you are provided with a document to certify illness and present for your travel insurance claim.