Very Important:

Rains and Flooding Across Peru

The Government of Peru continues to assess the effects from unseasonably heavy inland rains and associated flooding along the coastal areas of Peru. Rains are expected to continue for few more weeks. The most widespread, severe effects are in the northwest of the country, in the regions of Tumbes, Piura, Lambayeque, and La Libertad.

More concentrated incidents of flooding, mudslides, and inundated roads and bridges have occurred around Lima and the Ica Region. Some roads in the central highlands, especially in the regions of Ancash and Junin, have experienced travel delays and disruptions. Areas in the south of the country around Cusco and Arequipa have been affected less severely by the rains than areas farther north. Our Tours and treks in Cusco have not been affected at all, the trains are running as normal, tours visiting sites and we don´t have delays neither cancelations of our trips.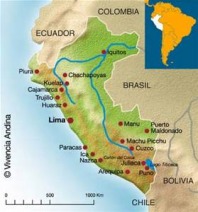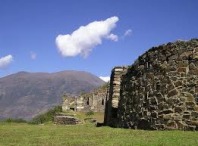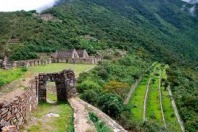 Price Information
US$ 540.00 p/person
(Based on Double / Triple accommodation)
Please Note
DAILY DEPARTURES:
Upon your requested leaving date:
SEE AVAILABILITY page:
2 person US$ 795.00 p/person
3-4 person US$ 680.00 p/person
5-6 person US$ 540.00 p/person
7-9 person US$ 510.00 p/person
Cost of tour will be according with the number of trekkers in the group.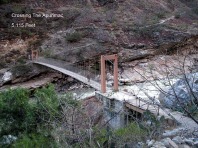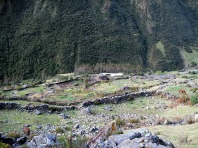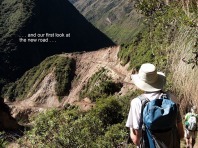 Choquequirao Trail 4Day/3Night hike - Daily Departures..
Last Minute Information
DAILY DEPARTURES !!!

Participants required.- (2 people minimum). For group service please check here our

OPEN GROUP FIXED DEPARTURES

Or try to gather a group of friends and build up your own group and you can select your preferred departure date. If you are a group of 2 and your preference is the hike in a group and you book 5-4 months in advance... then we can try to get other trekkers and build up a small group. Cost of tour will be according with the number of trekkers in the group.

---

When to book.-

You must book this tour and pay a deposit well in advance. (For high season (from May to October, 3 months in advance.) Low season (from November to April, 2-1 month in advance.)

Best time to hike.-

From end of April to end of December. (Not wet season).

Adventages.-

Not so crowded as other hikes around Cusco, you carry a small day pack, mules are provided to carry equipment and your belongings, amazing Inca sites located at the high jungle.impressive views of Apurimac Canyon.

How to book and pay a booking deposit.-

Choose on the Calendar in this page the date of your preference (Leaving Date): Fill in out with your personal details and complete details of other participants in your group, once you have finalized you will receive a Reservation Code (Purchase number) to pay a booking deposit on Step 3.

---

REMARK.-

This tour can be combined with the popular 2 Day MachuPicchu SUNRISE tour so 4th afternoon train and night in Aguas Calientes and next day early see MachuPicchu´s sunrise. Optional walk to the emblematic HuaynaPicchu Mt when permits are available so... book in advance. (Special rate: US$ 340 per person). http://www.sastravelperu.com/english/program/352/machupicchu-quotsunrisequot-tour-with-huaynapicchu-mt-walk-2-day1-night
Special Offer
BOOK a Tour with SAS Travel and GET a 15% DISCOUNT in our MARQUESES BOUTIQUE Hotel in Suite, Deluxe or Standard rooms plus a FREE pick up from airport at your arrival to Cusco. OR a FREE Sacred Valley tour to see Pisac, Yucay, Urubamba, Ollantatambo and Chincheros. (70 Soles Entrance fee to the ruins and lunch are not included.) Payment of accommodation is required in $ USD cash or Soles cash directly in Reception. To reserve please contact Miguel at: [email protected] but you must also indicate your tour reservation code with SAS Travel
---
Find more information here: www.hotelmarqueses.com "Charming and Amazing Hotel, Great Location one block near centre, Wonderful Staff and Excellent three star Hotel". © 2016 TripAdvisor LLC
CHOQUEQUIRAO 4Day/3Nigh - Daily Departures Min 4 person.
CUSCO TARAWASI - CACHORA - CHOQUEQUIRAW - HUANIPACA – CUSCO

DESCRIPCION
Trek and exploration of the Archaeological Complex of Choquequirao. The trekking start from the village of Cachora near Curawasi and returning though Huanipaca valley, village of Tambobamba. With a plenty of time to explore this mysterious ruins of Choquequirao. ( Total distance of Km. 50 ).

DAY 01: CUSCO - CACHORA – PLAYA ROSALINA
Early departure from Cusco at 05:00 am 4 horas journey to Cachora, stop in Saywite for breakfast beautiful views of Curahuasi Valley, spectacular views of the snow capped mountain of Salkantay and the Vilcabamba range of mountains. Here our walk would begin, the first section it is a gentle down and up until our spot for lunch, after lunch and enough resting time, we will walk downhill for 3 hours from 3000m to 1500 m to Chiquisca sector. Here it will be our rest place for some minutes. Then we will walk for 40 mimutes more to arrive at Rosalinas Playa near the Apurimac River ( 1500 m ), it will be before sunset so you can enjoy a nice vistas at this place. First camping also here you can taste "cambric" a local cognac made from sugar cane. B L D (km 19)

DAY 02: PLAYA ROSALINAS, MARAMPATA, CHOQUEQUIRAO
After an early breakfast we cross a typical holding bridge and start a gentle 3-4 hours gradually climbing of 1,400 meters from a shores of Apurimac river to Marampata village (2900m) where you will be able to enjoy the beautiful landscape of this valley, and also would observe the famous Apurimac river, here we have a stop for lunch. Once we end this valley we will be able to see for the first time, the archaeological complex of Choquequirao,after lunch we will have an easy walk for 2 hours to Choquequirao ruins ( 2,780m) en route you will see a variety of nice plants and flowers
In this area will will visit the farming terraces of Paqchayoc and the house of the waterfall, then we will return to our camping set near Choquequirao. B L D

DAY 03: CHOQUEQUIRAO ARCHAEOLOGICAL COMPLEX
Today we will complete our exploration of the best features of Choquequirao we will go to visit and explore with our tour guide and able to learn and admire this famous inca constructions, the stone altar called Ushnu which was used by priests to offer open ceremonies to the apus, the sun, the moon,the starts and the Pachamama "mother nature", buildings in a very fine Inca style and the mysterious llamas designs constructed in the walls of the terraces with white stones, with luck at this point we can see a magestic flying of a condor around this sacred geografy. Camp in Choquequirao. B L D

DAY 04 CHOQUEQUIRAO, SAN IGNACIO, TAMBOBAMBA
After our early breakfast, we start an easy downhill walk for 3-4 hours approx until we get to the Apurimac river then to Playa San Ignacio there another bridge to cross, 40 minutes to Hacienda San Ignacio, stop for our lunch, time to rest and perhaps a sleep, in the afternoon last 2-3 hours to walk to the pintoresque village of Tambobamba where our car will be waiting for us to return to Cusco, arriving at 8-9pm approximately. B L End of a great and unforgettable trek.
What is Included:
Private Transport to the trailhead Cachora and Return to Cusco

Experienced English / Spanish speaking guide

Cook and assistant, porter or herders plus mules to transport the equipment and food.

Full board meals on the trail

3 Meals daily , Tea time every afternoon.

New Igloo tents ( 2 person per tent spacious and confortable )

Dining tent , Kitchen tent

6 Kg porterage service per person.

Entrance fees to the archaeological Park of Choquequirao.
What is not Included:
Sleeping Bags Down US$20 for 3 nights,

Trekking poles a pair $20

Snacks, dried fruits, raisins, energy cereal bars, chocolates.

Back pack to hire $15

Optional Tips for the crew

guides Cook and arrieros ( horse helders).
We recommend that you bring:
Change of clothes for the whole period of the trek & a daypack.

SAS provides a duffle bag to transport your belongings ( 6 Kg each)

Original passport and (ISIC student card if applicable)

A daypack to carry your belongings (camera, water, snacks)

Warm sleeping bag Minus 2ºC

Lighter style trekking boots with good ankle support

Trekking poles

Warm clothes,layers for variable temperature especially at night

T-shirts and trekking pants that zipoff to short pants for comfort

Flash light, head torch and extra batteries

Camera and extra batteries, - Binoculars

Wear a hat with a broad visor to keep the sun off your face

Sunscreen, and sunglasses

Personal medical kit, insect repellent

Rain Gear: a good rain jacket, rain poncho

Toiletries, toilet paper, small towel

2 litre water bottle, disposable plastic bottles are forbidden in Machupicchu site

Bathing suits for hot springs

Extra money for drinks, tips in soles (porters, cooks, guides.

Emergency money at least 200-350 extra soles.(USD$ 120)
Please note
Booking Information
Select the month and date and click on the Calendar the Departure Date (Leaving Date) of your preference. Then fill out with your personal details and details of your group. (If you are travelling as a couple, or with more persons you must book and pay with one reservation Code.) But please complete details of your companion on lines below: Travelling with: (write Full names, Passport number, Age and Nationality). Once you finish sending us all your

details you will receive a Reservation Code (eg: 240611001). Then you just need to pay your deposit online on Step 3 (pay for 2 or more person in your group with ONE reservation code, so we can guarantee all your permits, tickets for Machupicchu, train tickets and tour all together in a group.)

BOOKING DEPOSIT REQUIRED.-

USD$ 200 per person.

1.- Pay on Step 3 a booking deposit ONLINE with VISA or Mastercard.- US$ 210 per person. (US$ 200+5% card fee). Payments by credit card will carry a surcharge of 5%.

2.- Pay on Step 3 a booking deposit with Paypal.- US$ 212 per person. (US$ 200+6% card fee. Payments by Paypal will carry a surcharge of 6%.
Terms & Conditions
8.- CANCELATIONS by CLIENT: Should the client wish to cancel, cancellation charges will be imposed. These are calculated from the day written notification is received by SAS Travel. The charges are shown below:

a.- Cancelation of tour once you have received a confirmation of tour incurs a loss of the booking deposit US$200.00 per person (non-refundable deposit.)

b.- Cancelation of tour 60 days before the date of tour departure incurs a loss of 60% of total tour cost

c.- Cancelation of tour 59 to 30 days before the date of tour departure incurs a loss of 80% of total tour cost

d.- Cancelation of tour 29 days before the date of tour departure incurs a loss of 90% of total tour cost.