Very Important:

Rains and Flooding Across Peru

The Government of Peru continues to assess the effects from unseasonably heavy inland rains and associated flooding along the coastal areas of Peru. Rains are expected to continue for few more weeks. The most widespread, severe effects are in the northwest of the country, in the regions of Tumbes, Piura, Lambayeque, and La Libertad.

More concentrated incidents of flooding, mudslides, and inundated roads and bridges have occurred around Lima and the Ica Region. Some roads in the central highlands, especially in the regions of Ancash and Junin, have experienced travel delays and disruptions. Areas in the south of the country around Cusco and Arequipa have been affected less severely by the rains than areas farther north. Our Tours and treks in Cusco have not been affected at all, the trains are running as normal, tours visiting sites and we don´t have delays neither cancelations of our trips.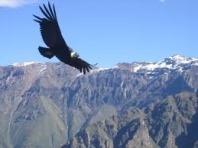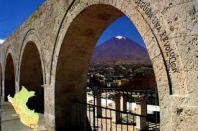 Price Information
US$ 135.00 p/person
(Based on Double / Triple accommodation)
Please Note
Single supplement for solo travelers US$ 30.00 in Chivay
---
UP GRADING HOTEL Specials:
(Based in Double accommodation with extra cost per person.)
Colca Lodge US$ 79.00 extra pp.
Pozo del Cielo DeLuxe US$76.00 pp
Casa Andina US$ 64.00 extra pp.
---
Difficulty
Only due to the high passes you travel over on the bus trip in you may feel effects of altitude until arriving to the valley of Chivay. Be sure to bring warm clothes (layers) for the night and early morning !!
Briefing
checkin in Cusco
Transport
Tourist van /bus
Colca Canyon 2 Day/1 Night Tour (From Arequipa to Puno)
Last Minute Information
DAILY DEPARTURES

This is an excellent tour leaving from Arequipa and ending in Puno... to see the famous Colca Canyon, Flight of Condors, the Mirador Cruz, typical andean towns. Night in Chivay at Pozo del Cielo Hotel. Time to enjoy the hot springs. Next day around 1:00 pm

Tourist bus to Puno (comfortable and spacious for your baggages).

---

HOW TO BOOK.-

Choose your preferred Departure Date (Leaving Date) in the Calendar (left side) in this page. Fill out with your details on the format, you will generate a reservation code to pay for the tour online. Or follow instructions for more information below

Booking Information

---

Please send us complete details of your hotel in Arequipa (name of Hotel and address) for your pick-up in the morning of your tour at 08:00 am.
Special Offer
Program Itinerary
What is Included:
Pick up from your Hotel in Arequipa between 07:45 - 08:20 am if you are in the central area and between 8.00 and 8.30am if you are staying in Posada el Castillo.

Private Transport to Chivay, Cruz del Condor and Colca. Tour bus to Puno. (bus with spaces for your luggages) Arrive to Bus Terminal Gate 2. (Take an official taxi from inside terminal).

Specialist English speaking tour guide.

A short walk on Day 1 and a guided visit at the Condor´s Mirador on the 2nd morning.

Visit of small typical towns near Cruz del Condor and Chivay.

Accommodation in Chivay town at Pozo del Cielo, Casa Andina or Colca Llaqta with Breakfast. (Based in Double or Triple Accommodation.)
What is not Included:
Tourist Entry Ticket to the Colca Valley US$ 20.00 p/person.

Meals during your tour. ( Lunches and Dinner )

Entry to the hot springs thermal baths 15 Soles.

Single supplement for solo travelers US$ 30.00
We recommend that you bring:
Warm clothes for the night and early morning.

Sturdy shoes

A day pack

Camera and recharger

Water to drink

Sun block

Rain jacket

Sun glasses, sun hat

Mosquitoe repellent

Bathing suit

Money for souveneirs and drinks

Travel towel, sandals

Flash light, batteries
Recommendations
RECOMMENDED HOTEL IN AREQUIPA (Double room with Breakfast included)

POSADA EL CASTILLO.- Became well known for the discovery of tombs containing mummies and ceramics from pre Inca periods on their property. Set in a tranquil area know as " El Vallecito District " along the Chili River only 5 mins (60 cents) taxi ride to the main Plaza. Delightful Dutch -Peruvian family run, attending to every detail to ensure a wonderful stay. Elegant, recently refurbished century old hotel, is complete with swimming pool and even a Jacuzzi. SWB US$55.00 - DWB Suite Doble $68.00 -TWB $ 80.00

Suite Preferencial Honey Moon $84.00

For secure transfers from the airport is $30 for 2 people.

Therefore if you would like transfers arranged just let us know what your arrival details are.
Booking Information
HOW TO BOOK.-

Select your start date on the calender in the left hand column. Please fill it out with your own personal details, fill out details of your group in Traveling with: (First Name and Surname, Passport Number, Age and Nationality contact email/skype address or pone). We also must know the full contact details of your hotel.

Once you finish sending us all your details you will receive a reservation code (eg: 120611001). Then you must pay your booking deposit (as until we receive a payment your reservation is not confirmed.) , it is best to pay for all people in your group together with 1 reservation code, so that we can guarantee your tour together in the same group.

---

HOW TO PAY ONLINE.-

1.- ONLINE PAYMENT with VISA or MASTER CARD.- USD$ 141.75 per person (USD$ 135.00 + 5% card fee) (Payments by debit/credit card will carry a surcharge of 5%.

---

2.- ONLINE PAYMENT with PAY PAL.- USD$ $143.00 per person (USD$ 135.00+6% PAY PAL fee) Payments by PAY PAL must include the additional 6% surcharge and the confirmation from Pay Pal needs to be emailed to: [email protected] and [email protected]

If you travel Solo please pay a single supplement extra.

---

Please Note: If you are not arriving to Cusco before doing this tour and not doing any other tours with us, you must send us a copy of your passport and the TAM immigration slip you receive when you pass immigration on arrival to Peru to receive your voucher.
Terms & Conditions
2 Day Colca Canyon tour From Arequipa to Puno.

1. You must pay for your tour and any additional options to your tour such as single supplement or upgrade accommodation in Chivay or accomodation in Arequipa etc, 1 month before your departure.

2. SAS Travel does not take responsibility for additional costs due to unfavorable weather conditions, natural catastrophe, strikes, accidents, illness, injury, loss of personal items, etc. It is the clients responsibility to carry insurance to cover these types of events. We reserve the right to modify or cancel the program due to any of the unforeseen conditions listed above.

3. SAS Travel will take all reasonable care in providing service to our clients to avoid accident, illness, loss of personal property and will only employ suitably qualified staff. We accept responsibility for the actions of our own employees. SAS Travel cannot however be responsible for any action or event that was unforeseeable or unavoidable. We also cannot be responsible for improper acts by clients or other third party for example Bus companies. You are totally responsable for your own personal property.

4. Change of dates up to 7 days before departure is possible if there is availablity in the bus and accomodation for an alternative date but if this change is requested less than 7 days before the tour an administration charge of $25 per person would need to be paid. Upgrade accomodation has separate conditions and generally can only be changed over 30 days in advance.

5. CANCELATIONS

Cancelation of tour within 1 month and 7 days in advance of departure incurs a loss of 35% of total tour cost.

Cancelation of tour within 7 days and 72 hours of departure incurs a loss of 50% of total tour cost.

Cancelation of tour within 72 hours and 24 hours of departure incurs a loss of 80% of total tour cost. but you are provided with discounted accomodation in Cusco at Hotel Marqueses to assist as we assume cancelation at this stage is due to illness.

Cancelation of tour on the day of departure incurs a loss of 100% of total tour cost.

6. If you are requesting an upgrade hotel please note they will have independent conditions to those of this general tour and you need to request the conditions of payment and cancelation separately from [email protected]