Leaving Frequency
Daily Departures 9 am or 1pm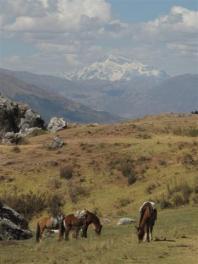 Price Information
US$ 25.00 p/person
(Based on Double / Triple accommodation)
Please Note
Tour with a english speaking guide
US$ 60.00 p/person ( 2 person) Transport return included.
US$ 45.00 p/person ( 3-4 person) Transport return included.
Overview
This tour is led by a "Horse Man" (non english speaking) to lead you at walking pace. The reality is that usually the ranches use experienced boys who care for the horses. Many people find this interesting especially when they learn something of the life of this person and it complements their experience. They may tell you some interesting things about the ruins as well but we do not vouch that they are all true! Most people choose to see these sites on horseback rather than in the City tour as they are more interested in the views and ride than the information but if you want to know good clear info about the sites you can organise an English Speaking guide to accompany you. see addtional options.
The tour is approximately 4 hours from the departure from the office to when the horseman leaves you to explore Saqsayhuaman independently. This includes the time to organise the horses for you.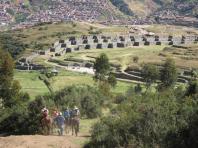 Is it for me?
This is not a gallopìng horse riding tour, this is more for a countryside paseo, horses can run a bit in a certain section of the ride if you have experience.
Caballo de Paso horses for galloping only in the Sacred Valley, if you are interested we can also arrange a tour for you.
Difficulty
no riding experience is requires as only led at walking pace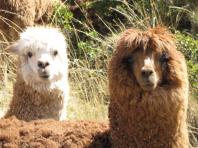 Transport
Transport to the Ranch is provided but return to Cusco at the end is by foot
Recommended Hotels
We highly recommend Marqueses Boutique Hotel in Cusco, it is a beautiful and charming Colonial house built at the end of XVI century that has recently been restored and refurbished, located just one block from Cusco`s mayor Plaza. This great location is part of its popularity, close to all of the most important tourist attractions in the famous capital of Inca`s Empire. Well known for its incomparable hospitality and professional service. We can reserve the hotel and transfers you from the airport on your arrival and back on your return, you will enjoy a safe visit, wonderful attention and be pleasantly surprised by the warmth of the Andean Hospitality.

Due to the safe and strategic location you are within easy walking distance of the many historical places, museums, restaurants, cultural, artistic and traditional places of the Imperial Inca City.

SAS Travel Tour Operator & Agency offices are located alongside Hotel Marqueses so we at SAS Travel can assist you at any time.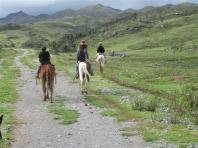 You are here: Cusco`s Adventure Tours > Horse Back Riding 4 Ruins (4Hrs)
Horse Back Riding 4 Ruins (4Hrs)
The landscapes between Yuncaypata valley near Tambomachay Inca Complex and Saqsaywaman are spectacular and offer amazing views of the mountains toward the sacred valley region crossing the old Inca road to Pucamarca and Huchuy-Qosqo. Deep Andean valleys as well as the 4 famous arquelogical sites of this region Puca-pucara,Tambomachay, Qenqo and Saqsaywaman once used as a great "House of the Sun" temple, before the arriving of the conquistadors.
Temple of the moon and the monkeys cave are on route.
From this area as well you can see the majestic Ausangate snow mountain looking toward the south.
Program Itinerary
Day 1:
At 8.50am meet at SAS office. We take private transport to the Ranch near Qenko and get set up with our horses and meet the horseman who will walk with you through the extent of the trek until Saqsayhuaman. Departing from the ranch takes you to the ruins of Qenko. You will get a wonderful view of the ruins, but if you would like a closer inspection, then you need the tourist ticket. The horseman will mind the horses while you explore. After passing those ruins you will follow a small dirt path, alongside a road, up to the next site, Puca Pucara, which transelates to "The Red Gate", and is called that because it was used as the controlled entrance to the city of Cusco in the days of the Incas. You will pass just by the ruins as you are on your way to Tambomachay, which was something of an Inca "bath house", and was also used for the worship of water. Then you will begin your return , passing through a eucalyptus forest on the way. Finally, before you reach the ranch, you will pass by the famous Inca temple, Saqsayhuaman, which is where the Incas worshiped lighting. Our service ends at Saqsayhuaman so you can take as much time as you want at this extensive and most spectacular site.
What is Included:
Transport to the Ranch from SAS Office

Horse with basic equipment

"Horse Man" (non english speaking) to lead you at walking pace.
What is not Included:
- Entrance fee to Tambomachay, Saqsawaman, Qenqo and Puca pucara 70 Soles (Partial Tourist Ticket -Boleto Turistico) 40 Soles with ISIC student card. OR Cusco Tourist Ticket (130 soles approx US$45, valid for 14 places included the Sacred Valley of the Incas.)

- Transport return back to town ( Direct 15 .20 mimnutes walk down to town) Taxi for 10 Soles.
We recommend that you bring
Small daypack

Water bottle

Camera

Sun hat/cream

Boots or Sturdy walking shoes

Pants are recommended not shorts

Rain poncho in case wether are cloudy.
Additional options
Please note
This is a Cross Country ride, which has a small segment of local road.

If you are interested in entering the ruins than it is recommended that you buy a tourist ticket (130 soles adults, 70 w/ ISIC which is valid for 10 and 16 sites or 70 soles for a partial ticket which will take you to these specific sites only, and is only valid for 1 day).

The walk from the ranch down to Cusco is appoximately 25 minutes.
Frequently Asked Questions
Booking Information
Please enter to: http://www.sastravelperu.com/contact/reservas.html

1.- Click on To REGISTER and Choose the Program: Horse Back Riding 4 Ruins (4Hrs)

2.- FILL IN the complete personal details of each person in separate reservations and this information will come on screen.

3.- Please check your email immediately for the full details of your reservation, a copy of the conditions and payment instructions and your personal reservation code ( purchase number 9 digits) to use when confirming your payment will automatically be sent to the email you used.

4.- Please make your payment now to confirm your booking.

Click on Step 3: To Confirm for Payment Options

HOW TO CONFIRM YOUR TOUR:

(Without a Booking deposit payment your tour is not confirmed only reserved)

1.- Ensure you have read and understand the Conditions.

2.- Make your deposit of US$10 only per reservation according to the directions on this page. Please use your reservation code as your Purchase Number.

you can do one payment of $20 which would be considered for 2 persons using just one of your codes

3.- Click on Step 3: To Confirm for Payment Options

and follow the step by step directions shown there or in your email.

(ON-LINE Booking Deposit Payments only accepted with a Visa card.)

4.- You should receive an email from Visa that confirms that your payment was successful. The subject will read Confirmacion de Compra

but It must have an AUTHORIZATION CODE WITH 6 NUMBER / LETTERS ex. Authorization Code: L24276 you must IMMEDIATELY resend it to: office@sastravelperu.com

5.- Check carefully that it does not say "incorrect cardholder" or "operation denied" as this means the payment was not successful. If the payment is urgent then skype or ring us on Tel: +51 84 261920 and give us the details over the phone for us to try and assist you quickly.

6.- If the payment has not gone through and is not urgent... send it to us anyway but indicate that it was unsuccessful and try again rechecking each instruction. We will contact you with options until all is finalised. For security the online payments are run through your bank and if your bank does not authenticate the transaction this means that for Security the online system does not process it. Therefore you either need to contact your bank before retrying on the online system to advise them to authenticate the request

if you are doing another tour with us then you can just email us your copy of your Horse Back Riding 4 Ruins (4Hrs)reservation and we can use the details from your other tour to reserve and guarantee you can just pay in cash 2 days before in Cusco.