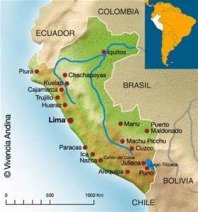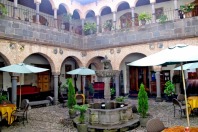 Leaving Frequency
As this package includes the 4 day Inca trail trek you must ensure there are still permits available and so you need to CLICK ON AVAILABILITY AND BOOKINGS
Price Information
US$ 2,290.00 p/person
(Based on Double / Triple accommodation)
Please Note
Single room supplement US$480
If you scan through a valid ISIC card with your booking there is a $40 discount on the package for the Inca trail permit if valid still at time of trek. You must bring the original ISIC card with you on the trek or risk loosing your permit so this is very important. Or for children until the age of 16 you simply scan a copy of the photo / personal details page of the passport.
---------------------------------------
From May 1 2014 USD$2,350 pp
USD$ 2310 pp with ISIC student card.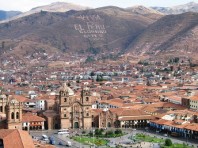 Overview
Colca Canyon-Arequipa, Lake Titikaca Puno, Cusco Magic, Inca Trail to Machupicchu (Lares or Salkantay Trek, if you booking is late for Inca Trail permits), Tambo Jungle Lodge - Sandoval Lake, Lima Kings City,
Price per person based on double occupancy.
Single room supplement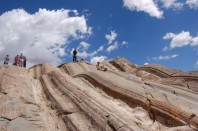 Is it for me?
This package has something for everyone and gives you the opportunity to experience the rich diversity of tradition, adventure and mystery as you experience so many "one of a kinds" here in Peru! The deepest canyon in the world to watch in awe the condors flight overhead at Colca Canyon. The highest navigable lake in the world to enjoy an overnight stay with local Indian families on Lake Titicaca.
Discovery of lush national parks of the vast Amazon Jungle, stroll around Sacsayhuaman and back down through the delightful stoned streets of Cuzco, and the ultimate hike of the famous Inca Trail to Machu Picchu the 8th wonder of the world.
You do need to be fit and ready for adapting to a lot of travelling and higher altitudes as you climb from Lima sea level to Arequipa at 2400m to Puno at 3800m all in preparation for the highest point on the Inca trail at 4200 meters. The gradual increase of altitudes during the trip will assist your acclimatising and you will meet different people on each of the tours to enhance your enjoyment of meeting new people in new places!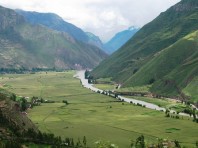 Difficulty
Moderate to Challenging.
Transport
Flights, tourist bus, train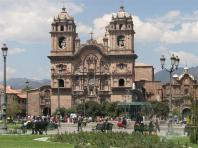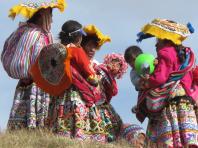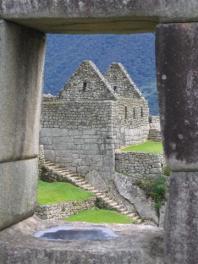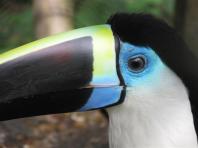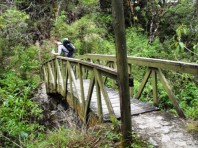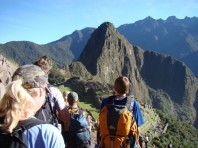 Exploring Peru & Jungle 21 Day (with 5 Day Inca Trail trek)
Last Minute Information
The permits for Inca Trail trek are so limited, only 200 permits available per day FIRST COME, FIRST SERVED. You must book and pay a deposit well in advance. For high season (May to October, 6-5 months in advance.) See on Step 1:

AVAILABILITY

Low season (November to April, 4-3 months in advance.) Book ONLINE on Step 2:

BOOKINGS

Get a Code (Purchase Number) and pay a booking deposit of US$1,000.00 per person through Western Union to Mr: Irwin Jesus POMA FLORES (Peru) or Pay a booking deposit ONLINE on Step 3:

TO PAY

with Master Card or Visa card US$ 1,050.00 per person. Book and pay as soon as possible to avoid disappointments.

FAST COUPLES or GROUPS BOOKING:

Choose the tour of your preference and package departure date, fill out your personal details on Step 2, then below fill out details of your group in

Traveling with:

once you have finalized you will get a Reservation Code (Purchase number) to pay a booking deposit with. For any assistance Call or Skype us and we can confirm your permits in only few minutes with our english/french speaking staff.

WHAT WE HAVE FOR YOU:

The best itinerary and campsites for each night, including Wiñaywayna camp.

Pick up from your hotel at 05:00 am on Day 1.

Tour with the best Inca Trail guides, extraordinaire chefs (Gourmet Peruvian meals) and well respected and better paid porters (The Blue Label Team)

. Treated drinkable water provided on route.

Packed snacks in Machupicchu and snack lunch with Pisco Sour in Aguas Calientes, before your train to Cusco.

Confirmed and Guaranteed Daily departures on any date you wish.

Welcome group of friends, couples or solo travellers.

New and decent tents and equipment.

100% Operated by SAS Travel.

Free Luggage Storage in Cusco at Hotel Marqueses..

TICKET FOR HUAYNAPICCHU MOUNTAIN.-

(Those trekkers who want to climb the Huaynapicchu Mt. once they finished Inca Trail trek need to pay a deposit ONLINE of US$ 70.00 per person (US$ 40.00 pp for students with ISIC green student card) with Master Card or Visa card, so we can purchase your Ticket for the 2nd turn at 11:00 am OR a ticket for the next day, just send us an email.)

Inca Trail trek with SAS Travel...

...an spiritual pilgrimage throughout the Inca Trail and Machupicchu for your mind, body and soul... unique adventure for your senses !

Quality tours with a special personal touch !!
Special Offer
Program Itinerary:
Day 1: Peru : Lima Hotel in San Miguel or Miraflores.
Day 2: Lima-Arequipa Castillo Lodge
Day 3: City of Arequipa Castillo Lodge
Day 4: Colca Canyon Chivay
Day 5: Colca Canyon Chivay - Puno
Day 6: Lake Titicaca Puno Qalasaya Hotel
Day 7: Lake Titicaca Puno night in Island.
Day 8: Puno – Cusco Hotel Marqueses
Day 9: Cusco City Tour Hotel Marqueses
Day 10: Sacred Valley Cusco Hotel Marqueses
Day 11: Cusco – Hotel Marqueses
Day 12: Inca Trail to Machu Picchu Day 1
Day 13: Inca Trail to Machu Picchu Day 2
Day 14: Inca Trail to Machu Picchu Day 3
Day 15: Inca Trail to Machu Picchu Aguas Calientes
Day 16: Aguas Calientes – Cusco Hotel Marqueses
Day 17: Cusco- Puerto Maldonado. Morning Flight to Puerto Maldonado.
Day 18: Corto Maltes Lodge- Puerto Maldonado
Day 19: Gamitada island "Project for the Rescue of Cultural Values"
Day 20: Corto Maltes Lodge Flight from Puerto Maldonado - Lima
Day 21: Lima (end of our service).


Booking of this package for any dates between Nov and March entitles you to a free upgrade to delux room in Hotel Marqueses. Please quote this offer at the time of booking.
Lima, Colca Canyon-Arequipa, Lake Titiklala Puno, Cusco Magic, Inca Trail ( Lares or Salkantay Trek if Permits for Inca Trail trek is not available due late booking) to Machupicchu , Tambo Jungle Lodge - Sandoval Lake, Lima Kings City,

Please note that if your international flight arrives early to Lima it is much nicer to take a connecting flight to Arequipa on Day 1! Therefore let us know what your details are as many have done this and even used a spare day to do the overnight stay on the Islands of Lake Titicaca which has proved to be a favorite adventure cultural experience.
Program Itinerary
Day 1: Peru : Lima
Arrive in Lima on an evening flight as you begin your holiday in Peru ! You will be met at the airport and driven to your hotel. If you arrive late afternoon you can relax and recover and perhaps wander around the San Miguel complexin the evening. If you arrinving on an early morning flight today then we suggest our better option of connecting straight through to Arequipa in this case. (see recommnedations)
Hotel Melodia or similar
Day 2: Lima-Arequipa
The White City of Arequipa - Fligh Lima-Arequipa. After a lie-in to recover from your flight, we will take you back to the airport to catch a flight up to Arequipa - 'The White City'. This is probably the most beautiful city in Peru - a kind of Seville at the foot of a snow-capped volcano! We will meet you at the airport to take you to your hotel and you will then have the rest of the day free to rest or to visit some of the fantastic sights in Arequipa such as the monastery of Santa Catalina.
B
Posada Castillo Hotel.
Day 3: City of Arequipa
Free day in the White City of Arequipa We'll given you a free day in Arequipa so you can relax and settle into your holiday. It's just such a lovely place to wander around so perhaps you might like to explore the colonial centre, with its churches and museums? For some hustle and bustle you could check out the local markets or, to get that perfect photo, maybe take a walk up to the Yanahuara mirador for a stunning view of the El Misti volcano?
B
Posada Castillo Hotel.
Day 4: Colca Canyon Chivay
Colca Canyon to see the Andean Condor. Today, you'll set out from Arequipa on a guided tour of Colca Canyon. The Canyon is deeper than the Grand Canyon and is home to a stunning array of wildlife and also some great natural hot springs! You will stay overnight in a hotel in Chivay, a small town right in the middle of the Canyon.
B
Colca Inn or Posada Chivay
Day 5: Colca Canyon Chivay - Puno
Colca Canyon A very early start this morning, as your guide and driver take you to the 'Cruz del Condor', a natural viewpoint opposite the nesting-sites of the famous Andean Condors. We'll arrive in time to see these majestic birds launch themselves into the Canyon as they set out on their day's hunt. After spending more time in the Canyon, you will return to Chivay and from here take the 4 M Express tour bus to Puno, on the shores of Lake Titicaca. Arrriving around 7pm and still time to explore as it is the perfect place to pick up those alpaca scarves and sweaters...
B
Hotel Qalasaya
Day 6: Lake Titicaca Puno
Between 7.40am and 8am Transfer from the hotel to the port and by motor boat we take you to one of the legendary Uros Islands where you can observe the lives of the Uros people who live on floating reed islands, some only 20 metres in length. After a beautiful 3hr boat ride we reach Amantani island where we will break into smaller groups to stay with the local families. You have the opportunity to trek to the top of the mountain (4150 mtrs) to see the Temples of the Pachamama and Pachatata and enjoy the traditional customs of the island people. Food and authentic music prepared and performed by your designated family.
BLD
rustic accomdation with family
4150 mtrs
Day 7: Lake Titicaca Puno
After breakfast we take a short boat ride to the neighboring Taquile island, where we will tour around the ruins and visit these beautiful people, world famous for their intricate and fascinating weavings, After lunch we take the return trip to Puno. Arrival in the afternoon and transfer back to your hotel approx 5-6 pm.
BL
Hotel Qalasaya
Day 8: Puno - Cusco
Along the Andes to Cusco We will pick you up in the morning to take you to the station to catch the touri bus to Cusco
the ancient Inca capital. This is one of the most spectacular road journeys in the world as you travel right along the spine of the Andes and is an amazing experience as you stop off at several sites of interest along the way. On arrival, we'll take you to your hotel, just off the main square at the heart of Cusco. Hotel Marqueses Cusco
BL
Hotel Marqueses
Day 9: Cusco City Tour
Welcome to Cusco .
Free morning to get some washing done and then the afternoon is spent on a tour of the main sites in the city itself, and also in the surrounding hills. You will visit the fortress of Sacsayhuaman, the temple complex at Kenko, Tambomachay and many other unique and beautiful locations. You will have the evening free to relax and enjoy a meal overlooking the lively central square.
B
Hotel Marqueses
Day 10: Sacred Valley Cusco
The Sacred Valley A full day away from Cusco today as you journey into the Andes for a tour of the Sacred Valley of the Urubamba. As you wind your way along one of the most beautiful valleys in the world, you will be able to visit the village of Pisac (including its famous market and temple) and the temple-fortress of Ollantaytambo. You really begin to feel the spirit of the Incas as you visit these extraordinary locations. Buffet Lunch Included Hotel Marqueses Cusco.
BL
Hotel Marqueses Cusco
Day 11: Cusco
Free day in Cusco A holiday isn't a holiday if you don't have a chance to relax so today is all yours - you can have a wander around the local markets, stroll through the bohemian San Blas district and check out the art and jewellery, or just sit back with a few coca teas and get those postcards written before you set off on.
B
Hotel Marqueses Cusco
Day 12: Inca Trail to Machu Picchu Day 1
The Inca Trail to Machu Picchu (If not available due to Permits; Lares or Salkantay Trek) A spectacular early morning drive back through the Sacred Valley takes us to our trailhead at Km. 82 of the Machu Picchu railroad. After getting acquainted with our porters you will set out, crossing a footbridge to hike a gentle two hours down the Urubamba canyon, and then visit imposing sculpted Inca farming terraces and the settlement of Llaqtapata on the banks of the Cusichaca side river. We then climb a short way up the Cusichaca valley to Huayllabamba, the last inhabited village on the trail, where we camp.
BLD
camping
3300m/10857ft
2680m/8817ft
12 km approx
6-7 hours
Day 13: Inca Trail to Machu Picchu Day 2
The Inca Trail We climb the steep-sided Llullucha valley past a rushing stream and through enchanting subtropical woodland. Crossing the rim of a small plateau, we find ourselves in the puna, the treeless grasslands of the high Andes. The trail traverses an open slope opposite mighty mountain crags as we ascend to the first and highest pass, Warmiwa?usca (4,200m). Here we encounter spectacular views of the trail ahead to the second pass, and look back to the sweeping snowpeaks and valleys of the Huayanay massif. We then follow the trail to the floor of the Pacaymayo valley, where we camp for the night.
BLD
camping
4200m/13,800ft
3000m/9870ft
16 km approx
7-8 hours
Day 14: Inca Trail to Machu Picchu Day 3
The Inca Trail This morning, we pick up an Inca stairway and ascend again past the small Inca site of Runkuracay. As we reach the second pass, the landscape opens onto spectacular new views to the snowpeaks of the Pumasillo range. We descend to the ruins of Sayacmarca ( Inaccessible Town), an intricate labyrinth of houses, plazas and water channels, perched precariously on a rocky spur overlooking the Aobamba valley. The Inca trail, now a massive buttressed structure of granite paving stones, continues along the steep upper fringes of the cloud forest through a colorful riot of orchids, bromeliads, mosses and ferns. At the third pass pinnacles topped with Inca viewing platforms overlook the archaeological complex of Phuyupatamarca (Cloud-level Town).Pausing to explore the maze of Inca stone towers, fountains and stairways that spills down the mountainside here, we begin a long descent through ever-changing layers of cloud forest. An Inca stairway partly cut from living granite leads us finally to our camp by the ruins of Wi?ay Wayna (Forever Young), the largest and most exquisite of the Inca Trail sites.
BLD
camping
3750m/12,337ft
2700m/8883ft
10 Km approx.
5-6 hours
Day 15: Inca Trail to Machu Picchu Aguas Calientes
The Inca Trail An early morning hike takes us across a steep mountainside through lush, humid cloud-forest of giant ferns and broad-leaf vegetation. Suddenly we cross the stone threshold of Intipunku (Sun Gate) and encounter an unforgettable sweep of natural beauty and human artistry -a backdrop of twisting gorge and forested peaks framing the magical city of Machu Picchu.We complete the final leg down the royal flagstone walkway, past outlying shrines and buildings and into the heart of Machu Picchu, where we spend the rest of the morning with a guided tour of the highlights and some individual exploring among Machu Picchu's multitude of hidden nooks and corners. In the early afternoon a bus takes us down to the foot of the mountain to the small town of Aguas Calientes, where you will be staying overnight.
BLD
Hostel Viajeros
Day 16: Aguas Calientes - Cusco
After Breakfast you are assisted to board the train that departs Aguas Calientes at 08.53 am and arrives at Ollantaytambo at 10.30 am. We will organise transport from here to Cusco which is about an 1.5hr drive.
So hope to be back in Cusco for you to get some lunch and get all that washing done and packed for leaving Cusco tomorrow!
B
Hotel Marqueses
Day 17: Cusco- Puerto Maldonado. Morning Flight to Puerto Maldonado.
After your arrival at Puerto Maldonado Airport where your professional guide will await you, we will go to our office to obtain the official waterway permits. Meanwhile you can visit the town main square and also take some photos of the beautiful scenery overlooking the confluence of the rivers Madre de Dios and Tambopata from Grau square.
After a 40 minute boat ride we will arrive at Corto Maltes Amazonia.. After your welcome cocktail you can enjoy the delicious international dishes that the Lodge offers. After that you will have some free time to get comfortable in your bungalow overlooking either the river or the jungle, or simply take a refreshing dip in our pool.
At 3:30pm you will be accompanied by you guide who will show you tropical trees, medicinal plants and the abundance of nature in the 60 ha concession that Corto Maltes Amazonia holds. From our lookout you can observe toucans, macaws and other species of birds before your return for sunset. Duration of this trek is between 2 and 3 hours.
The rest of the afternoon you can relax in the pool or take a nap in the hammocks at the terrace of your bungalow. If you wish you can also go on a nightly boat trip to go caiman spotting before dinner.
At 8pm dinner is served. After dinner you can retire to our bar to have some tropical cocktails, relax in our reclining seats at the central terrace or bathe in the pool underneath the shining Amazon sky.
BLD
CORTO MALTES LODGE.
Day 18: CORTO MALTES LODGE - Puerto Maldonado
At 5:30am we will go on a trek of about 20 min until we arrive at the parrot clay- lick. Here a minimum of five different species feeds on special clay, vital to their metabolism. It's a truly marvelous, multicolored spectacle.

8am: Breakfast and free time to explore the splendid gardens of Corto Maltes Amazonia. We have dozens of varieties of exotic plants and flowering trees.

10:30am: Again we will navigate the Madre de Dios River. This time on an expedition destined to "Monkey Island" where some species of these interesting and entertaining animals live in freedom. Following another boat ride of 30 min we will enter the territory of the Tambopata- Candamo National Reserve. We will trek 5km through the dense vegetation of the tropical rainforest. Giant trees, snakes, monkeys, birds and sometimes even the illusive jaguar can be observed here

Our destination is heavenly Sandoval Lake. Its privileged settings are shared by numerous species of animals: Birds (in particular Hoatzins, Kingfisher, and Cormorants), different species of monkeys (Squirrel monkeys, Howler monkeys, Capuchin monkeys). At the lake itself we can enjoy the spectacle of Giant River Otters. Black Caimans and Piranhas (sometimes we can even observe anacondas in the areas covered by reed). This is also the habitat of the giant Arapaima, a fish of more than 2,5m, weighing in at +200kg. Traveling by canoe, the sunset in the lake is a spectacular unforgettable sight. On our return to the river we might be able to spot some nocturnal animals.

8pm: The body demands rest and food after an active day in the jungle. You will enjoy the exotic tastes of our meals, especially our desserts. If you still have energy left you can share moments of music and conversation in the bar whilst having a cocktail or enjoy the sounds of the rainforest surrounding you from your hammock.

After a long day full of activity you will enjoy the comfort of you bungalows hammocks. You can also recover with a massage by the lodges' qualified masseurs.
BLD
CORTO MALTES LODGE
Day 19: Gamitada island "Project for the Rescue of Cultural Values"
8am: Breakfast and free time to have a bath in the pool or maybe buy some exclusive Amazon handicrafts and jewelry in our shop.

10am: We will follow the course of the river for approximately 1,5 hours in order to visit a native community. Occasionally we can see monkeys, river turtles, caimans and various birds in the dense vegetation of the riverbanks. We will also see some medicinal plants. (Sangre de Grado, Oje, Capirona)

The "Project for the Rescue of Cultural Values" supports the local native community "Palma Real". It is the biggest with approximately 200 families of the Ese'eja tribe.

his project, located at Gamitada island works together with two families that will introduce us to the cultural values of their ancestors, their language, their customs, their garments and their dances. In an era where globalization rapidly changes traditional societies this is a great opportunity to have direct contact with this tribe of ancient warriors and hunters. As well as a chance to support them economically with the purchase of some of their handmade products

1pm: Circumnavigating the Gamatida Island we can occasionally see animals escaping the human presence. Afterwards we will visit a chakra (local term for farm). We will get to know a variety of tropical fruits and other local products (Cocoa, bananas, café, cocona). Here we will also have lunch consisting of a typical Amazon dish.

The chacarero(farmer) will also let us taste some of the fruits that will later be taken to the city of Puerto Maldonado for consumption.

Upon return to the lodge you will surely enjoy a bath in our swimming pool; maybe with a cocktail that might also serve as an aperitif for dinner.

8pm: Dinner is served. After dinner you can retire to our bar to have some tropical cocktails, relax chit-chatting in our reclining seats at the central terrace or have a bath in the pool underneath the shining Amazon sky.
BLD
CORTO MALTES LODGE
Day 20: CORTO MALTES LODGE. Flight from Puerto Maldonado - Lima
Very early departure to witness the spectacle of the Collpa de Loros, Sunrise on the river as we journey 1 and a half hours to a clay wall where hundreds of green parrots congregate at first light each morning. We will generally be able to spend about an hour here before reboarding the boat to enjoy breakfast on our return to Puerto Maldonado. Checkin 2 hours before flight and then time to visit the stunning Butterfly farm before your flight on to Lima.Transfer into your hotel in Lima in Miraflores.
B
Leon de Oro or similar
Day 21: Lima
Adios Peru. Last day in Peru
Sadly, today is the last day of your Peru holiday. You have a pretty much full day to explore the capital and enjoy its museums (or its shops!) before we pick you up from your hotel and take you to the airport for your international flight
B
What is Included:
-Flight Tickets: Lima-Arequipa / Cusco-Puerto Maldonado-Lima.

-Transfers in and out in tours and Hotels.

-2 Day Colca Canyon Tour Includes: Bus, breakfast 2nd day

Accommodation and guide. ( US$ 26 pp fee to sites not included)

-Bus Transport from Chivay to Puno.

-2 Day Lake Titicaca tour includes: Motor boat, entrance fee, & Guide and rustic accomodation with family .

-Inca Express Tourist Bus Puno to Cusco with Buffet Lunch included

-City tour of Cuzco includes: Tourist Bus, & guide.

-Sacred Valley of the Incas includes:Tourist Bus, Buffet lunch & guide.

-Special 5 Day Inca Trail to Machu Picchu includes: Tourist Train

tickets, bus, entrance fee & guide.

-12 nights of accommodation in 3*** Hotels with breakfast.

in Double/Triple Basic Accommodation.

-Private Standard room in Hotel Marqueses Cusco.

-3 night in Double tent in your Trek Excursion. Inca Trail or

Alternative Trek Lares,Salkantay.

-3 nights in Double bungaloo lodge... in the Jungle Trip our first option for Jungle lodge is Corto Maltes but in high season as space is limited we often have to organise a backup reservation in the equally priced Ecoamazonia lodge. If this is the case we will notify you and send the alternative programe for you to check.

-1 night in Hostel in Aguas Calientes.Double Private room.

-Our personal assistance during your entire trip.

-Small Group Trips guided by recommended English speaking Guides.

-Colca Canyon Tourist Ticket
What is not Included:
-International Airport Taxes US$32 Airport taxes US$18 ( 3 times )

-Entries to Ruins in Journey from Puno to Cusco 28 soles.

-Hot springs in Colca and Machupicchu 10 soles.

-Cusco Tourist Ticket (130 soles approx $45 ) includes Optional

Tourist Entry Ticket to the Colca Valley (US$25-26)

Cusco Folk Dances and Music at Cusco Art Center.

-Koricancha " Sun Temple" ( 10 soles) nor Cusco Principal Cathedral ( 25 soles) required for City tour)

-Optional Personal Porter for Inca Trail

-Meals when are not indicated.

-$11 Fee in your Jungle tour in Puerto Maldonado.
We recommend that you bring
WHAT TO BRING

Extra money, US$25 approx. per day to cover meals in cities, snacks, drinks, tips, souvenirs, laundry and any extras.

WHAT TO BRING ON INCA TRAIL:

Backpack & Daypack : ( if you hire personal porter SAS provide a duffle bag )

-5 C sleeping bag :

Hiking boots

Trekking poles: Poles with metal tips are not allowed on the trail.

Warm clothes : layers for variable temperature especially at night.

Thermals : Gloves / scarf : wool socks / woolen hat for cold nights:

T-shirts and trekking pants that zipoff to short pants for a comfortable day walks

Flash light : head torch

Camera and extra batteries

Sunscreen / hat and sunglasses

Personal medical kit / insect repellent :

Rain Gear: poncho/ a good rain jacket :

Toiletries / toilet paper / small towel

2 litre water bottle : disposable water bottles are not permited in Machu Picchu site water purifying tablets optional

Original passport and original ISIC student card if applicable :

Extra money for drinks & tips, souvenirs etc ( soles or dollars ) Emergency money at least 200 extra soles

Bathing clothes for the hot springs. optional

WHAT TO BRING ALONG TO THE JUNGLE LODGE:

A small rucksack,

Lightweight, tightweave long cotton pants & long -sleaved cotton shirts

A fleece and a windbreaker are advisable for cool evenings.

Light raingear (poncho) for sudden downpours

Sneakers or other low heeled walking shoes are essential

Sunhat / sunscreen

Insect repellent is a must, preferably with deet

A water bottle,

Good binoculars and a flashlight or headlight,

Personal gear, toiletries, cameras, 400 exp film,

-Your passport, yellow fever certificate and extra money in plastic bags.

-A few energy snacks will be useful.

-If you have extra large sized feet we may not be able to find rubber

boots in your size for the muddy trails as they are generally not

available in Peru….so please bring old shoes for the muddy trails.
Additional options
Recommendations
Please Note:

Hostel Viajeros in Aguas Calientes town is not a 3 star hotel but it is clean, safe and comfortable with a friendly and very helpfull staff. They have private Twin, Double and Triple rooms, with small private bathrooms and hot gas water system, it has one of the best locations in town, far enough from the riverside so it is not noisy, being very central at the foot of the bridge, only a few blocks from Train and Bus Station and you don`t have to do anymore long uphill hikes to get to your room! It is about 10 minutes from the hotspring pools. We try to include an economical accommodation option for this tour package to make it accessible for everyone but recommend that if you are wanting better accommodation in Aguas Calientes town to celebrate your accomplishment of the Inca Trail trek or any special date/ tour then please request one of the recommended hotel Upgrades below:

(Alternative accommodation based on double occupancy ).

UP-GRADING

Hotels in Aguas Calientes

Hotel Presidente or Inka Town or Green Nature Standard USD$ 25.00 p/person

Green Nature Superior room US$ 36.00 p/person

Hotel Santuario US$ 49.00 p/person.

Hotel Andina Luxury US$ 46.00 p/person.

Mapi -INKATERRA US$ 90.00 p/person.(Includes Dinner and Breakfast)

Hotel Hatuchay Tower US$115.00 p/person

Hotel INKATERRA US$ 260.00 p/person.(Includes Dinner and Breakfast)

Sumaq Hotel 5 stars US$ 220.00 p/person.(Includes Dinner and Breakfast)

Hotel alongside Machupicchu: Sanctuary Lodge US$ 490.00 p/person.(Includes Dinner and Breakfast)

To guarantee your hotel reservation UP-GRADE,

please include the payment of it in your tour booking deposit, so we can reserve and pay for your hotel in advance. All Hotel policies require full payment of your accommodation 20-45 days prior your reservation date.

==========

IMPORTANT: You must present your passport

with the TAM immigration slip

to all hotel accommodations. The national sales tax (18%) is charged to all Peruvian citizens and foreigners staying 60 consecutive days or more. In case the room is shared by both a taxable and non-taxable guest at the same time, the sales tax will be applied to the whole room. So please take every caution to not loose this piece of paper. You need to bring it to the Cusco office for your check-in.

VACCINATION INFORMATION.-

Though we have not heard of anyone contracting yellow fever anywhere in Peru in many years, we nevertheless recommend a yellow fever vaccination for trips to the rainforest.

This vaccination is required or recommended for most rainforest areas around the world.

The vaccination, which is valid for 10 years, is only really effective starting 10 days after it is administered – please bring your certificate.

BOOKING A PACKAGE:

You can book any of our Packages just as they are described on our web site or we can customize an itinerary to meet your exact needs and requirements and time. When requesting availability or reserving this tour please indicate your exact international flight details to avoid any confusion in dates or times of tour flights.

Within 24 hours of receiving your booking payment on-line OR the reservation booking form payment you should receive a confirmation by e-mail from one of our Agents to assure you that we have recieved your details and deposit and are processing the bookings .

Booking deposit required US$800 per person with Credit Card or Western Union money transfer.

Note: Late bookings of this 21 Day Package tour could incur an extra cost if only expensive flights are available.

Please check this at time of interest in package.

2 months prior to the tour date you should pay the balance of the tour cost via Western Union or Bank transfer. For payment via Western union we will give you $15 discount per person. If you choose to use credit card a fee of 5% will be incurred.

When we receive the balance of the payment all the vouchers required for your tours, hotels, transfers etc will be sent through to you.

If you feel you have not recieved them all please just email your agent to resend them and print them off at least 1 week before your departure as there should not be any changes after this.

PRIVACY POLICY: All the information you provide us, full name, passport number, nationality, date of birth, telephone number, and address or your credit card info will be used strictly to process your trip arrangements. This information will not be shared with anyone.
Please note
Packages/ Multiday Tours SAS rep is : email: soledad@sastravelperu.com skype: sastravelcuscoperu

Please note Inca trail does not run in the month of February as the Trail is closed due to very wet weather.

It is possible to do the Lares trek instead but be prepared for wet weather high altitude trekking which requires suitable trekking gear and experience. Passes may be closed due to snow and alternative trails taken.
Frequently Asked Questions
Booking Information
Thank you for deciding to register for a SAS Travel tour !

Step 1.-

CLICK:

CONFIRMED GROUP DEPARTURES
Step 2.-

Select your tour and fill out with your personal details. If you are travelling as a couple, or with more persons you must book and pay with one reservation Code. But please complete details of your companion or group on lines below:

Travelling with:

(write Full names, Passport number, Age and Nationality). Once you finish sending us all your details you will receive a Reservation Code (eg: 240611001). Then you just need to pay your deposit, pay for 2 or more person in your group with ONE Reservation Code, so we can guarantee all your permits, tickets for Machupicchu, train tickets and tour all together in a group.

How to make your deposit and confirm your spots on the tour:

Step 3.-

PAY A BOOKING-DEPOSIT with WESTERN UNION: US$ 1,000.00 per person through in order to: Irwin POMA-FLORES (Peru) Upon transferring the money email us the Money Transfer Number (MTCN) copy of your reservation and amount paid to: office@sastravelperu.com and caja@sastravelperu.com to confirm your deposit.

Step 3.-

PAY A BOOKING-DEPOSIT ONLINE with MASTER CARD or VISA.- US$ 1,050.00 per person. (US$ 1,000.00 + 5% card charge). Payments by credit card will carry a surcharge of 5%. As soon as we receive your deposit we will procced purchasing your Permits for Inca Trail trek, tickets etc . We will send you a final confirmation of your tour with detailed information shortly.

If you don`t receive your Confirmation within 48 hours please send us an email to:

office@sastravelperu.com or feel free to Skype us: sas.travel.info or call us.

FINAL PAYMENT:

The remaining balance needs to be paid at your arrival to Cusco in USD$ Dollars cash. Payments with credit / debit cards are accepted with a commission of 8%, Travelers' cheques with 3% only at our Office in Cusco.

Final payments of your tour IN ADVANCE

with card it is possible, it will be with 5% extra or you can transfer the balance through Western Union.
Terms & Conditions
SAS Travel Conditions of Exploring Peru and Jungle 21 Day Tour.

- EXPLORING PERU and JUNGLE 21 Days

If you are booking as a single traveller additional Single room supplement of US$480

Booking deposit required US$1200 pp to our Bank account -please request details sending us an e-mail to

soledad@sastravelperu.com

plus in the case of single traveller the additional US$480 for Single room supplement.

Regarding Conditions for this package the main items to understand clearly is the non refundable flight tickets and Inca trail permit so the deposit would be lost so these conditions are explained in depth.

-Cancelation of the package within 6 weeks to 2 weeks in advance

incurs a further loss of $400 total payment $1,600

-Cancelation of the package up to 2 weeks up to 5 days in

advance incurs a further loss of $800 total payment $2,000

-Cancelation of tour within 5 days - 36 hours of departure incurs a loss

of 90% of total tour cost...

If a party has booked as 2 people and then one person cancels but the other person continues with the tour the single supplement must also be paid as part of the cancellation as the other person now enters into a one person contract for the tour requiring the additional single supplement to be covered.

Our first option for Jungle lodge is Corto Maltes but in high season as space is limited we often have to organise a backup reservation in the equally priced Ecoamazonia lodge. If this is the case we will notify you and send the alternative programe for you to check.

*Flight Tickets.- The only thing with the cheaper tariffs that we offer you is....there are charges if you need to make any date or time changes and they can only be made before the day of the flight and it is unlikely you will receive a refund in the case of you making a cancellation so please be sure they suit your itinerary and you have travel insurance.

Important note: If you miss your first flight on a round trip ticket then flight company computer systems annul your entire ticket in the same code so you must make sure you allow enough time for connections and print out boarding passes 40 hours prior to your flight and allow plenty of time to get to the airport.

Check these conditions with your Travel Insurance which you should purchase before flights if possible.

A reservation quote can only be held if we reserve with the first and surname of the passenger + passport number and nationality. Please note in the quote we send you flight companies will only allow us to hold a reservation in a low tariff for a few hours and after this time we need to redo the reservation. Hopefully the lower tariff is still available but if not we might need to slightly vary the time of flight to gain the same tarif or there may only be option in a slightly higher tariff and we will email you immediately if this is the case.

If you are booking a child fare please ensure you make this clear the exact age at time of travel . so we can check the discounts possibly available for you before purchasing the ticket.

Infants 0 -1 year 11 months Children 2 -11 year 11 months

If we do not recieve payment for tickets and they are not purchased before this time they are automatically erased from the airlines computer reservations and the price will generally be higher to make another reservation. Therefore we require confirmation ASAP in the form of credit card details and authorisation to charge the full amount of the flights to the credit card. Within 1 hour of a credit card charge you should recieve your E ticket for the flights or an email with any changes indicated.

When we email your E Ticket please check that the details are all correct and let us know urgently if you see an error. This is because once a ticket is purchased no changes can be made the next day. If you do realize an error in the same day and it is after working hours please contact us urgently by phone as after 9pm there is nothing that can be done. Emergency Contact:+ 51 84 234284

CANCELATION OF A FLIGHT ONCE TICKETED : Base tarif tickets do not allow for refund in the case of cancellation so ensure you have travel insurance

DATE OR TIME CHANGES: these may only be made prior to the flight date.

Ensure that you indicate to your international flight connection company the details of your domestic connection so that they are aware of your connection in case they are delayed in arrival.

SAS travel requires at least 36 hours notice to be able to make changes as tickets must be reticketed through the flight companies office and generally closed on Sundays. Request of a change must be recieved by email clearly in writing at least 24 hours prior to the flight and you must also ring the SAS Office at the moment the email is sent as 24 hours is the minimum anount of time to attempt and process a change. Last minute changes will almost inevitable have to be charged for a difference in tarif as cheaper tarifs always fill up well in advance.

skype: sastravelcuscoperu CUSCO- Perú - Tél: + 51 84 249194 + 51 84 261920

Fax: + 51 84 225 800 + 51 84 249194 Emergencies:+ 51 84 234284 - Movil: 984 65 2232

Charges for changes of flight date or time are $40 per ticket per change if availability exists in the same tarif. If only higher tarifs are available in the new date or time request the cost is $40 plus the difference between the previous and new tarif.

BOARDING PASS AND CHECKIN

All flights are with E tickets we strongly recommend that 48 hours before your flight you log on to the flight company website with your code and there you can check for any changes of flight times and select your seats and print your BOARDING PASS for your flight. You simply use your confirmation code (example ZVRLFB) this can be done up to 10 hours in advance . Maybe possible up to 6 hours in advance but we recommend you do this as early on as possible.

You should arrive 2 hours in advance for checkin at the Lima airport with your printed boarding pass and passport as indicated in your E ticket.

SAS Travel Conditions of 4 Day Inca Trail to Machupicchu.

4 Days / 3 Nights

1. You must advise SAS Travel of any medical problems or allergies. You need to be in good physical health and if your health is questionable, then you should consult a doctor. If you are over the age of 65, then you will need to present us with a current medical certificate.

2. You must advise your guide if you wish to leave the group or the camping area for independent walks or sightseeing. If you are experiencing any problems with the service of the guide or tour

please advise the guide in that moment so he can resolve any problems as soon as possible.

4. The student US$40 discount for use of student cards is regulated by the park itself, not SAS travel. All student ISIC cards are validated by the control of the park and only accepted if you scanned a clear copy of your valid 2011 ISIC card through with your deposit at the time of booking and it was confirmed. A Youth Travel card is not accepted by the control.

5. You must carry your original passport and valid ISIC card (if applicable) on the trail, If you do not take the correct passport as indicated in your permit, the control will annul your permit and refuse you entrance to the trail. If for any reason, you organize a new passport after we have purchased your permits, you must bring the old passport with you, or if this is impossible advise us in writing with a scan of the old passport and your new passport for us to present to the INC with official documentation to avoid problems. Administration charge for this formal change is $15.

6. Unless you hire an extra porter you need to carry your back pack, sleeping bag and the mattress. if you want an extra porter (for the full trip) you must have booked this with your original booking form as they require permits as well.

Change of dates is not possible after a permit has been processed. It is non transferable nor refundable. The deposit will be forfeited. Please note that we do this because we are prohibited to re-sell your spot after you have cancelled.

If while on tour something arises and you feel you cannot do the trek we can organise an alternative tour to visit Machu Picchu by train with overnight in Aguas Calientes joining your group and completing the tour as normal from here.

10. If you become ill or injured on the trail and are unable to continue, a porter will be provided to accompany you back to an area with emergency assistance capabilities. helicopter air lifts and medical assistance are paid at the expense of the passenger. if you fail to complete the tour due to illness we will assist you to meet with your group at machupicchu to recommence your tour at that point, although there will be no refund from the original payment.we will, however, present you with a document to certify illness and which can be used to present to your travel insurance company.

11. SAS Travel will take all reasonable care in providing service to our clients to avoid accident, illness, loss of personal property and will only employ suitably qualified staff. We accept responsibility for the actions of our own employees. SAS Travel cannot however be responsible for any action or event that was unforeseeable or unavoidable. We also cannot be responsible for improper acts by clients or other third party. You are totally responsable for your own personal property and rented equipment.

12. SAS Travel does not take responsibility for additional costs due to unfavorable weather conditions, natural catastrophe, strikes, accidents, illness, injury, loss of personal items, etc. It is the clients responsibility to carry insurance to cover these types of events. We reserve the right to modify or cancel the program due to any of the unforeseen conditions listed above.

13.- In extreme cases when " Inca trail to Machupicchu" is declared closed for safety reasons SAS travel can replace your trek with an alternative trek such as 4 day Lares trek or 4 day Choquequirao trek and your booking deposit money will be used for this or if you prefer an alternative tour such as 4 day lake Titicaca package or Jungle trip etc.to give you some of the many options.

14. When paying the balance in Cusco, there will be a * 3% comission if you choose to use travellers cheques and a 5% comission for use of credit card.

I have read and accept the conditions

Signature: ______________________________ Date:__________________________________