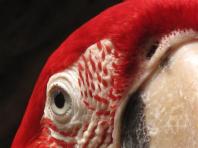 Leaving Frequency
Mondays, Wednesday & Saturday By private Bus, Private Boat and private bus. We visit the Cock of the rock,Black cayman,monkeys and hundred of birds…
The group price of this tour is US$ 590.00 per person, It is with a minimum of 4 people. If we end with only 2 people booked for this tour... we won´t cancel the tour, so an additional US$ 250.00 per person is required to allow us the operation of this tour with only 2 people as private service.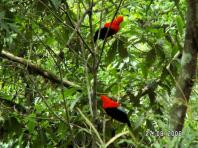 Price Information
US$ 590.00 p/person
(Based on Double / Triple accommodation)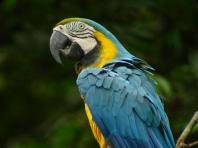 Overview
The great biodiversity of this national park is due to it starting in the eastern slopes on the Andes and plunging down into the lowlands, thus covering a wide range of cloud forest and rainforest inhabitats. The most progressive aspect of the park is the fact that so much of it is very carefully protected, a rarity anywhere in the world.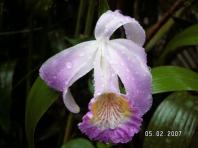 Is it for me?
Nature lovers, birdwatchers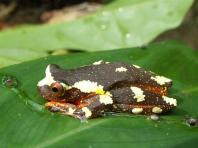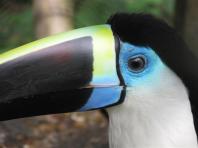 Briefing
Private Groups are only when the group is less than 4 participants.
* Pre-departure briefing the night before of your trip at your hotel at 7.00 pm with your tour guide.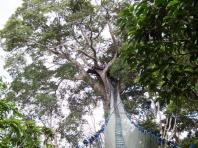 Transport
Private Van and motor boat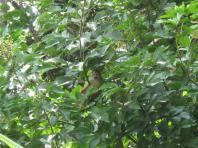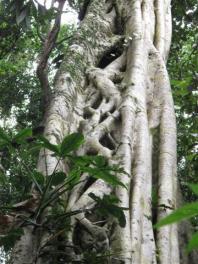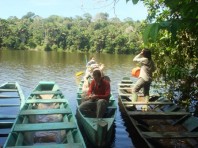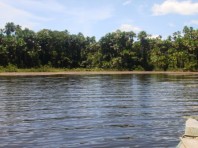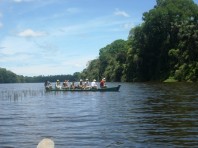 You are here: Manu National Park Tours > Manu Express Jungle trip 3 Day / 2 Night (Manu Cultural Zone)
Manu Express Jungle trip 3 Day / 2 Night (Manu Cultural Zone)
Many tourist after visiting Cusco to hike to Machupicchu along the Inca, Lares or Salkantay trails realised that the true jewel of Peru is Manu National Park
Situated at 280 kilometers from Cusco, a paradise, the Peruvian government has been protecting for the past 30 years and now they are saving up to come back! Make sure you visit Manu while you are here.... you need to add a few more days to your itinaray but the investment is totally worth it!
Program Itinerary
Day 1: CUSCO – BAMBU LODGE
On the first day of our adventure into the Jungle of Manu, we will pick you up around 5:45 AM from your Hotels in Cusco, using the service of our private SAS transport. The first part of our excursion is will take us through the majestic Andean mountains, where we will take a quick opportunity to visit a really nice pleasant lake by the name of Huacarpay, a high Andean Lagoon that boasts heaps of flora and fauna typical of the Andean mountains. Afterwards, we will visit the town of Huancarani which contains the funeral towers of Ninamarca, a cemetery of the Lupaca Pre –Inca Culture, which we will visit briefly on our way to Paucartambo, which is known as the folkloric capital of the district of Cusco. In the face of modern times, this small colonial pueblo has managed to hold on to its rich tradition for centuries upon centuries. At mid-day we will arrive at the entrance of Manu National Park and access to one of the most protected natural areas in South America. We will continue on in our private transport down a dirt road and on through the thick fog from which this section of the forest takes it name. Eventually we will arrive at the home of the exotic Peruvian National Bird, the "Cock of the Rocks", where it is known to gather with others of its kind for some sort of social gathering that seems reminiscent of a large courtship. You will find that this is quite an amazing spectacle complete with an impressive array of sounds and colours that can only be found in the jungle. For our first night, we will stay in the beautiful BAMBU Lodge, where we will arrive at approx. 5:00 p.m.
BLD
BAMBU LODGE
Day 2: BAMBU LODGE - GOLDEN VINE LODGE
In the morning we will drive 1hours an a half (approximately) to Atalaya port, on the way we have the opportunity to see the coca plantation and orchids garden. When arrive to Atalaya port we take a motor boat for about 20 minute down stream (Alto Madre de Dios river) and finally we arrive to our Lodge, where we will have a lunch.
In the afternoon, we will visit the Machuwasy Lake, where we explore the lake in a traditional wooden boat, in this place we can see more colorfull birds, and some times it is possible to see Capybaras and Monkeys. Walks at night optional
B,L,D
GOLDEN VINE LODGE
Day 3: GOLDEN VINE LODGE – CUSCU
Very early in the morning we will go on our way to the Parrots clay lick, where we will have the chance to see dozens of beautifully colored, tropical birds, that gather at this clay wall every morning to eat the nutrients out of the soil. The bright colored birds, with the lush jungle surrounding them, and the morning sunrays bursting through the canopy is a spectacular event that you won´t soon forget. We back to the Lodge for breakfast and get ready to leave our location in direction to Cusco we will pass through the beautiful Sacred Valley on the way, arriving in Cusco around 6:00 pm (Approximately).
BLD
What is Included:
Qualified naturalist English speaking guide with telescope binoculars and own equipment

Private Transport van to Atalaya Port and return Atalaya to Cusco

Transportación by equiped private boat Atalaya to Golden Vine Lodge, Machuwasi

Entrance fee to the Cock of the rocks

Accommodations

2 nights in Lodges, beds with mosquitoes nets

Full Board Meals ( breakfast, lunch and dinner

vegetarian option by request )

Drinking water provided, Bottled water for cooking

First Aid Kit, extractor for poison

Manu birds and wildlife checking list

Radio communication.
What is not Included:
Binoculars

Money for extra soft drinks and beers

Personal items and medicines (gear, clothing, laundry, telephone calls, etc.)

Optional tips for the staff, tour guide, cook, motorists

Accommodation in Cusco or Pisac not included.
We recommend that you bring
lightweight, tightweave long cotton pants

long -sleaved cotton shirts preferably in green or tan colours

a fleece and a windbreaker are advisable for cool evenings

light raingear (poncho) for sudden downpours

waterproof hiking boots

sneakers (covered shoes) or other low heeled walking shoes are essential

a light hat and suntan lotion

insect repellent is a must, preferably with deet

a small rucksack

a water bottle

good binoculars

flashlight or headlight

pocketknife

energy snacks will be very useful

personal medical kit

toiletries

cameras, 400 exp film

scanned copy of passport

yellow fever certificate

extra money

put your cloths in plastic bags

Photography: we recommend that you use film of 400 ASA or higher for the darker areas under the canopy. Normal 100 ASA can be used when out on the river or lakes. Protect your equipment against moisture with waterproof cases.
Frequently Asked Questions
Booking Information
Step 1.-

CLICK ON:

AVAILABILITY AND BOOKING

(Confirmed Departures:)

Step 2.-

Select your Manu tour and please complete your details of each of you in separate forms. You will receive a Reservation Code (eg: 240611001) It is possible to pay for 2 or more person with 1 reservation code.

Step 3.-

Pay a booking deposit of US$ 300 per person through Western Union Money Transfer in order to: Irwin Poma Flores DNI 46612452 (SAS Travel, Cusco PERU) Upon transferring the money email us the Money Transfer Number (MTCN) copy of your reservation and amount paid to: caja@sastravelperu.com and david@sastravelperu.com to confirm your deposit. We will confirm your reservation on the same day.

Step 3.-

Pay your deposit ONLINE with Mastercard or Visa.- US$315.00 per person. (US$ 300 + 5% card charge). Payments by credit card will carry a surcharge of 5%. We will send you a final confirmation of your tour with detailed information shortly.

If you don`t receive your Confirmation within 24 hours please resend us your payment email to: office@sastravelperu.com or

Skype us: sas.travel.info or sas.travel

.

FINAL PAYMENT:

The remaining balance needs to be paid at your arrival to Cusco in US$ Dollars cash or Peruvian soles (Exchange rate 2.90 Soles for US$1). Payments with credit / debit cards are accepted with a commission of 5%, Travelers' cheques with 3% only at our Office in Cusco. Full payment of Package in advance will be with 5% extra.

Travel Insurance:

We recommend you to obtain a personal Travel Insurance, including Medical Problems, Baggage loss or damage. If you need help to find a travel Insurance Company please contact:

Eg, Nomad Travel Insurances.
Terms & Conditions
MANU EXPRESS 3 Days Tour Bus/Bus - ( Manu Cultural Zone )

Please send your flight arrival details (TIME / AIRLINE / FLIGHT #:/ DATE) to us once you have confirmed your flight, for your free pick up from the airport.

We need this information at least 3 days in advance.

Remember there is a pre-departure briefing with the guide at 7pm the night

before the tour in our main Office Calle Garcilaso 270 near Plaza San Francisco Cusco.

Please read through these Conditions as you must also sign them in the office on your arrival to Cusco.

SAS TRAVEL CUSCO PERU MANU TOURS CONDITIONS AND RESPONSABILITY.

1.- YOU MUST ADVISE SAS TRAVEL OF ANY MEDICAL PROBLEMS OR ALLERGIES.

2.- WE REQUIRE A FULL PAYMENT OF YOUR TOUR 4-3 DAYS BEFORE.

3- IF YOU BECOME ILL ON THE TOUR AND ARE UNABLE TO CONTINUE, ASSISTANCE WILL BE PROVIDED AS POSSIBLE TO ASSIST YOU BACK TO CUSCO. AIR LIFTS AND MEDICAL ASSISTANCE ARE AT THE EXPENSE OF THE PASSENGER. NO REFUND ON ORIGINAL PAYMENT

4.- IF YOU CANCEL THE TOUR AFTER FULL PAYMENT HAS BEEN MADE DUE TO ILLNESS OR

CIRCUMSTANCES OUTSIDE THE RESPONSABILITY OF THE TOUR WE WILL ASSIST YOU WITH A DOCUMENT TO CERTIFY ILLNESS OR COMPLICATING CIRCUMSTANCES TO PRESENT FOR INSURANCE PURPOSES.

5. A CANCELATION OF TOUR ONCE WE HAVE RECEIVED YOUR CONFIRMATION AND BOOKING DEPOSIT UP TO 6 WEEKS IN ADVANCE INCURS A LOSS OF $ 300. BOOKING DEPOSIT IS NON REFUNDABLE.

6.-IF CANCELLATION OCCURS WITHIN 6 WEEKS TO 2 WEEKS OF DEPARTURE INCURS A LOSS OF 60% OF TOTAL TOUR COST.

7.- IF CANCELLATION OF TOUR WITHIN 2 WEEKS TO 4 DAYS OF DEPARTURE DATE INCURS A LOSS OF 80% OF TOTAL TOUR COST.

8.- IF CANCELLATION OCCURS 1 WEEK BEFORE DEPARTURE 20% OF FULL PRICE CAN BE REFUNDED.

9.- YOU ARE TOTALLY RESPONSIBLE FOR YOUR PERSONAL PROPERTY AND HIRED EQUIPMENT.

3% COMISSION IF YOU PAY WITH TRAVELLERS CHEQUES 5% COMISSION VISA CARD.

RELEASE OF LIABILITY AND ASSUMPTION OF RISK:

9.- SAS TRAVEL cannot accept responsibility for losses or additional expenses due to delay or changes in air or other services, sickness, weather, strike, war, quarantine, or other causes.

All such expenses will have to be borne by the passenger. You need travel insurance for all tours.

10.- SAS TRAVEL will do everything possible to assure a safe and enjoyable trip but we will not accept any responsibility for damages, injuries, losses, expenses due to delays, for any cause whatsoever, this applies to any person or property in connection with any service we or our intermediaries provide, which result directly or indirectly from acts of God or forces mayor.

PLEASE NOTE: OUR PROGRAMS MAY VARY SLIGHTLY DUE TO WEATHER CONDITIONS, OR SO AS TO MAXIMIZE THE WILDLIFE SIGHTINGS DEPENDING ON THE REPORTS OF NATIVE GUIDES AND CURRENT INFORMATION.