Leaving Frequency
FIXED DEPARTURES:
US$ 440.00 (US$ 395.00 for Students under 26 y/o)
Huaynapicchu mt walk and 6 Kg personal porter
Open a group rate with 4 person min.
========================
PRIVATE TOURS:
Daily Departures (2 person min)
US$ 540.00 pp (2 person Group)
US$ 440.00 pp (Group w 4-6 pers)
We can open a new departure day according to the people requested dates. We generally run this as a small group trek (2 person minimum) the number of people determine the price. We will advertise for Confirmed dates when we have a group service rate.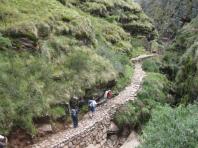 Price Information
US$ 440.00 p/person
(Based on Double / Triple accommodation)
Please Note
single supplement is $40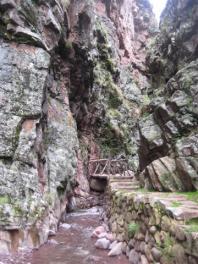 Overview
This is easily the shortest of the treks and is best suited for those with a limited amount of time, but who would still like to do a bit of trekking before they see Machu Picchu. It is the lowest in altitude (4350 meters) and also the shortest in distance (17 kilometers) but still sees some great examples of Inca Stairs and other Inca ruins along the way. As there are only 2 days of trekking, you will only camp for one night and then sleep in our hostal on the next night. This trek is also available in 1 or 2 day versions as well (without Machu Picchu).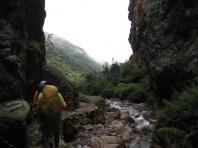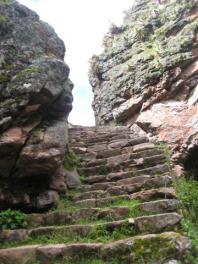 Difficulty
Distance: 17km
Duration: 2 days trek + 1 day Machu Picchu
When to go: Best from April to October
Altitude: 3700 masl to 4400 masl
Difficulty: Moderate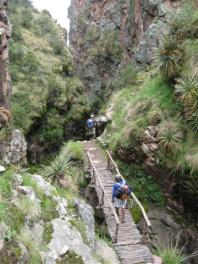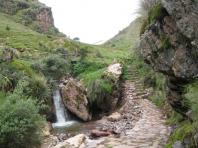 Transport
Tourist bus and Train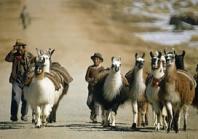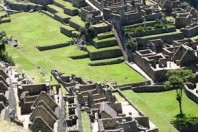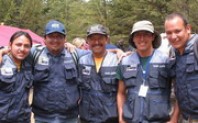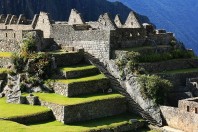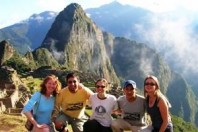 Huchuy Qosqo hike, Machupicchu & Huaynapicchu Mt walk. 3Day /2Night.
Last Minute Information
DAILY DEPARTURES !!!

The permits for Machupicchu citadel and train tickets are limited, FIRST COME, FIRST SERVED. You must book and pay a deposit well in advance (3-1 months before). See on Step 1:

AVAILABILITY

Book ONLINE on Step 2:

BOOKINGS

Get a Code (Purchase Number) and pay a booking deposit of US$ 200.00 p/person with:

Western Union

to Mr: Irwin POMA FLORES (Peru) OR Pay a booking deposit ONLINE on Step 3:

TO PAY

with Master Card or Visa card US$ 210.00 p/person. Book and pay as soon as possible to avoid disappointments.

If you are booking as a Student, Please send us a scanned copy of your ISIC student card to info@sastravelperu.com as soon as possible to validate your tour as a student rate.

*
Special Offer
To receive the Offer of student price for people under the age of 24 without ISIC card you need to indicate in the comments section of the booking "I would like the student price offer for persons under 24 years of age"

4 Nights for the price of 3 in MARQUESES BOUTIQUE Hotel in Cusco or FREE Up-grade to Delux rooms for the price of Standard room. To get this offer you must quote it at the time of booking and payment is required in $ USD cash. Please book through this website but you must indicate your tour with SAS Travel (This offer is only valid for accomodation dates from JAN 1st 2013 to APRIL 15th 2013). For months May- Aug- Stay 4 Nights FREE Up-Grade to Suite for the price of Delux rooms ..... to get this offer you must quote it at the time of booking and payment is required in $USD cash.www.hotelmarqueses.com
Huchuy Qosqo to Machu Picchu 3 Day Trek
This is easily the shortest of the treks and is best suited for those with a limited amount of time, but who would still like to do a bit of trekking before they see Machu Picchu. It is the lowest in altitude (4350 meters) of the 3 alternative treks and also the shortest in distance (17 kilometers) but still sees some great examples of Inca Stairs and other Inca ruins along the way. As there are only 2 days of trekking, you will only camp for one night and then sleep in our Hotel on the next night. This trek is also available in 1 or 2 Day versions as well (without Machu Picchu).

"This trek is ideal for those passengers who really want to be far in the middle of nowhere with only nature surrounding them as they camp in an area that is scarcely seen by tourists. Huchuy Qosqo (small Cusco) is situated above the Valley of Urubamba and offers very spectacular views over the mountain range Cordillera de Vilcanota. This trek is also a great way for you to enjoy a shorter trek that still includes Machu Picchu and Inca trails (with Inca stairs that are better than the Inca Trail). You will have one night camping in the wilderness and then the very next night will be spent in our Hotel Viajeros in the beautiful pueblo, Aguas Calientes"
Program Itinerary
Day 1: Tambomachay to Pumamarca
At 06:00 am Early pick up from your hotels, private vehicle for 25 minutes to Tambomachay located at 3700 masl. (for our mid day we have a 8 Km of moderate walk with a gradual climbing of 450 meters ; 4-5 Hrs till the lunch place) we start our hike walking at the ancient Inca Trail used by Inca people to connect with the Sacred Valley, Pisac and probably to Machupicchu at the XV century. From this point you can observe panoramic views of Cusco traditional neiborhoods as Santa Ana, Santiago, Puquinetc, and the Valley of Qorao, at this high Andean level we observe llamas and alpacas eating the andean grass named Ichu, small cactus and some bromelias bushes locally known as Puyas. At the left side on the path we can see ancient Incas terraces used by farmers in order to gain more potatoes farmings areas, A gentle walking down to the trail as it curves sharply up-hill to reach a pass of near 4180 meters. Then we descend along the trail, you will see a beautifully green valleys stretching out as far as the eye can see, the trail takes us up over the second pass (4300 meters) and into high open country. Just reaching the top we can see the beautiful Lake Qoricocha (Golden Lake in Quechua) where we descend for 20 minutes to find our lunch spot , free time to rest.

After lunch and time for rest , we continue another 300 meter to climb in 3 Hrs walk in a normal pace to reach the highest point 4380 masl, from this top it is easy to see Chincheros and the lake of Piuray and some snow sacred mountains as Salcantay, Veronica, (2 passes) then a 1.5 Hrs downhill walk to Pucamamarca our camping place. Here, we set up camp and enjoy our supper underneath the great starry sky. This community is located at 3,980 masl nearby there few houses that belong to the farmers. (8- 9 horas 16 kilometers of moderate walk).
Lunch Dinner
Camping 4010 masl
4350masl
3700masl
14 km
6-7 hours
Day 2: HuchuyQosqo, Taucca, Chincheros ,Ollanta and train to AguasCalientes, Machupicchu.
Early wake up at 6:00 am, after breakfast we leave our campsite at 07:00 am (1 hour to walk to HuchuyQosqo) a soft walk to end the valley and we walk through a narrow canyon to see a recently restored trail with wooden bridges and some steps, a lot of of native trees and bushes , a panoramic views of Lamay Valley and Calca, the sacred river of the Incas, Willcamayo ; the walk is one hour to reach the Inca site of HuchuyQosqo, recently restored by archaeolists, located at 3450 mals from this point it is clear to see many beautiful mountains as Chicon, Pitusiray, Sawasiray, Waccaywilca and Veronica ancient Apus so respected and venerated by the locals which most of them are Incas- Quechuas descendents. We have a guided tour for 1.5 hours to visit and explore this interesting Inca complex. HuchuyQosqo was originally an administrative and military center as Pisaq, with many constructions around, Inca buildings with perfect fine stones work, graneries structures called Collcas to store and preserve food, because it was an important agricultural center to produce corn. By 10:00 am we continue our hike for nearly 3-hours of gradually climb to Taucca Pass 4400 masl. After reaching the top we start our last gentle descend for 1 hour until our lunch place from here it is possible also to see the Piuray Lake.

After lunch our private vehicle will transport us to Chincheros then to Ollantaytambo, at 16:30 pm we board our train to AguasCalientes. 2 hours of spectacular train ride with amazing views at both sides of the valleys with impressive snow capped mountains, several Inca constructions can be seen from your windows and the Urubamba river near the train. After we arrive to AguasCalientes our guide will take you to our Hostel Viajeros where you are set for the night. There is an optional time to go to the hot springs to relax and good for muscles. At dinner time your guide will inform you all details about our plans for next morning to see Machupicchu and optimize your visit at this wonderful and marvel place found in 1911.
Please Note.- If some passenger get some altitude problems or found this hike very difficult, there is an option to walk down from HuchuyQosqo for 2 hours to Lamay in the Sacred Valley of the Incas and our vehicle will transport the group to Ollantaytambo to board a train to AguasCalientes.
Breakfast Lunch Dinner
Hostel Viajeros Aguas Calientes
4450masl
3900masl
12 kms
5-6 hours
Day 3: Aguas Calientes – Machu Picchu - Cusco
Early wake up at 04:00 am and after breakfast we need to wait at the Bus Terminal to get our bus. The first Bus to Machupicchu depart at 5:30am ( 8Hrs in Machupicchu)
After 30 minutes of bus ride we are at the entrance of Machupicchu ready for our guided visit, 3 hours guided tour with our expert tour guide ,he will show and walk with you throught the most remarkable sectors areas, temples, residences, altars and he will offer a relevant history and archaeology informations.
After the guided tour you will have extra time to explore by yourself, going to the sun gate "Inti-Punku", or walking to the Inca Bridge.
By 14:30 pm we board a bus down to Aguas Calientes to Viajeros Hostel for our Lunch.
At 16.45 pm we board our train return to Poroy train station ( 25 minute near Cusco). Private transport to Cusco (end of our service at Plaza Regocijo or San Francisco), return time at 21.00 Hrs approx
In high season sometimes we offer theTrain to Ollantaytambo and private transport to Cusco, return time at 21.00 Hrs approx .
Breakfast Lunch
What is Included:
Collection from your hotels at approx 05:45 am

Transfer in private vehicle to Tambomachay (starting point of the trek)

2 people per tents (tents are comfortable and spacious)

Comfortable roll mattres

Experienced english speaking guide

Meal: 2 lunch 1 dinner 1 breakfast

Dining tent with tables and chairs

First-aid kit including emergency oxygen tank

Chef and cooking equipment and kitchen tent

Meals: 2 Breakfast, 3 lunches, 2 Dinners

Horses (to carry tents, food, cooking equipment)

6 Kg personal porterage for your items (Duffle bag provided by SAS)

Emergency horse

Hot water every morning and evening for washing purposes

Boiled water to fill in your bottle (and at lunch time if requested with enough time ahead)

Private vehicle form Taucca or Lamay to Ollantaytambo

Train from Ollantaytambo to AguasCalientes (Vistadome or Expedition)

Reception at AguasCalientes and transfer to the Hostel

Accommodation in Double private room

Early bus up to Machupicchu from AguasCalientes

Admission fee for Machu Picchu

Guided tour of Machu Picchu on Day 3 and free time

Bus down from Machupicchu to AguasCalientes

Expedition Train return to Cusco or Train to Ollanta and bus to Cusco

Transfer to your hotel.
What is not Included:
Sleeping bag (you can hire for US$10)

Breakfast on Day 1 and dinner on Day 3

Drinks and snacks.

Tips for your staff are not mandatory.
We recommend that you bring
A backpack with a change of clothes for the whole period of the trek

Rain jacket or poncho (plastic ponchos can be purchased in Cusco)

Strong footwear, ideally trekking or sport shoes

Snacks: biscuits, energy bars, chocolate, fruits, muesli, etc.

Flashlight and batteries

Toilet paper

Camera, film and batteries (batteries consume more quickly under cold conditions)

Hat to protect you from the sun, rain and cold

Insect repellent, minimum recommended 20% DEET

Sun bloc.
Recommendations
Please Note: Hostel Viajeros in Aguas Calientes town is not a 3 star hotel but it is clean, safe and comfortable with a friendly and very helpfull staff. They have private Twin, Double and Triple rooms, with small private bathrooms and hot gas water system. Hostel Viajeros has one of the best locations in town, being very central at the foot of the bridge, only few blocks from Train and Bus Station and you don`t have to do anymore long uphill hikes to get to your room! It is about 10 minutes from the hot spring pools. We try to include an economical accommodation option for this tour package to make it accessible for everyone but recommend that if you are wanting better accommodation in Aguas Calientes to celebrate your accomplishment of the Inca Trail trek or tour then please request one of the recommended hotel Upgrades below.

If you are wanting alternative accommodation this can be organized. These are some upgrade options and the corresponding supplemental cost based on double occupancy.

.

To guarantee your UP-GRADE hotel reservation, please include the payment of it in your tour booking deposit, so we can reserve and pay for your hotel in advance. All Hotel policies require full payment of your accommodation 20-45 days prior your reservation date.

.

UP-GRADING HOTELS in Aguas Calientes:

Upgrade price is per person based on 2 people sharing a room.

Extra Supplement per person:

Hotel Presidente US$25.00 per person.

Green Nature US$25.00 per person.

Hotel Santuario US$44.00 per person.

Hotel Andina Luxury US$46.00 per person.

Mapi -INKATERRA US$ 90.00 per person.

(Include Dinner and Breakfast)

Hotel Hatuchay Tower US$145.00 per person

Hotel INKATERRA US$ 260.00 per person

(Include Dinner and Breakfast)

Sumaq Hotel 5 stars US$ 210.00 per person.

(Include Dinner and Breakfast)

.

(Hotel in Machupicchu)

Sanctuary Lodge US$ 490.00 pp

.

IMPORTANT: You must present your passport with the TAM immigration slip to all hotel accommodations. The national sales tax (18%) is charged to all Peruvian citizens and foreigners staying 60 consecutive days or more. In case the room is shared by both a taxable and non-taxable guest at the same time, the sales tax will be applied to the whole room. So please take every caution to not lose this piece of paper. You need to bring it to the Cusco office for your checkin.
Frequently Asked Questions
Booking Information
Thank you for booking with SAS Travel.

CLICK: (AVAILABILITY AND BOOKINGS) See FIXED DEPARTURES.

Choose the tour and departure date required, fill out your personal details on Step 2, then below fill out the details of your group in Traveling with: (Make sure your passports have 6 months validation on them before you enter to Peru). Once you have finalized your booking, you will receive a reservation code (purchase number) to be able to pay ONLINE with. (eg: 240611001). If you are booking for 2 or more people, you can pay with just one code for one transaction.Please note if the permits are soon to run out you are better to do a credit card deposit as this is a more immediate charge to ensure quick confirmation.

HOW TO MAKE A BOOKING DEPOSIT.-

(USD$ 200.00 per person is required.)

PAY A DEPOSIT with WESTERN UNION.-

Transfer USDS$ 200.00 p/person in order to Mr: Irwin POMA-FLORES (Peru). Upon transferring the money email us the (MTCN) Money Transfer Control Number, your reservation code and the amount paid to: office@sastravelperu.com , reservas@sastravelperu.com and caja@sastravelperu.com

PAY A BOOKING-DEPOSIT ONLINE with MASTERCARD or VISA.-

US$ 210.00 per person (US$ 200.00 + 5% card service fee). Payments by credit/debit card will carry a surcharge of 5%. (Visa card holder MUST BE affiliated to Verified by Visa) when your payment became Non Authenticated, Denied or failed, PLEASE contact us urgently by Skype sas.travel.info or sas.travel or phone us: 051 84 256324 - 261920 (Irwin or David). If you don`t receive a confirmation within 24 hours please send us an email to: office@sastravelperu.com , reservas@sastravelperu.com

FINAL PAYMENT.-

The remaining balance needs to be paid (7 Days before the date of your tour) Transfer your balance with: Western Union in US$ Dollars to: Irwin POMA-FLORES. (Peru) email us the (MTCN), your reservation code and the amount paid to: office@sastravelperu.com and caja@sastravelperu.com

Payments with credit / debit cards need to be made 2 weeks prior your tour and only accepted with the commission of 5% included. You should contact us two weeks prior to the tour responding to the email with your confirmation requesting, any final items to be added and then we can reconfirm the exact balance to be paid plus the 5% commission. You then can enter the same online system with your reference code and make the balance payment.

FINAL PAYMENTS WITH CREDIT / DEBIT CARDS.-

in our Office is with 8% card fee. (The remaining balance needs to be paid 5 Days before your tour).
Terms & Conditions
Terms & Conditions

SAS Travel Cusco Perú – CONDITIONS Huchuy Qosqo Trek + Machu Picchu 3 Days

3 DAYS / 2 NIGHTS -MINIMUM 2 person.

Price varies according to number of passengers confirmed.

1. You must advise SAS Travel of any medical problems or allergies. You need to be in good physical health and if your health is questionable, then you should consult a doctor. If you are over the age of 65, then you will need to present us with a current medical certificate as the trek goes to 4300 mtrs.

2. You must advise your guide if you wish to leave the group or the camping area for independent walks or sightseeing. If you are experiencing any problems with the service of the guide or tour

please advise the guide in that moment so he can resolve any problems as soon as possible.

3. FINAL PAYMENT: The remaining balance needs to be paid at your arrival to Cusco in US$ Dollars cash (Exchange rate 2.90 Soles for US$1). or Travelers' cheques with 3% only at our Office.

Payments with credit / debit cards need to be made 2 weeks prior to the Inca Trail and only accepted with the commission of 5% included. You should contact us 2 weeks prior to the tour responding to the email with your confirmation requesting any final items to be added and then we can reconfirm the exact balance to be paid plus the 5% commission. You then can enter the same online system with your reference code and make the balance payment.

If you prefer not to use the online system you can skype sas.travel and we can do a manual payment for you quickly and easily. Or you can use Western Union.

If a final payment is not made by 12 noon the day before any tour or service such as the Inca trail, the total balance will be charged to the credit card + the 8% commission.

4. The student US$20 discount for use of student cards is regulated by the park itself, not SAS travel. You must carry the valid ISIC card (if applicable) on the trail to Machu Picchu with you or pay the further US$20 at the control.

5. 6 kilos porterage is included for your sleeping bag and mat. If you require more than 6 kilos please let us know well in advance.

6. Included: Huaynapicchu permit but For many high season dates June, July, Aug you need to book about 1-2 months in advance to guarantee the Huaynapicchu Ticket since there is limited availability. For people who book at last minute there may not be any Huaynapicchu permits left and so we can buy the Machu Picchu mountain permit instead

If you have a ISIC card you must scan it through at the time of booking otherwise expect the adult price.

Cancelation :

7. a Cancelation of tour once you have booked and paid incurs a loss of the $200. Non refundable deposit.

7. b. Cancelation of tour within 2 months and 1 month of departure incurs a loss of 50% of total tour cost...

7. c. Cancelation of tour within 1 month and 1 week of departure incurs a loss of 70% of total tour cost...

7. d. Cancelation of tour within 1 week - 48 hours of departure incurs a loss of 90% of total tour cost...

however we can organise an alternative tour to visit Machu Picchu joining your group and utilising your train tickets and entrance, completing the tour as normal from Ollantaytambo day 3.

7. e. Cancelation of tour within 48 hours of departure incurs a loss of total tour cost...however we can organise an alternative tour to visit Machu Picchu joining your group and utilising your train tickets and entrance, completing the tour as normal from Ollantaytambo day 3.

IMPORTANT: You must present your passport with the TAM immigration slip to all hotel accommodations. If you are a Peruvian Resident or hold a "carnet de extranjeria" or your Tam has expired, ie your stay has exceded 60 days…. the 18% tax will have to be charged by the hotel according to the Peruvian government law. So please take every caution to not lose this piece of paper. You need to bring it to the Cusco office with your passport for your checkin.

8. Change of dates without additional fee, is only possible up to at least 1 month before departure date and only if the group is still left with more than a 6 people as group price minimum and Huayna Picchu entrances and train tickets have not been finalised.

Change of dates outside these stipulations in point 6, will incur a further charge of between US$60 -$80 if changing to a group departure date .

9.If you become ill or injured on the trail and are unable to continue, a porter and mule will be provided to accompany you back to an area with emergency assistance capabilities. Helicopter air lifts and medical assistance are paid at the expense of the passenger. If you fail to complete the tour due to illness we will assist you to meet with your group at Machupicchu to recommence your tour at that point. There will be no refund from the original payment, however we will prepare a document to certify illness which can be used to present to your travel insurance company.

10. SAS Travel will take all reasonable care in providing service to our clients to avoid accident, illness, loss of personal property and will only employ suitably qualified staff. We accept responsibility for the actions of our own employees. SAS Travel cannot however be responsible for any action or event that was unforeseeable or unavoidable. We also cannot be responsible for improper acts by clients or other third party. You are totally responsable for your own personal property and rented equipment.

11. SAS Travel does not take responsibility for additional costs due to unfavorable weather conditions, natural catastrophe, strikes, accidents, illness, injury, loss of personal items, etc. It is the clients responsibility to carry insurance to cover these types of events. We reserve the right to modify or cancel the program due to any of the unforeseen conditions listed above.

12. When paying the balance in Cusco, there will be a 3% comission if you choose to use travellers cheques and a 8% comission for use of credit card.

I have read and accept the conditions signature: