Classic Inca Trail to Machu Picchu 4Day/ 3Night Trek has been REOPENED. Special offers for 2022-2023. Daily Departures
Tourism authorities and the Health Ministry have announced the REOPENING of the 4 Day Inca Trail trek route from July 15 th 2021, with a reduced capacity to 250 people per day -counting visitors, guides, porters and cooks, (50% of regular accepted capacity) therefore limits spots -we invite you to plan a trip to Peru and make this wonderful trek to Machu Picchu. The Trail has been reopened with limited hikers daily, with calm and quiet campsites. Daily Departures for private trips with 2 people minimum (US$ 980 per person), and our small group departures for our open groups (US$ 690 per person and US$ 650 for students). Make your booking on our website, 4-1 month before is required. We highly recommend you to book soon due to the reduced spots offered by the park. This is our popular trip mostly requested by our hikers: Cusco, Inca Trail, Rainbow Mountain 8 Day Tour or book on other options of ours tours.
COVID-19 Updated news -May 22nd.
The Machu Picchu`s citadel is reopened from March 1st, 2021, therefore 2 Day Short Inca Trail, a 4 Day Lares Trek with Short Inca Trail, and Tours to Machu Picchu by train are Available. Small group max with 8 participants. Daily Departures. Book on our website to confirm it.
Bookings and reschedule your trip. We are taking your online bookings for Tours, Treks to Machu Picchu. Permits and entrances for all our treks and tours are AVAILABLE. To reschedule or postpone your trek or tour date, just send us an email to: [email protected]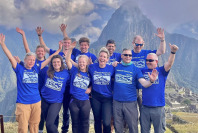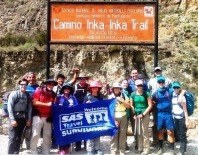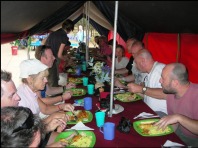 Price Information
US$ 690.00 p/person
(Based on Double / Triple accommodation)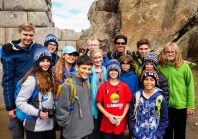 Overview
"... The roads of the Incas were the most useful and stupendous works ever executed by man. " Alexander Von Humboldt

The Inca Trail is the most famous hike in South America – perhaps the world – and a must-do and one of the biggest highlights of your trip to Peru. Best known as it treks through a range of spectacular Inca ruins along its path. The stunning scenery spanning through altitudes in the valley from 2700m to mountain passes of 4200m is breath-taking, with views of snow capped mountains. Finally passing through the cloud forest to arrive to the majestic Inca Citadel of Machu Picchu itself . The trek will prove unforgetable not just for the stunning sights but the experiences of being accompanied by the warmth, knowledge and expertise of SAS Travel the Peruvian tour operator who support you in this trek.

SAS Travel is a responsible, reliable and reputable Tour Operator for more than 28 years, offering a quality tours with a special personal touch exceeding expectation of hundreds of clients now friends, thanks to a full time dedicated managing staff, a well motivated professional reservation staff, our camp staff as guides, cooks, assistants, treating our porters well and with respect, promoting a positive impact in their Andean communities and pioneers respecting the environment but overall offering you the highest possible quality treks and tours services within Peru. 4 times rewarded and recognized by Tourism Ministry Dircetur Cusco.

The Machupicchu Historical Sanctuary was created in 1981, with an area of 32,592 hectares. In 1983 it was designated by UNESCO as both a Natural and Cultural World Heritage site in the western hemisphere.
Machu Picchu The Lost City of the Incas was elected in the 7 New Wonders of the World on July 2007.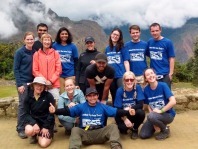 Is it for me?
It is important to be in good physical condition to make this moderate-rated but truly rewarding trek. Stay in Cusco 3 or at least 2 days for acclimatization previous to your trek while you visit and explore the marvels around Cusco (Sacred Valley, Maras Moray Salt mines, Tipon... Get a porter service for 8 Kg per person for your trek equipment (sleeping bag, mattress and warm clothing for cold nights, we lend you a duffle bag), bring a day-pack to carry your personal items, as a bottle of water, a fleece jumper, snacks, camera, sun cream etc). Recommended age from 11 to 69 y/o. Inca Trail.. if you want to visit and explore a number of stunning Inca sites linked by a beautiful stone pathway built in the midst of the most incredible scenery in rising altitudes but most important enter to this sacred place as the Inkas did. A good mix of culture, nature, archaeology and scenic beauty... then this is for you! Book a spot and pay online early (4-2 months in advance), Get in shape, Get ready your boots and you will have lots of fun, adventure and magical time with SAS Travel.
---
The Acute Mountain Sickness AMS.
A good way to prevent altitude sickness is to stay hydrated by drinking at least 4-5 liters of water a day and maintaining a varied diet rich in carbohydrates. It is advisable to avoid alcohol and tobacco and very large meals. Another golden rule to prevent altitude sickness is to rest.
How to prevent ?.
Acetazolamide (Diamox, 125 mg) twice a day starting 1 day before the ascent can help prevent or reduce acute mountain sickness and high altitude cerebral edema, 250 mg three times a day is recommended for high-risk patients and / or higher altitudes or that rise very fast.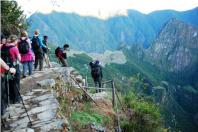 Difficulty
Distance: 45 Km / 28 Miles
Duration: 4 Day / 3 Nights.
When to go: The best time to tek is from March through December, our dry season.
Altitude: 2680m/8817ft to 4200m/13818ft
Difficulty: The trek is rated moderate, any reasonably fit person should be able to cover the route, personal porter is highly recommended.
Temperatures: From minus 4ºC to 28ºC
Note that the Inca Trail is closed February.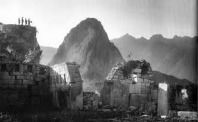 Briefing
Meet the night before the trek in the SAS Travel office in Cusco at 07:00 pm at Calle Garcilaso 270 near the San Francisco Plaza and Hotel Marqueses. Here you will meet with your group and guide. At this time you will be given any rental equipment such as sleeping bags and duffle bags if you have requested extra porter. Also, arrangements for meeting place or transfers for the next morning are coordinated.
....Those snow-capped peaks in an unknown and unexplored part of Perù fascinated me greatly. They tempted me to go and see what lay beyond. In the ever famous words of Rudyard Kipling in The Explorer there was .. Something hidden! Go and find it! Go and look beyond the ranges. Something lost behind the ranges. Lost and waiting for you ... Go!!! Hiram Bingham, 1909
Transport
Private transport to Km 82 from Cusco, (45 Km or 28 miles walk to Machupicchu through famous Inca Trail trek, (3 nights camping), enjoy, admire, explore and hands down at Machu Picchu, Bus to Aguas Calientes town, Train return to Cusco or Train Ollanta and a private bus to Cusco.
Recommended Hotels
We highly recommend MARQUESES Boutique Hotel in Cusco, it is a beautiful and charming Colonial house built at the end of XVI century that has recently been restored and refurbished, located just one block from Cusco`s mayor Plaza. This great location is part of its popularity, close to all of the most important tourist attractions in the famous capital of Inca`s Empire. Well known for its incomparable hospitality and professional service. We can reserve the hotel and transfers you from the airport on your arrival and back on your return, you will enjoy a safe visit, wonderful attention and be pleasantly surprised by the warmth of the Andean Hospitality. Click on here: MARQUESES Hotel
Due to the safe and strategic location, you are within easy walking distance of the many historical places, museums, restaurants, cultural, artistic and traditional places of the Capital Inca City.
SAS Travel Tour Operator & Travel Agency offices are located alongside Hotel Marqueses so we at SAS Travel can assist you at any time.
http://www.hotelmarqueses.com/