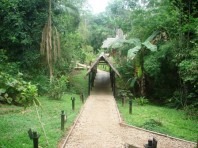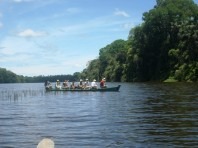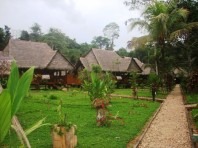 Price Information
US$ 645.00 p/person
(Based on Double / Triple accommodation)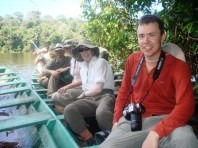 Overview
Located a 30 minutes motor canoe ride down the River Madre de Dios from Puerto Maldonado, Sandoval Lake Lodge is perched above what many rainforest specialists feel is the most attractive lake in Southern Peru, if not in the entire Peruvian Amazon.

The whole complex is housed in one structure and includes 25 double occupancy rooms with private bath, hot showers, and a spacious dining room overlooking the lake.

For a more relaxed, complete introduction to the rainforest, we recommend a two nights stay. However, with the easy access from Puerto Maldonado, for the first time it is possible to spend only one night in the rainforest and still get a good preliminary idea of the splendor of the Peruvian Amazon.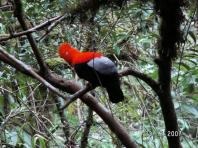 Is it for me?
DAILY DEPARTURES !!!
In hight season from May to October please contact us to indicate availability for your desired dates.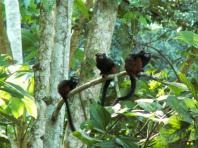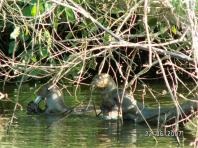 Recommended Hotels
HOW TO GET THERE
A daily commercial flights from Lima (2 hours) and Cusco (30 minutes) brings you to Puerto Maldonado, a bustling frontier town and the gateway to the Tambopata National Reserve. Here one of our staff will meet you as you leave the airport arrivals area, and will remain with you until you return to the airport to board your flight back to Cusco or Lima.
We are transferred to our office to repackage or left extra luggage in the store room of our office. As we will enter to a National Reserve, each passenger is allowed a 10 kg baggage; we provide duffels for repacking. After that we have a 15-minute bus or van transfer to the Tambopata River port, and then take a motorized canoe for 30 minutes down the Madre de Dios River to the trail access to Sandoval Lake Lodge. Our boats are equipped with a 65 HP engine, a roof to protect from the sun and the rain, cushioned seats.
From the Madre de Dios River we walk for 45 to 50 minutes along two miles (3,2 km) of flat, rain forest trail. Once we reach a channel, we board canoes and are paddled 220 yards (201 meters) through a flooded forest of 100-foot (30-meters) tall Mauritia palms. As the canal opens onto the shimmering surface of the lake, we transfer to a catamaran or a boat and are leisurely paddled across the lake to the lodge.
Sandoval Lake Lodge 4 Day/ 3 Night -Puerto Maldonado
Last Minute Information
DAILY DEPARTURES !!!

You must book and pay a deposit well in advance... so we can guarantee your reservation at this lovely lodge. For high season (May to October, 4-3 months in advance.) (Low season (November to April, 2-1 months in advance.)

---

HOW TO BOOK.-

Choose at the Calendar (left side) your preferred Departure Date (Leaving Date) Fill in your details on Step 2 and Pay a deposit on Step 3. Or follow instructions below in

Booking Information.

Our staff will meet you at the Airport in Puerto Maldonado at your arrival.
Located deep in Peru's Tambopata National Reserve, our Sandoval Lake lodge overlooks sparkling, palm-rimmed Sandoval Lake, the most beautiful and wildlife-rich of all lakes in Tambopata-Madidi. This privileged location gives you exclusive access to the lake in the early morning and late afternoon, the choice hours for wildlife viewing and photography.
No other lodge in Tambopata-Madidi is on the banks of a protected oxbow lake. Our short Sandoval Lake Lodge program includes two nights of fully-screened accommodation in 25 double-occupancy rooms complete with en suite facilities with hot-water showers, electricity (), fans, meals, airport transfers in Puerto Maldonado, naturalist guides, lake excursions by day in search of Giant Otters, monkeys, and macaws, forest excursions, night excursions in search of caimans, and evening slide shows. Our lodge specializes in small groups and individualized attention in our overriding quest to conserve the lake and surrounding rainforest. Sandoval Lake Lodge is built out of ecologically-correct driftwood mahogany and is owned jointly by a nonprofit conservation group and five families of indigenous Brazil nut collectors.

() Three times per day : from 5:00 to 6:00 am, from noon to 4:00 pm and from 17:30 to 22:30 pm.
Program Itinerary
What is Included:
Transfers from the airport to the port in Puerto Maldonado and vice versa. Accommodations with all meals (from lunch on the first day to the breakfast on the last day), English speaking guide, river transportation, all guided excursion describes in the itinerary (visits in the lake and trails system) and the Tambopata National Reserve enytrance fee. All meals are included in the trip: from the Lunch on the first day until the breakfast on the last day, We believe that our guests should experience as much of the Peruvian cuisine as possible, and this is reflected in the range of Peruvian dishes offered, with an occasional international twist. Typical lunch dishes served are lomo saltado (a spicy mix of stir fried beef, tomato, peppers, onion and french fries) and arroz con pollo (a mildly spicy mix of saffron rice, chicken and vegetables). Our experienced kitchen personnel can also cater for special dietary requirements, such as low or no salt, low or no sugar, low or no fat, and vegetarian (strict "vegan") or "ovo-lacto" vegetarian), upon request.
What is not Included:
Airport taxes, Air tickets to and from Puerto Maldonado, excess baggage charges and additional nights at Sandoval Lake Lodge in case of flight cancellations.
We recommend that you bring:
Good binoculars

Camera gear (ASA 50, 100 and 200 recommended)

Two or three pairs of long pants

Four pairs of absorbent cotton socks

Rain suit or long poncho (100% waterproof - test before you leave home)

Three or four long-sleeved cotton shirts

Two or three T-shirts

A bottle or canteen to carry water on outings

Sunscreen lotion (high factor)

A hat that will not come off in windy boat-rides

One pair of shorts

Sunglasses

A pair of sneakers or hiking boats (with good gripping soles) and sandals

Insect repellent (Skin-so-soft for river, and 20% or more deep for forest)

A photocopy of your passport

A large, bright flashlight

Personal toiletries and medications

Rubber Boots for the rainy season from November to April.

Cash for souvenirs at the lodge´s PeruVerde stand, alcoholic beverages, etc.

Please note: Guests should arrive in clothes which they do not mind getting slightly dirty or wet, and should wear footwear that is suitable to walk on a rain forest trail. Sun cream, insect repellent, hat and waterproof clothing should be carried in hand luggage and kept accessible for the journey to the lodge.

It`s not necessary to bring all of your luggage with you to Sandoval Lake Lodge. You will enjoy your trip more if only the essentials are brought. WE HIGHLY RECOMMEND YOU PREPARE YOUR DAY PACK A DAY BEFORE YOUR TRIP. YOUR MAIN BAGGAGE CAN BE LEFT IN OUR STORE ROOM AT OUR OFFICE IN PUERTO MALDONADO.
Recommendations
IMPORTANT:

Though we have never heard of anyone contracting yellow fever anywhere in Peru or neighboring countries InkaNatura nevertheless recommends a current yellow fever vaccination for those who will visit any of our rainforest lodges, and that they consult their physician. Additional information: This vaccination, which is valid for 10 years, must be administered AT LEAST 10 days before the guest's arrival in Peru.

Our lodge has a basic first aid kit which also includes anti-venom. The lodge is equipped with a cell phone and may be in contact with our Puerto Maldonado office any time.
Please Note
prices based on booking of 2 people together .

If youare a single traveller please contact us for single supplement.
Booking Information
After checking the Availability page for this tour, (this tour is offered as a Daily Departures) book online and create a reservation code. (If you are travelling as a couple or in a group, please add person´s details as indicated: Travelling with: (write name and surname, passport number, Date of birth and Nationality.)

Once you have sent your booking, you will receive a Reservation code (e.g: 240617001). (If you don´t receive an immediate email reply please email us: [email protected]) Pay immediately a deposit online on Step 3 with your reservation code. (Pay a deposit for you or for your group with ONE reservation code, so we can guarantee a tour in the same group).

---

1. Pay a booking deposit online with VISA or MasterCard. US$210.00 per person (US$200 + 5% card fee). Payments by debit/credit card Visa or MC will carry a surcharge of 5%.

2. Pay a booking deposit with PayPal. US$200.00 per person *Payments by PayPal will carry a surcharge of 6%.

3.- For group bookings (4-5 person) you can transfer your deposit to our Bank in Peru. Ask for more details to: [email protected] Click Here to Pay a booking deposit Online

---

Final Payment: You must pay the full balance of your tour 45 Days before the date of your tour departure using any of the payment options above. If you need to amend or add anything to your final confirmation invoice you should contact us at least 6 weeks prior to the tour. This is done by responding to the email. [email protected] (Javier) with your final confirmation and indicating any extra items to be added. You'll need to add the 5% credit card commission or 6 % PayPal commission or other fees depending on which payment method you choose.