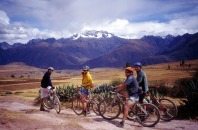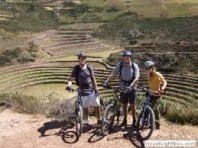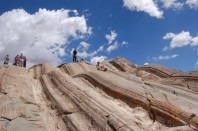 Price Information
US$ 75.00 p/person
(Based on Double / Triple accommodation)
Please Note
2 person US$ 95 per person
3-4 person US$ 75 per person
---
Our aim is to join 4 person to make a small group to keep the price at US$ 75 per person.
however often people like to keep private so they know that they can ride at their preferred standard with the guide, therefore prices are regulated as follows. 2 person minimum.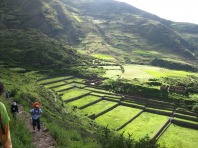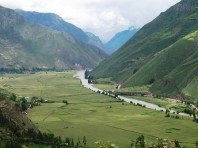 Is it for me?
If you like outdoor, sports and you are fit, you will enjoy greatly this tour, minimum experience biking is required. If you will find it difficult your guide will accomodate an alternative easy road and you will end still visiting the remarcable places in this tour.
Difficulty
Easy route, most of it is dirty road, previous bike driving experience is required.
This biking tour its very flexible, if for any reason you can not continue the inicial route our guides can offer another easier alternatives still interesting including Moray and Salineras.
Briefing
After you book a mountain biking tour our staff in office will explain especific details of your tour. We leave at 8.50 am from SAS Office, or see What to bring for this tour,
Transport
Tourist bus and mountain bike!
Mountain Biking Moray & Salt mine
Last Minute Information
DAILY DEPARTURES !!!

(2 persos minimum).

---

You must book and pay a deposit well in advance. 3-1 month in advance.

HOW TO BOOK AND CONFIRM.-

Choose your preferred departure date on the Calendar (Leaving Dates) then fill it out with your details and all the requested, you can book for 2 or more person just complete details on traveling with: then you will receive a reservation code (Purchase Number) to pay online with Visa or MC on Step 3. (Add 5% card fee for your payment online).
DAILY DEPARTURES !!! From 08:50 am to 17:00 hrs
This is the most famous mountain biking tour in Cusco, very popular for all local cross country bikers which is a mix of impresive landscapes of white mountains, andean towns, Inka ruins, salt mines and moderate mountain biking adventure. 4 to 5 hours mt biking approximatelly. (36 Km approx).
---
Pick-up from your hotel at 08:50 am then 1 hour private van drive following northeast direction from Cusco to "Chancadora" located before Chincheros town. From this point we start our mountain biking adventure. 1 hour of warming up ride in a flat dirty single road with spectacular views of crops of potatoes, barley, impressive andean landscapes and views, snow capped peaks around, small lakes and local friendly people, you will have another perspective of views of the sacred valley, then we reach to Cruzpata. From here we continue 1 hour riding of gradual riding up to Maras town. Another hour of moderate up and flat dirty road and country cross biking till the ruins of Moray, time to visit this impressive Inca experimental agricultural terraces mainly used as a farming laboratory in Inka´s time, then we return down hill for 50 minutes to Maras town. Finally we ride for 20 minutes downhill to Salineras (the salt mines) after visiting and pictures we descend for 30 minutes to Pichingoto then cross a small bridge to end our trip at Urubamba where our transport is waiting for us to return back to Cusco or take you to your hotel in Urubamba. A pack lunch is provided here.
---
CHINCHERO: Located 28 kilometers from Cusco and surrounded by patchwork style fields of exquisite natural colours. Chincheros is a charming town, with colonial style constructions and was a major agricultural center during the Tawantinsuyo. One can appreciate the stone walls with trapezoidal niches that provide the setting for the traditional market, where they still practice bartering. The Chincheros women can always be recognized for their very distinguishing clothing and braided hair. The famous church and archaeological site here requires the tourist ticket.
MORAY:
a further breathtaking 20 kms drive with the beautiful snowcapped Chicon and Veronica mountains in the Cordillera Vilcanota as a backdrop we continue through to Moray. In Moray we visit " the Inca agricultural greenhouse or laboratory", consisting of four platforms amphitheater style or. Has a depth of 150 meters, the overlapping concentric circular stone rings widen as they rise. It was an experimental place to study the adaptation of plants to new ecosystems.
---
MARAS / SALINERAS:
located 7 miles from Moray at altitude of 3, 380 m is a small village, as a model of a miniature city. Famous for its salt mines, made up of about 3000 small wells with an area average size of about 5 ms ². These were already exploited since Inca times as a means of economic exchange and securities. Very interesting to see how the salt is colected from these mines and the lives of those who work here.
Program Itinerary
What is Included:
Private transport to starting point

English speaking, expert bicycle guide

Box lunch, fruit,water.(w/vegetarian option by request)

Professional bikes w/ front suspensión

Biking Equipment (gloves, helmets, etc.)
What is not Included:
Entrance fees to Maras/Salineras 15 soles .($5)

The entrance to Moray is included on the Full Cusco Tourist Ticket so if you have this ticket then bring it with you. If you don´t you will need to purchase one of the Cusco tourist tickets that includes it such as Partial Cusco Tourist Ticket (BTCPIII) / Circuit III – Sacred Valley

This partial Cusco Tourist Ticket includes 4 entrances. It includes the most important attractions in the Sacred Valley, and is the ticket you need to buy if you are only visiting attractions in the Sacred Valley and not Cusco. Take note that this ticket is only valid for 2 days.

Validity: 2 Days

Price (2014): S/. 70 (US$ 25)

Included: Pisac, Ollantaytambo, Chinchero & Moray.
We recommend that you bring:
A day-pack with: water bottle, camera, sun hat, sun cream, sturdy shoes,runners or biking shoes, long pants, rain jacket or poncho, warm fleece to return, extra money to pay entrance fee at Moray, the salt mines, buy any drinks en route and tip for your guide.
Please Note
Frequently Asked Questions
Booking Information
HOW TO BOOK.-:

Choose on the Calendar the date of your preference, fill out with your personal details, then below fill out details of your group in

Traveling with:

once you have finalized you will receive an email with a Reservation Code (Purchase number) to pay a booking deposit with. (If you would like to pay your booking deposit individually, then you must book each of you separatelly.) The cost per person it is according the number of people in the tour.