Skype us: SASPERU1 Call us: +51 974 218769 | 984 652232

New Page CLICK here: Join us for the Experience of a Lifetime... !!!
Direct operator & locally owned.Sustainable, responsible & ethical tours since 1990.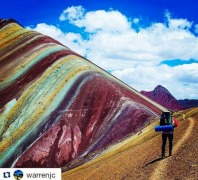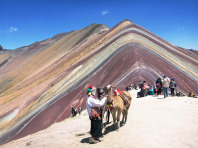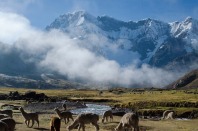 Price Information
US$ 48.00 p/person
(Based on Double / Triple accommodation)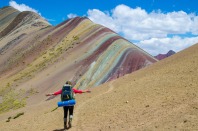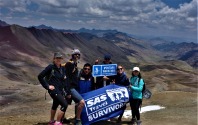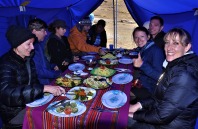 RAINBOW Mountain / Montaña de Colores (Vinocunca) Full Day. Daily Departures !!!
Last Minute Information
RAINBOW MOUNTAIN (Montaña de Colores), VINICUNCA 1 Full Day Tour.
-NEW EASY ROUTE.

Daily Departures !!! (Pick up from your Hotel, Hostal in Cusco.)

This tour begins in Cusco and return to Cusco,

PRICE: US$ 48.00 (Inc Entrance fees, breakfast, lunch, private van, guide)

---

This awesome new -MUST TO SEE place in Cusco depart early from Cusco city. We will pick you up from your hotel by 04:30 am Make sure to have a comfortable boots and warm clothes you will feel the cold from the mountains even when it is a sunny day.

This is a once in a lifetime experience to Vinocunca Rainbow Mountain region near the famous Auzangate snow capped mountains.

Enjoy a walk through our new shorter route to reach the mirador with a beautiful views around you. 2 Hours drive on a private transport to Cusipata located at 4,320 masl Stop for Breakfast and it will be provided at our cozy place. Afterward 1 more hour drive to the Comunity of Fulam Wasi Pata) located at 4,630 masl.

We start our hike from this point located at 4,630 m to 5,100 masl to RAINBOW MOUNTAIN aka:(Cerro Colorado, Montaña de Colores or "Vinicunca") lead by our expert guide, here we can admire the stunning rainbow colors that the natural formations of minerals since ages have given so special colors to the mountains. Beautiful views of red and colors mountains, streams and herds of alpacas and llamas and the south side of Ausangate ranges of mountains. We will hike through small traditional andean villages a see the local people with their colorful dresses and an unique andean landscape south of Cusco near the Apu Ausangate mountain 6,384 masl - the 5th highest mountain in South America.

---

HOW TO BOOK AND CONFIRM.- Book online in this page on the Calendar, fill out required details and details of people travelling with. You will create a reservation code. Pay online US48.00 per person using Mastercard or Visacard. Please below in Notes write the address of your Hotel, Hostal or residence where you are for your pick up or email us at: [email protected]
Program Itinerary
What is Included:
Tourist Transport (Round Trip).

1 Breakfast, 1 Lunch. (Optional Vegetarian).

Professional Tour Guide.

First Aid kit.

First oxygen balloon.

---

OPTIONAL.-

Hire a horse (Round trip) -Talk directly with your guide
What is not Included:
Terms & Conditions
Daily Deparutures. Booking essential. To confirm your Tour you must book online and pay in full online once you get your reservation code to your email. A confirmation email with details of your tour will be sent to your email.

---

CANCELLATIONS BY CLIENTS:

1.- Cancelation of tour once your tour have been confirmed and paid 25% of tour price will be returned.

2.- Changing date of the tour 72 Hrs prior your tour date is possible with 50% of total cost of the tour extra per person.

3.- Cancelation of the tour on the day of departure incurs a loss of 100% of total tour cost paid.

4.- You are totally responsable for your own personal property and belongings during the tour.
The Peruvian Institute of Culture INC, announces the issue of the PERMITS to enter the Inca Trail Trek 2022.
(Permits are limited so we recommend you take actions and book shortly).
The dates will be made under the following schedule:
For Treks on January 2022 on October 11th 2021
For Treks on March 2022 on October 12th 2021
For Treks on April 2022 on October 13th 2021
For Treks on May 2022 on October 14th 2021
For Treks on June 2022 on October 15th 2021
For Treks on July 2022 on October 18th 2021
For Treks on August 2022 on October 19th 2021
For Treks on September to December 2022 on October 20 th 2021
* Early bookings also guarantee camp on Huiñayhuayna the 3rd Night.