Very Important:

Rains and Flooding Across Peru

The Government of Peru continues to assess the effects from unseasonably heavy inland rains and associated flooding along the coastal areas of Peru. Rains are expected to continue for few more weeks. The most widespread, severe effects are in the northwest of the country, in the regions of Tumbes, Piura, Lambayeque, and La Libertad.

More concentrated incidents of flooding, mudslides, and inundated roads and bridges have occurred around Lima and the Ica Region. Some roads in the central highlands, especially in the regions of Ancash and Junin, have experienced travel delays and disruptions. Areas in the south of the country around Cusco and Arequipa have been affected less severely by the rains than areas farther north. Our Tours and treks in Cusco have not been affected at all, the trains are running as normal, tours visiting sites and we don´t have delays neither cancelations of our trips.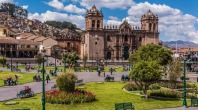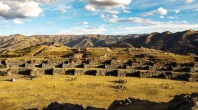 Price Information
US$ 695.00 p/person
(Based on Double / Triple accommodation)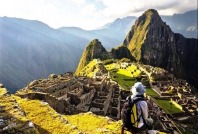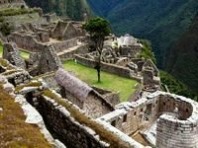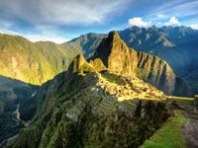 You are here: PACKAGE DEALS & Multiday Tours (without Inca Trail trek > THE BEST ADVENTURES Inca Jungle Trek, Rainbow Mountain, Sacred Valley, Cusco. 7 Day/ 6 Night NEW. -Daily Departures !!
THE BEST ADVENTURES Inca Jungle Trek, Rainbow Mountain, Sacred Valley, Cusco. 7 Day/ 6 Night NEW. -Daily Departures !!
Last Minute Information
Permits for Machu Picchu ?? No worries... you don´t need any permits for this awesome trip !!

The best combination of best ultimate sites to see and explore the magic Cusco (Ancient Inca´s Capital and the nicest City in the Colony). See Saqsawaman, Tambomachay and Koricancha the famous Temple of the Sun on Cusco City Tour, Visit Pisac the typical market, Ollantaytambo and Chincheros on the Sacred Valley tour, the new destination of visitors the Rainbow Mountain with a spectacular views located near the Apu Ausangate mountain, Mt Biking from Malaga Pass to Santa Maria, 2 full days hiking to Aguas Calientes through the famous Inca Jungle Trail to Machu Picchu where you will have a guided tour and plenty of time to Explore in your own and walk to Huaynapicchu Mt (book soon otherwise Machupicchu Montaña walk).

---

BEST TIME TO HIKE.-

From end of March to end of December. (Dry season).

ADVENTAGES.- Not so crowded as other hikes around Cusco, you carry a small day pack, amazing Inca sites located at the high jungle impressive views of Urubamba Canyon, high jungle Santa Maria, Santa Teresa and Machu Picchu.

---

WHEN TO BOOK.-

You must book this tour and pay a deposit well in advance. (1month)

---

HOW TO BOOK.-

Choose your interested / preferred Departure Date (Leaving Date) on the Calendar (left side). Fill in your details and group as is requested in the format. Pay a booking deposit ONLINE of $300 per person on Step 3 with Visa or MC or Paypal with your reservation code. Or follow instructions below in Booking Information.
DAILY DEPARTURES !!
2 person minimum.
--
Day 1: Arrive to Cusco before mid day. Transfer from Airport Hotel. Afternoon City Tour Half Day City Tour 5 Hours
Day 2: Sacred Valley Tour Full Day. (Pisac, Urubamba, Ollantaytambo, Chincheros)
Day 3: Rainbow Mountain Full Day. Distance hiked: 15 km / 9 ¼ miles Overall trek difficulty: (Challenging).
DAY 4 : Inca Jungle Trek Cusco -Abra Malaga -Huamanmarca – Pispitayoc (Mt Biking).
DAY 5 : Pispitayoc Santa Teresa – Cocalmayo (Hiking, Hot Spring) Hiking distance: 22 Kilometers / 13.6 mile
DAY 6 : Santa Teresa - Hidroelectrica – Aguas Calientes (Hiking,) Hiking distance: 19 Kilometers / 12.3 mile Hiking time: 6 hour approximately.
DAY 7 : Aguas Calientes -Machu Picchu Guided Tour. Walk to Huaynapicchu or MachuPicchu montaña. -Train to Ollantaytambo. Bus to Cusco.
--
Program Itinerary
What is Included:
Transfer in and out.

4 Night at Hotel Marqueses Double/Twin room Breakfast included.

Saqsawaman and 4 Inca Tample Tour

Sacred Valley tour with Lunch Pisac ,Ollanta, Chinchero.

1 Day Rainbow Tour -Group service.

4 Day Inca Jungle Trek -Group service.
What is not Included:
70 Soles for City Tour Entrance fee.

70 Soles for Sacred Valley Entrance fee.
We recommend that you bring:
-Original passport.

-ISIC internatinal student card if applicable.

-Backpack to carry your personal items

-Warm sleeping bag Minus 5ºC

-Lighter style trekking boots with good ankle support

-Trekking poles: metal tips are not allowed on the trail

-Warm clothes,layers for variable temperature especially at night

-Thermal underwear can be worn in the sleeping bag or in cold conditions

-Gloves or mittens, scarf , wool socks, woolen hat for cold nights

-T-shirts and trekking pants that zipoff to short pants for comfort

-Flash light, head torch and extra batteries

-Camera and extra batteries

-Binoculars

-Wear a hat with a broad visor to keep the sun off your face

-Sunscreen, and sunglasses

-Personal medical kit, insect repellent

-Rain Gear a good rain jacket, rain poncho

-Toiletries, toilet paper, small towel

-2 litre water bottle, (disposable plastic bottles are forbidden in Machupicchu site)

-Water purifying tablets optional, since we provide boiled water or buy it enroute.

-Bathing clothes for the hot springs for hikers with an extra night in Aguas Calientes

-Extra money for drinks & tips, souvenirs etc in soles

-Emergency money at least 200-300 extra soles
Frequently Asked Questions
Booking Information
1.- Select your start desired date on the Calendar (Month, Year Date), fill in out with your details on the format -or group details if you are travelling in a group and you will generate a reservation code to pay a deposit with.

2.- Pay a booking deposit online with your reservation code or purchase number with VISA or Mastercard.- US$ 300.00 per person

3.- Pay a booking deposit with your reservation code or purchase number through Paypal.- US$ 300.00 per person. (Payments by PayPal will carry a surcharge of 6%.) OR

4.- For group bookings (4-5 persons) you can transfer your booking deposit or full payment to our Bank account in Peru or transfer through Western Union. For more details please e-mail us to: [email protected] or pay online with Visa or MC or thru Paypal as it is indicated above.

---

FINAL PAYMENT: We require a full payment of your tour transferring 1 month before the day when your tour start OR pay in our office in Cusco 5-3 days before of your departure date in USD$ or Peruvian Soles cash.