You are here: Destinations > Peru
Peru
Peru is one of the most astonishing countries in the world. Archaeologist have still not fathomed the mysteries of the civilizations once here which go back to pre-historic times.
The magnificent Inca ruins at Cusco and Machupicchu are awe inspiring, giving one a sense of the mysterious past. On the ruins dred years ago by Pizarro and a tiny band of hardy adventurers, was built the center of the great spanish empire in South America. The court of the Viceroys in Lima was noted for its regal splendor...
Our programs in Peru
You can get a better idea of the programs and Hotel Marqueses by looking at some photos on the website. www.sastravelperu.com

As this package includes the Inca Trail trek to Machupicchu bookings for high season (May to Oct )must be completed around 4 -6 months in advance because of limited Inca Trail availability and Pemits.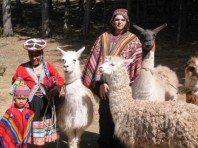 Discover Cuzco the ancient capital city of the great Incas Empire where only nobles and privileged people had their residence... explore the typical Ruins & Market of Pisaq, the legendary Sacred Valley of the Incas with Yucay, Urubamba, the Inca living town of Ollantaytambo, Chincheros with its Colonial XVII century church and Inca residence... follow in the footsteps of the Incas... trek to Machu Picchu, hiking the famous, now a classic Inca Trail trek supported by our andean sherpas, with well educated guides and gourmet Peruvian meals. Explore Cusco, discover their ancient treasures as Koricancha the temple of the sun once decorated with gold and silver before the arriving of spanish conquest in 1534. Fly over the enigmatic Nazca Lines, explore the small Galapagos Sea Lions and dolphins in Ballestas Islands, then visit the highest navigable lake in Puno.. Uros Taquile and Amantani Islands in the Titicaca Lake and finally see condors flying at Colca Canyon in Chivay near Arequipa.
LIMA VISION CITY TOUR The best way to enjoy Lima and its history.
Our tour will take you through Lima in its 3 historical periods: Pre-hispanic, Colonial and Modern. We will first show you a panoramic view of "La Huaca Pucllana", and then you will visit the impressive Historical Downtown of Lima: Its palaces, mansions, churches and squares, ending with a visit to the residential district of San Isidro and an unforgettable view of the Pacific Ocean from the district of Miraflores.

This tour Includes the admission of the BCR Museum and the Complejo Monumental San Francisco and its Catacombs.

The BCR Museum is closed to the public on Saturdays and Sundays afternoon. It is closed all day and Mondays.

DAILY DEPARTURES
From 09:15 am / to 2:15 pm
ADULT PRICE: USD$ 35
PRICE CHILDREN (3-7): USD$ 25
DURATION: 3 1/2 Hours

CITY NIGHT
Discover the beauty of Lima, visiting its beautifully illuminatedarchitectural monuments.
Our tour shows in detail the impressive Historical Downtown of Lima, Plaza San Martin, Lima´s Cathedral, the Archbishop´s Palace and the Goberment Palace, among others.

DAILY DEPARTURE
6:00 pm
ADULT PRICE: USD$ 35
PRICE CHILDREN (3-7): USD$ 25
DURATION: 2 1/2 Hours

FOUNTAINS OF LIMA
Be amazed with the largest electronic water fountains complex in the world, certified by the Guinness Book of Records. You will enjoy a wonderful show of water, lights, music and images presented in the famous " Parque de la Reserva".

DEPARTURES WEDNESDAY TO SUNDAY 6:00 pm
ADULT PRICE: USD$ 35
PRICE CHILDREN (3-7): USD$ 25
DURATION: 2 1/2 Hours

¨DINNER SHOW
Only tour to include a folklore show and buffet dinner.
Spend an unforgettable evening enjoying a wonderful buffet dinner and spectacular show featuring the most important manifestations of dances, music and peruvian folklore.
To make a reservation advanced payment is required.
DAILY DEPARTURE 8:30 pm
ADULT PRICE: S/. 134.00
PRICE CHILDREN (3-7):S/. 75.00
DURATION: 2 1/2 Hours