Skype us: sas.travel.info (GMT -5 Peru) Call us: + 51 984 652232
"Join us for the Experience of a Lifetime... !!!"
Direct operator & local owners.Sustainable, responsible & ethical tours since 1990.
Very Important:

Rains and Flooding Across Peru

The Government of Peru continues to assess the effects from unseasonably heavy inland rains and associated flooding along the coastal areas of Peru. Rains are expected to continue for few more weeks. The most widespread, severe effects are in the northwest of the country, in the regions of Tumbes, Piura, Lambayeque, and La Libertad.

More concentrated incidents of flooding, mudslides, and inundated roads and bridges have occurred around Lima and the Ica Region. Some roads in the central highlands, especially in the regions of Ancash and Junin, have experienced travel delays and disruptions. Areas in the south of the country around Cusco and Arequipa have been affected less severely by the rains than areas farther north. Our Tours and treks in Cusco have not been affected at all, the trains are running as normal, tours visiting sites and we don´t have delays neither cancelations of our trips.
You are here: Destinations > Puno -Floating Islands
Puno -Floating Islands
Most well known for the famous Lake Titicaca situated on the shores of Puno, the highest navigable lake in the world. Home to the legendary Uros people, who live on the floating reed islands. Offers unique experiences staying with families on Amantani Islands and visiting the world famous weavers of Taquile Island.
If you have the time before travelling on to Bolivia from here or up to Cusco, take a tour to Sillustani the tranquil area of funeral towers just 25 mins from Puno ( maybe on your way to the Juliaca airport.
Travel to Puno is most popular by the good quality tourist bus services and and also flights from Arequipa, Lima and Cusco to Juliaca airport located 45 mins north of Puno.
Our programs in Puno -Floating Islands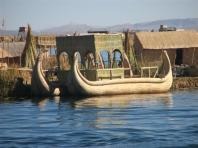 REF: TITICACA LAKE PUNO 3Day/2Night -Depart from Cusco (Puno, Uros, Taquile & Amantani Islands).
DAILY DEPARTURES !!! :
USD$ 270.00 per person (Based in Double or Triple Accommodation)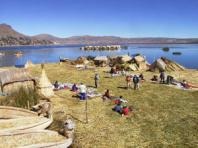 This is a tour that takes you by bus from Puno to Copacobana and visits the Isla del Sol and a night on the shores of Lake Titicaca before continuing on to La Paz where you will tour the pre-Incas archaeological ruins of the Tiwanaku Culture (1.700 b.c.)