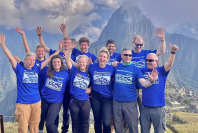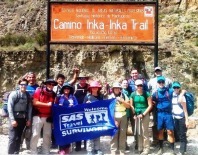 Leaving Frequency
OUR CONFIRMED DEPARTURES: AVAILABILITY & BOKINGS
(Disponibilidad y Reservaciones)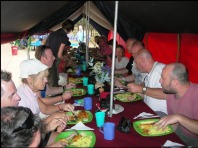 Price Information
US$ 640.00 p/person
(Based on Double / Triple accommodation)
Please Note
Student price US$ 595 pp (with ISIC international student card)
Youth price US$ 590 (11-15 y/o) with scan of passport
Overview
"... The roads of the Incas were the most useful and stupendous works ever executed by man. " Alexander Von Humboldt

The Inca Trail is the most famous hike in South America – perhaps the world – and a must-do and one of the biggest highlights of your trip to Peru. Best known as it treks through a range of spectacular Inca ruins along its path. The stunning scenery spanning through altitudes in the valley from 2700m to mountain passes of 4200m is breath-taking, with views of snow capped mountains. Finally passing through the cloud forest to arrive to the majestic Inca Citadel of Machu Picchu itself . The trek will prove unforgetable not just for the stunning sights but the experiences of being accompanied by the warmth, knowledge and expertise of SAS Travel the Peruvian tour operator who support you in this trek.

SAS Travel is a responsible, reliable and reputable Tour Operator for nearly two decades, offering high quality tours with an special personal touch exceeding expectation of hundreds of clients now friends, thanks to a full time dedicated and well motivated proffesional staff, that treat its porters well and with respect, promoting a possitive impact in the Andean communities and pioneers respecting the environment but overall offering the highest possible quality treks and tours services within Peru.
4 times rewarded and recognized by Tourism Ministry Dircetur Cusco.

The Machupicchu Historical Sanctuary was created in 1981, with an area of 32,592 hectares. In 1983 it was designated by UNESCO as both a Natural and Cultural World Heritage site in the western hemisphere.
Machu Picchu The Lost City of the Incas was elected in the 7 New Wonders of the World on July 2007.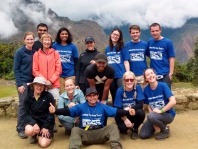 Is it for me?
It is important to be in good physical condition to make this moderate rated but truly rewarding trek. Stay in Cusco three or at least 2 days for acclimatisation previous your trek. Get a shared 9 Kg porter for your equipment (sleeping bag, mattress and clothing, bring a day-pack for your personal items). If you want to visit a number of stunning Inca sites linked by a beautiful stone pathway built in the midst of the most incredible scenery in rising altitudes. A good mix of culture, nature, archaeology and scenic beauty. ..then this is for you! Book early, Get in shape, Get good boots and have fun... !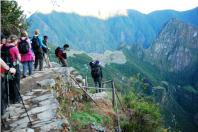 Difficulty
Distance: 45 Km / 28 Miles
Duration: 4 Day / 3 Nights. (5 Day/ 4 Night Optional)
When to go: The best time to visit is April through October, it's the busy season (especially June to August), but it's also the dry season.
Altitude: 2680m/8817ft to 4200m/13818ft
Difficulty: The trek is rated moderate, any reasonably fit person should be able to cover the route.
Temperatures: From minus 4ºC to 28ºC
Note that the Inca Trail is closed February.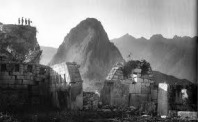 Briefing
Meet the night before the trek in the SAS Travel office in Cusco at 07:00 pm at Calle Garcilaso 270 near the San Francisco Plaza, where you will meet with your group and guide. Here you will be given any rental equipment such as sleeping bags and duffle bags if you have requested extra porter. Also arrangements for meeting place or transfers for the next morning are coordinated.

....Those snow-capped peaks in an unknown and unexplored part of Perù fascinated me greatly. They tempted me to go and see what lay beyond. In the ever famous words of Rudyard Kipling there was .. Something hidden! Go and find it! Go and look beyond the ranges- Something lost behind the ranges. Lost and waiting for you ... Go!!! Hiram Bingham, 1909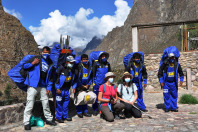 Transport
Bus to Km 82/ 28miles walk to Machupicchu/ Bus to Aguas Calientes/ Train to Ollanta & Bus to Cusco.
Recommended Hotels
We highly recommend MARQUESES Boutique Hotel in Cusco, it is a beautiful and charming Colonial house built at the end of XVI century that has recently been restored and refurbished, located just one block from Cusco`s mayor Plaza. This great location is part of its popularity, close to all of the most important tourist attractions in the famous capital of Inca`s Empire. Well known for its incomparable hospitality and professional service. We can reserve the hotel and transfers you from the airport on your arrival and back on your return, you will enjoy a safe visit, wonderful attention and be pleasantly surprised by the warmth of the Andean Hospitality.

Due to the safe and strategic location you are within easy walking distance of the many historical places, museums, restaurants, cultural, artistic and traditional places of the Imperial Inca City.

SAS Travel Tour Operator & Agency offices are located alongside Hotel Marqueses so we at SAS Travel can assist you at any time.
http://www.hotelmarqueses.com/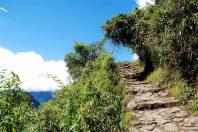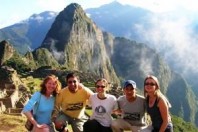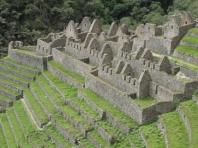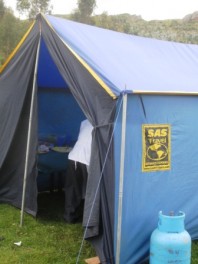 You are here: Inca Trail to MachuPicchu > Inca Trail Classic 4Days/3Nights -Group Service
Inca Trail Classic 4Days/3Nights -Group Service
Last Minute Information
The permits for Inca Trail Classic tour are so limited every year... only 200 permits are available per day -FIRST COME, FIRST SERVE BASIS....You must book and pay a deposit well in advance. For high season (May to October, 6-5 months in advance. Low season November to April, 4-3 months in advance.)

FAST COUPLES or GROUPS BOOKING:

Choose the tour of your preference and departure date, fill out your personal details on Step 2, then below fill out details of your group if is the case in

Traveling with:

once you have finalized you will get a Reservation Code (Purchase number) to pay a booking deposit with. For any assistance Call or Skype us and we can confirm your permits in only few minutes with our english/french speaking staff.

WHAT WE HAVE FOR YOU.-

The best itinerary and campsites for each night, including Wiñaywayna camp. Pick up from your hotel at 05:00 am on Day 1. Tour with the best Inca Trail mountain guides, extraordinaire chefs (Gourmet Peruvian meals) and well respected and better paid porters (The Blue Label Team). Treated drinkable water provided on route. Packed snacks in Machupicchu and snack lunch with Pisco Sour in Aguas Calientes, before your train to Cusco. Ticket for Huaynapicchu walk on Day 5th. Confirmed and Guaranteed departures on any date you are planing. Welcome group of friends, couples or solo travellers. New and decent tents and equipment.

100% Operated by SAS Travel and Adventours SAS.

Free Luggage Storage in Cusco at our Hotel Marqueses..

HOW TO CONFIRM.-

See on Step 1:

AVAILABILITY

Permits for Inca Trail are SOLD OUT until September 24 th 2014... so we recommend you to hike the 5 Day Salkantay and Machupicchu trek, 4 Day Lares and Machupicchu trek or the 3 Day Huchuy Qosqo and Machupicchu trek instead, these tours are still great options if you expect a lot of walks and fantastic views, (for more information please see Trekking to Machupicchu - Alternative treks). Book ONLINE on Step 2:

INCA TRAIL BOOKINGS

Get a Code (Purchase Number) and pay a booking deposit of US$ 300.00 per person through Western Union to Mr: Irwin POMA FLORES (Peru) or transfer this booking deposit with PayPal OR pay a booking deposit ONLINE on Step 3:

TO PAY

with Master Card or Visa card US$ 315.00 per person. Book and pay as soon as possible to avoid disappointments.

TICKET FOR HUAYNAPICCHU MOUNTAIN.-

(Those trekkers who wish to climb Huaynapicchu Mountain after they have finished hiking the Inca Trail hike, must let us know asap... permits also are so limited... pay USD$ 70 pp so we can purchase your ticket for the 2nd turn at 11:00 am. (for students with ISIC card USD$40 pp).
Special Offer
Payment for 13th of Aug departure made before the 14th of March recieves free Sacred Valley tour for all trekkers.
4 Nights for the price of 3 in MARQUESES BOUTIQUE Hotel in Cusco or FREE Up-grade to Delux rooms for the price of Standard room. To get this offer you must quote it at the time of booking and payment is required in $ USD cash. Please book through this website but you must indicate your tour with SAS Travel (This offer is only valid for accomodation dates from JAN 1st 2014 to APRIL 15th 2014). For months May- Aug- Stay 4 Nights FREE Up-Grade to Suite for the price of Delux rooms ..... to get this offer you must quote it at the time of booking and payment is required in $USD cash.www.hotelmarqueses.com
The Inca Trail to Machupicchu... The famous "Inca Trail" which connects the city of Cusco to Machupicchu's sacred citadel, is only a small part and tangential huge network of Inca roads. There were many trails built by Incas in Peru and South America, but there is only one Inca Trail, the one that is connecting to Machupicchu the Inca`s "Royal Sacred Highway" The Capac Ñan (in Quechua 'the road of the Inca king') or Inca Trail is the name given to the extensive trail system of 25 to 30 thousand kilometers linked and connected to the main axis of the road network Tahuantinsuyo (the Inca Empire.) All roads of the empire were linked to Cusco, the imperial capital, from which emerge a series of roads connecting the various peoples of the Inca Empire. During the Inca Empire was a means of integration for the Inca imperial expansion in the political-administrative, socio-economic, social, cultural and environmental.
Hiram Bingham, discoverer of Machupicchu in 1911, found the trail in 1915. The highway was traced and explored in more details in 1942 by the Viking Expedition with Paul Fejos 1941.
There is nothing like the feeling of discovery you get when, after 4 days of hiking stone-paved Inca pathways, you finally ascend the last trail, walk to the arch of Intipunku ("Gate of the Sun"), and see spread before you Machupicchu, the beautiful, enigmatic, "lost city" of the Incas. To arrive on foot, as the Incas did, is to step back in time and feel a real link with Inca history. The Inca Trail to Machupicchu is a classic hike. There are few short hikes anywhere in the world that can offer such a mix of jungle and sierra, so many secluded ruins to explore en route, and such stunning mountain views- plus the thrill of culminating at the most famous archaeological site on the continent... MachuPicchu.
Walking the Inca Trail with SAS Travel, Fully portered trek where your comfort is our prime responsibility, we make sure that you get the best experience of your holiday while you interact with the locals, explore and rediscover remote ancient Inca buildings, learning some Quechua words and history, take in the stunning landscape surrounding you and simply feel one with mother nature, while we carry your gear, prepare your meals, set up your tents avoiding crowded campsites and take care of all your requirements. At SAS Travel we want you to worry about nothing but getting the maximum out of your trip... just exceeding your expectations !! Tours designed with passion by experts and great value for money !
Program Itinerary
Day 1: CUSCO- PISKACUCHO KM 82- PATALLAQTA- CUSICHAKA- WAYLLABAMBA.(CAMPING) Vamos Amigos !!
Early pick-up from 5:00 am at your hotel. We will meet at our departure point, Plaza Regocijo, by 5:30 to board our private transportation. Make sure you carry your original passport and ISIC card if applicable. Our journey from Cusco to Piscacucho takes approximately 3 hours, with many beautiful views of the Sacred Valley, the Urubamba River, Andean towns, and the Inca town of Ollantaytambo. Along the way, we will stop to stretch our legs, use the bathroom, and enjoy a small breakfast, before continuing on to Piscacucho (2,680 m / 8,790 ft) start of the hike. There we will meet our camp crew and porters who will carry our belongings during our 35-mile hike (43 Km). Passports in hand, We clear the official Inca Trail check point, cross a suspension footbridge across the Urubamba River, and begin our trek with a gentle climb. We have three hours on relatively level terrain as we follow the course of the river, rewarded with superb views of Mount Veronica (5,750 m). The easy walk passes through a forest of giant cactus and native bushes. At Miskay we take the trail to the left, ascending gradually to Willkaraccay high above the mouth of the Cusichaca River and across from the Inca town of Llactapata (Terrace Town). Our vantage point is from a flat bluff above the extensive site, which was built as a fort because it commands the entrance to the Cusichaca Valley. The terracing system was used during Inca times for growing maize, a prestige crop that needed irrigation in the dry highlands. After a short rest, we continue another 15 minutes down to our lunch site at Tayaroc. Our path is adorned with native flowers and bromeliads growing in the boulders along the left side, and by majestic views of the mountains in both valleys. Walking times are always approximate, depending on weather conditions, group ability and other factors. After lunch, another 3-4 hours will bring us to the village of Wayllabamba (3,000 m / 9,840 ft), You will be rewarded with a Macho Tea hot drink and a buffet dinner will be offered. Guides will present our plans for the next great day. Have a good night. Buenas Noches!!!
BLD
Camping
3,000 m/10,824 ft
2,680 m/8,790 ft
12 km approx
6-7 hours / Ascent up: 620 m
Day 2: WAYLLABAMBA- AYAPATA- LLULLUCHAYOQ- DEAD WOMAN´S PASS- PACAYMAYO- (CAMPING),
After breakfast, around 8:00 am we re-start our walk from camp to Ayapata valley first, it takes around 1 hour followed by a soft uphill climb through woods and along a stream (3,300 m / 10,824 ft) Today is our great challenge day but with plenty of time to enjoy, it is the biggest climb of our hike, strenuous because you gain 1,200 meters in elevation planned in 2 stages, but it is rewarded with spectacular views up the mountain, partly it is an old inca Stone steps, surrounding with impressive snow-covered peaks as (Apu Huayanay mountain in our back). You will take 2-3 hour hike with several stops to catch your breath to reach the lunch place at Llulluchapampa Valley with expectacular views around, along the trail, we ascend steeply uphill through the Corralpunku Valley to the Llulluchayoc Zone, where you can see some species of birds, withith luck we will see tinny hummingbirds, falcons and black-chested buzzard eagles or perhaps we see the king of the andean heights the Condor, so respected and venerated at andean towns. We will soon enter into a beautiful cloud forest, or polylepis woodland (Qeuñas and Chachacomos small andean trees) and the treeless grasslands of the puna región, habitad of tarucas and pumas. From here, you can see the highest mountain ahead called dead woman´s pass. At Llulluchapampa our camp crew will be waiting for us with a delicious Peruvian lunch. After lunch there is a time to rest maybe a short nap. After lunch we continue our hike for another 2-3 hours -600 meter ascent up to the top of the mountain, Warmiwañusca mt. (Dead Woman's Pass) located at 4,200 meter /13,776 feet. Here you will discover a special feelings at this top maybe the sacrality of this point or just you coping with lack of oxygen in your brain. The path still climbs along a large number of steps, some of them newly laid to protect the mountain from erosion. You can walk at your own pace, stopping to catch your breath whenever you like. This last hard climb brings us to Dead Woman's Pass… you made it !!! Once the full group reaches this pass, we take a short rest break before beginning a steep descent into the Pacaymayo Valley for 2-3 hrs approx to reach our camp for tonight. This site has an incredible view over a valley, nearby waterfall and snow-covered peaks. You will find that your energy returns as we proceed along this downhill segment. Camping set, Tea time and Buffet Dinner. You are free to walk in you own pace. This campsite is popular with tour groups and although facilities here are reasonable good, with two toilets blocks. No showers, hot water buckets are offered for washing.
BLD
camping
4,200 m/13,776 ft
3,000 m/9,840 ft
12 km approx
7-8 hours / Ascent up: 900 m
Day 3: RUNKURAKAY- SAYAQMARKA- CHAKICOCHA- AOBAMBA- PHUYUPATAMARKA- INTIPATA- WIÑAYWAYNA (CAMPING)
After breakfast, around 7:00 am. The path climbs very steeply from Pacaymayo camp in a well preserved paved path –Camino Inca and takes 1 hour to reach the ruins at Runcuracay, a circular structure with a rectangular outbuildings perched on the edge of the valley, an old Inca -tambo where chaskis rested, guard post, lookout point or a ritual building, the site is best viewed from higher up the path. The second pass (3,950 m / 12,956 ft) called as well as Abra de Runcuracay, is another hour up, beyond a series of false summits and at the top of a series of steep staircases. Just before the real pass, the path winds between two tarns where Andean gulls sometimes gather. The second pass is another broad saddle, boasting excentional views, in clear weather, you can look back to the Dead Woman's Pass and forward to a breath-taking sweep of snow-capped peaks. These include the 6,000-meters Pumasillo (Puma's Claw) massif. From here, most of the trail is downhill. Having descended through a short tunnel the trail begins a series of tight switchbacks, dropping height quickly until it reaches a small viewpoint atop a promontory. Beyond here descend is more gradual and the path curls and coils across the slopes. To the right on the pass lies a large, algae-covered lake, whilst ahead of you Sayacmarca Inca town is visible. Time to explore, learn interesting lectures from your guides, after on we continue descending and the path bring us to Chakicocha (3,400 m / 11,000 ft) nice camp where we stop to rest and lunch. There are toilet facilities. From here after lunch the hike is exceptionally beautiful because we will pass the ruins of Phuyupatamarca, then we descend to Wiñaywayna and Intipata, and enjoy dramatic vistas of the Aobamba Valley. This stretch of the trail is of well-kept paved stone, still in great condition after many centuries. Your lungs will appreciate the fact that today's hike is much more down than up, and significantly shorter than yesterday's. In getting to Phuyupatamarca (the Town of the Clouds), we will pass through the first of two short, natural tunnels in the mountains. After visiting this site, we will descend about 2,000 stone steps to Wiñaywayna. If you have not had any knee problems up to this point, you may after this descent. If you have had prior knee injuries, we recommend hire a porter for your belongings, use trekking poles to relieve some of the stress on your joints. There is an additional short hike to Intipata another imponent Inca site with farming terraces before we get to our camp site for the night. Around 5 pm, we will arrive to our camp at Wiñaywayna (2,700 m / 8,856 ft), once set in our tents and before it get dark we hike for 5 minutes to have an espectacular views and a tour around this site, the most preserved and biggest Inca site among the other sites on Inca Trail. There will also be many more trekkers gathering here in thsi camp, ready for the final hike into Machu Picchu tomorrow. We therefore recommend taking extra care of your personal belongings here. Keep an eye on your daypacks and don't leave anything outside your tent at night. Tea time and Buffet Dinner. Please note that the hostel that for decades existed here is closed. Cold showers, no drinks and basic toilets.
BLD
camping
3,750 m/ 12,300 ft
2,700 m/8,856 ft
16 Km approx.
7-8 hours / Descent : 700 m
Day 4: WIÑAYWAYNA- INTUPINKU - MACHUPICCHU (HUAYNAPICCHU) -CUSCO.
We will get up very early -around 4:00 am -to get to Inti Punku (the Sun Gate), overlooking Machu Picchu for the first rays of the sunrise. This will be a hike of 1-2 hours, with significant upward stretches in the last half. You will be hiking in darkness for one hour, so a head lamp is strongly recommended please follow instructions of your guides and watch out your steps.
From Inti Punku (the Sun Gate), a final easy 50-minutes walk downhill steps will bring us first to the upper south sector of Machupicchu (The Guardian houses) The trail ends at a series of terraces, which present classic views of the overall city, after enjoying a panoramic view we must walk straight down to the entrance of Machu Picchu. (backpacks storage for 5 Soles available at the gate.) Few minutes later we will continue on to explore the site, with explanations provided by the trek guide(s). The formal tour will end in the late morning, after which there will be a couple of hours for more exploring on your own, or to just collapse under a tree in the central plaza area.
Additional Options: If your legs, lungs and energy still hold up after our four days of hiking, it may be possible to climb the peak of Huayna Picchu, behind the main site. However, special permits are required and they are issued in limited quantities. So if you are interested please book and pay in advance for this Ticket and request for the 2nd turn at 11:00 am, otherwise you may instead hike to the Inca Bridge or do others walks around Machupicchu.
In the early afternoon, bus to Aguas Calientes and lunch will be provided at "Los Viajeros" hostel down in the town of Aguas Calientes. There you will also be able to store your backpack, take a shower and/or look around the town a bit before catching the train back to Cuzco.
BL
Not Included,
2,700 m / 8,856 ft
2,400 m / 7,872 ft ( Machupicchu )
8 Km approx plus exploration of Machu Picchu
6-7 hours / Descent : 300 m
What is Included:
Pre-departure briefing at 7:00 pm the night before of your tour in our office.

Collection from your hotel in Cusco from (05:00 am) or Sacred Valley.

Private bus to km 82 –Piskacucho village (trek starting point)

Breakfast in Urubamba in our farm house, bathrooms available.

11 Full meals for the entire tour (4 Breakfast, 4 Lunch 3 Dinner) + snacks (vegetarian,vegan option, gluten,wheat free or special diets upon your request.)

Permit and fees for Inca Trail Park and Machupicchu Sanctuary.

Porters to carry camping equipment, tents, table,stools and cooking gear.

2 Excellent experienced top tour guides (9-16 person / 6-8 with 1 tour guide)

2 expert SAS gourmet mountain cooks, assistants.

Dining and kitchen tent, camping tables and stools

Happy hour with macho-tea and hot drinks every afternoon on camp.

Boiled water provided from 2nd day.

A gentle start to the day with a wake up coca tea in your tent.

2 person per tent (clean,new spacious 4 person dome igloo tent)

Thick, comfortable sleeping mattress, (Pillows by request)

Buckets of hot water for washing in your tent every day.

Emergency First-aid kit and Oxygen assistance..

3-4 guided tour in Machupicchu and extra time for yourself.

Snack at Machupicchu before your tour.

Bus down from Machupicchu to Aguas Calientes town.

Lunch in Aguas Calientes after Machupicchu tour.

Time to go to the hot springs or shop around the village.

Tourist Expedition train return to Poroy Station and bus to Cusco (Return to Plaza Regocijo end of our tour.)

.

SAS Travel Highlights:

Visit and guided tours of the 7 Inca archaeological sites en route.

Boiled purified water after breakfast to refill your bottles.

11 nutritious, delicious buffet meals with fresh, high quality ingredients, high in energy value and prepared carefully to avoid illness by our excellent cooks.

Vegetarian food and specialised diets by request, combination of International and Peruvian Cuisine 4 Breakfast ,4 Lunches, 3 Dinners.

Fairly treated porters carry the equipment, tents, food,gear and dining tents.

Accommodation, personal equipment, enough food, transport, permits and entrance fees for our porters and cooks.

Health Insurance for our porters, cooks, assistants and field crew.

Free storage for your backpack in Aguas Calientes.

Free and safe Storage in Cusco while you are on tours in Hotel Marqueses.

Inca Trail Survivor Certificate signed by your guides.

Confirmed Expedition train return to Cusco.

Biodegradable soap and hand cleansing gel.

Special rates at Hotel Marqueses,free transport at your arrival to Cusco.

100% Operated by SAS Travel, we never put you with other tour operators.

We guarantee 100% Peruvian SAS top tour leaders.

Walk to Inca bridge after your tour, optional.
What is not Included:
Down sleeping bag (-Minus 8ºC) US$ 25 for 3 nights

Personal porter for 9 Kg US $75.00

Single tent US$ 70 for 3 nights entire trek.

Thermal-rest mattress USD$ 25 for 3 nights

Trekking poles US$20 a pair

Hot Springs in Aguas Calientes (10 soles)

Tips for the trekking crew, guides, cooks and porters, it`s a tradition but not mandatory.

Ticket for Huaynapicchu mountain US$ 70.00 (Booking in advance required.)

Hotel in Cusco previous or after your tour.

Travel Insurance.-

Check that your insurance covers you for trekking and consider joining a local emergency organisation. Eg: (World Nomade Insurance.)
We recommend that you bring
Original passport and (ISIC student card if applicable)

A daypack to carry your personal belongings

(SAS provide a duffle bag for personal porter in case you hire a personal porter.)

Warm sleeping bag Minus 8ºC

Lighter style trekking boots with good ankle support

Trekking poles metal tips are not allowed on the trail

Warm clothes,layers for variable temperature especially at night

Thermal underwear can be worn in the sleeping bag or in cold conditions

Gloves or mittens, scarf , wool socks, woolen hat for cold nights

T-shirts and trekking pants that zipoff to short pants for comfort

Flash light, head torch and extra batteries

Camera and extra batteries, - Binoculars

Wear a hat with a broad visor to keep the sun off your face

Sunscreen, and sunglasses

Personal medical kit, insect repellent

Rain Gear: a good rain jacket, rain poncho

Toiletries, toilet paper, small towel

2 litre water bottle, disposable plastic bottles are forbidden in Machupicchu site

Water purifying tablets optional, since we provide boiled water

Bathing clothes for the hot springs for hikers with an extra night in Aguas Calientes (5 Day Special Inca Trail)

Extra money for drinks and tips in soles (porters, cooks and guides. (USD$30-40)

Emergency money at least 200-350 extra soles.(USD$ 120)
Additional options
Recommendations
If you have a bit of extra time we recommend you choose the

Inca Trail tour option:
1.- Inca Trail 4 Days/ 4Nights with overnigth at Aguas Calientes town -Group Service.-

This is exactly the same 4 Day/3Night tour but the advantage is you can spend few more hours or the entire 4th day till 5pm in Machu Picchu site and not have to come down early for a 4 and a half hour train journey back to Cusco at the end of this long day .... Instead you can relax in the hot springs of Aguas Calientes town in the evening and the package includes your dinner on Day 4 and your breakfast on Day 5th plus a room with private bathroom for only US$ 30.00 extra per person, (organize a pack lunch with your guide). The train journey is incredible beautiful so you want to be able to appreciate this in day light hours, the train will depart Aguas Calientes just before 9:00 am and arrives to Ollantaytambo at 11.30 am then you can enjoy visiting this charming town before taking a bus to Cusco from here. (Transport to Cusco 10 Soles bus not included.)

2.- Inca Trail plus Huaynapicchu mt. and Aguas Calientes town 5 Days/ 4Nights.-

We definitely believe that if you are doing the Inca Trail trek and also want to climb Huaynapicchu mountain then your best value for money if you have 5 Days is this option. This programe is for those people who want to do the Inca Trail trek, stay overnight in Aguas Calientes town, enjoy the hot springs pools, second visit of Machupicchu and walk the Huayna Picchu mountain on day 5th.

(The Peruvian Cultural Institute INC, still does not allow for people with an Inca Trail permit to simply add the Huaynapicchu permit . They only sell the Huaynapicchu permit combined with a Machupicchu entrance fee so is costly.)

To get the best value from this you should stay the night in Aguas Calientes and re-visit Machupicchu the next day with your walk up Huaynapicchu mountain done then as you also get that full extra day in Machupicchu. This is especially a good opportunity in wet season giving you a second opportunity to see Machu Picchu in good clear weather ! So this package includes the second entrance to Machu Picchu on the 5th Day and permit to walk Huaynapicchu mountain and train in the afternoon back to Cusco arriving around 9:00 pm on your 5th Day. (Guide, Bus tickets on Day 5th and Lunch are not included).

3.-Inca Trail Classic 4 Day/3Night -Group Service plus Huaynapicchu mt. ticket permit for Day 4th.-

If you only have 4 Days and want to walk Huaynapicchu mountain during your day and after your guided tour in Machupicchu, as if you want to ask our assistance in organizing the permit for Huaynapicchu included in your tour you will need to make the deposit for

Inca Trail Classic 4Day/3Nigh + Huaynapicchu mountain ticket permit for Day 4 at 11:00 am as US$370.00 cash sending with Western Union or with credit/debit card plus 5% then $385.00 p/person

and you must make this clear in writing so we include this ticket. (US$ 30.00 less if you have valid ISIC student card).

What is Huaynapicchu mountain walk.-

. Huaynapicchu is the steep mountain, towering above the north end Machupicchu, often the backdrop to many photos of the ruins. It looks a bit daunting from below, but while steep, it's not an unusually difficult ascent, and most reasonably fit persons shouldn't have a problem. Stone steps are laid along most of the path, and in the steeper sections steel cables provide a supporting handrail. That said, expect to be out of breath, and take care in the steeper portions, especially when wet, as it can become dangerous quickly. There's a tiny cave near the top that must be passed through, it is quite low and a rather tight squeeze. Take care at the peak, it can be somewhat precarious, and those afraid of heights may want to hang out just below. For most trekkers the wiews are awesome and inspiring. There's also a few ruins near the top. If visiting these ruins, you'll see a second way to start making your descent down the mountain, along some very steep and shallow steps.... these steps are a bit dangerous if wet, but the hike may be well worthwhile. This hike is one of your best bets for getting away from Machu Picchu crowds. Access to Huaynapicchu is limited to 400 visitors per day split In 2 sessions one at 7:00 am and the other at 11.00 am. The 11.00 am time slot is the most popular and so for high season may have to be booked a month in advance and fit just after your group guided tour of the sanctuary. The cost is $70.00 or $40.00 if you have scanned through a valid ISIC card.
Please note
Where this tour start.-

All our tours as Classic Inca Trail to MachuPicchu hikes 4D/3N , 4D/4N or 5D/4N, short 2 Day Inca Trail, alternatives hikes to Salkantay, Lares, HuchuyQosqo, Choquequirao, Auzangate, tours by train to Machupicchu, Jungle trips to Manu Park, trips to Puerto Maldonado start from Cusco, located at 3,400 masl in the southwest mountains region of Peru. Cusco (the centre of the Inca civilization) is the oldest Inka´s ancient capital called Tawantinsuyo, now it is the most impresive city in Peru with many Inca temples around blended with the Spanish heritage and rich architecture which from long time ago was named as the Rome of America. Cusco is still not a big city compared Lima or Arequipa, quite safe, a 10 minutes ride from the airport and you are at the centre of Cusco, more than 20 churches,monasteries and Plazas and most of travellers found this city very beautiful, with many good restaurants and shops where staff speak english, most people here speak spanish and Quichua the Inka´s language, official taxis for less than $1.5 per service (3-4 Soles)... then after your great days in Cusco and arounds you can continue visiting Manu National Park, Jungle trips to Puerto Maldonado, Colca Canyon in Arequipa, Nazca Lines, Paracas Reserve, Ballestas Islands, the Lake Titikaca in Puno or still visit Copacabana, Sun Island, Uyuni Salar in Bolivia.

What is the easiest way to reach Cusco.-

Get a flight from Lima (Peru´s capital city) located at the coast near Pacific Ocean at 0 -cero masl , there are several air companies as Taca (Avianca),StarPeru, Peruvian Airlines and the expensive Lan, it takes 1 hour (most of the flights are early in the morning). Bus from Lima to Cusco takes 24 Hrs (Cruz del Sur, Oltursa and Civa are rec bus companies.

Acclimatisation for your hike Inca Trail, Salkantay,Lares Choquequirao, Auzangate treks.-

Once you are in Cusco you are at 3,400 masl .. see how many meters high from Lima, then you may feel little tired... little headache.. but most people feel fine after cups a coca leaf tea or with a few of rest. For all our hikes around Cusco and Machupicchu you will need to walk up to over 4,000 masl (more than 1,000 meters) to have this espectacular views from the Andes so you need to stop a bit and prepare your body to cope with the mountains while you can tour around Cusco (2-3 days...) see the Sacred Valley with Pisaq, the South Valley with Tipon, The Barroque route & Urcos lake, Maras Moray and Salt Mines, see museums, colonial casonas, Inka´s temples, Plazas and Markets around Cusco. etc

Where to stay in Cusco.-

Boutique Hotel Marqueses is your home in Cusco, you are very welcome and our Office with english speaking staff is located just next door .

Acclimatisation.-

Acclimatisation is a process of adjusting to the reduced oxygen pressure in the atmosphere at high altitude. This process differs for everyone and there are no rules as to who will suffer the effects of high altitude. The problem with altitude is that as you go higher, the air becomes thinner and less oxygen is available. At first, the rate and depth of your breathing increases, later you get an increase in heart rate and increase in number of red blood cells and their ability to use oxygen. Although you can acclimatise sufficiently in 3 days or a couple of days to a particular altitude. Being in excellent physical condition does not aid in acclimatisation, nor does it make you less prone to altitude sickness. On flying from sea-level to La Paz or Cusco, everyone feels the effects of altitude to a certain degree. The symptoms are headaches, breathlessness, feelings of dizziness, insomnia, and lost of appetite. You can help alleviate it by drinking lots of water or better Coca tea (tea made from coca leaves), avoiding alcohol, sedatives or any other mind-altering substances and heavy and hard to digest food (high-carbohydrate meals), and above all by resting. Acclimatisation is achieved when the heartbeat is normal at rest, you can eat and sleep well and have no headache.

High-altitude sickness.-

Acute mountain sickness (AMS), cerebral oedema and pulmonary oedema. Acute mountain sickness (AMS) know locally as

Soroche

is the most common of the three variations. The symptoms of AMS or altitude sickness, which usually develop six to 12 hours after exposure to altitude, are severe headache, nausea, and sleeplessness, drinks lots of water or lots of coca tea with sugar.

Remedies for Altitude sickness, AMS, or Soroche.-

Given the altitudes many people habitually travel to and live at, it`s not surprising that many local remedies are advocated for treating altitude sickness. Probably the best know remedy is

mate de coca

, (tea made from coca leaves) or chewing coca leaves, lots of water, very light meals and good sleeping hours once you arrive, but others include tea made from the leaves of various high altitude plants. Coramina glucosada, Effortil, Micoren or Sorojchi, a blend of Micoren, caffeine and aspirin. These remedies may help alleviate some of the symptoms (although rest, painkillers and oxygen will have the same effect), but they won`t affect how quickly you acclimatise.

PREPARATION.-
Fitness.-

Trekking can be a moderate - strenuous activity, particularly if you`re not in peak physical condition, so make sure what you are planning is within your capabilities and that there is some flexibility built into your plans.

Training.-

If you can, some pre-trek fitness training is a good idea, and will reduce the likelihood of sprains, falls and overuse injuries. Start to get fit at least a couple of months before you leave, it is much better to walk briskly in hilly country than to run along level roads. Cycling is also a good way of preparing for trekking, since it involves most of the same muscles, this will strengthen the thigh muscles which in turn protect the knees.

Equipment.-

Make sure you are fully prepared for the environment conditions you`re likely to encounter and take a well stocked personal medical kit.

Footwear.-

Running shoes and sandal are not much use on a trek if rough terrain, so unless you can get hold of a decent pair of walking boots.

High altitude trekking.-

Make sure you know what to look for and what to do if you develop signs of altitude illness.

Sunburn.-

The combination of equatorial sun and high altitude makes sunburn a real danger to hikers in the Andes. Protect yourself with long, loose clothing and a really good suncream made for skiers or mountaineers, with a protection factor of 20. Lipsalve is essential to prevent cracked lips and should contain sunscreen, and remember how vulnerable your nose is. Wear a broad-brimmed hat and a long-sleeved shirt, at least until you have built up a protective tan and, if wearing a T-shirt, protect the back of your neck with a bandana or neckerchief.

Hypotermia.-
The best camp sites along the Inca Trail trek.-

Our first campsite is at Huayllabamba camp (3,000 masl) and second camp at Pacaymayo (3,500 masl) are the best campsites from the entire Inca Trail trek, (not crowded and very tranquil sites). Our 3rd night camping is in Wiñaywayna campsite

100% of our groups achieve to this campsite, which is only 2 hours near Machupicchu and 1 hour to the Sun`s Gate on Day 4 th early. Late bookings are often with Phuyupatamarca campsite due to lack of camping spaces in Wiñaywayna and it is from 4 to 5 hours to reach Machupicchu.... permits are so so limited... book early with us.

.

SAS Travel

is not only a fully licensed specialist operator for Inca Trail treks with more than 20 years, is one of the most reliable and experienced tour operator in Peru (mentioned by Lonely Planet), the first trekking local operator providing quality treks in Peru. Inspired and supported by a group of reputables mountain guides from Cusco. The service provided by SAS Travel is second to none, (Top guides, buffet style meals, quality equipment, well treated porters, etc) and the price that we offer is very competitive and offers great value for your money. The tour price was quoted in US$ dollars at S/3.40 Peruvian sol, today the dollar dropped significantly to S/ 2.70 SAS Travel have not increased the price of this premium group service !!

.

Last minutes booking for Permits for Inca Trail.-

Call us: 05184 256324 or 261920 (Irwin or David). We will do our best to help you...

Tour with SAS Travel highly recommended local operator... Experience Peru as travellers not as tourists...
Frequently Asked Questions
Booking Information
Thank you for touring with SAS Travel !!!
Step 1.-

CLICK:

CONFIRMED GROUP DEPARTURES

(See available spaces in our group and permits.)

Step 2.-

Select your tour and please fill it out with your own personal details, fill out details of your group in

Traveling with:

First Name and Surname, Passport Number, Age and Nationality contact email/skype address or phone. (Make sure your passports are valid for at least 6 months before you enter Peru). . Once you finish sending us all your details you will receive a reservation code (eg: 240611001). Then you must pay your booking deposit as until we receive a payment your reservation is not confirmed or safe. It is only so we can find the full reservation details at the exact time of payment. The last spaces in the group will be guaranteed in order of payments received so it is best to pay for all people in your group together with 1 reservation code, so that we can guarantee your permits, tickets for Machu Picchu, train tickets and tour together in the same group. Please also ensure you send scan of ISIC card if applicable at this time.

Step 3 .-HOW TO MAKE A BOOKING DEPOSIT.-

Please note if the permits are soon to run out you are better to do a credit card or Pay Pal deposit as these are a more immediate charge to ensure quick confirmation. Or you can skype sas.travel with your credit card details for immediate payment and CONFIRMATION.

deposit option 1.-

PAY A DEPOSIT with WESTERN UNION: Transfer US$ 300.00 per person (or US$370.00 per person if you want us to purchase your Huaynapicchu Ticket).

Western Union is the cheapest way to send money (up to USD$ 1,400.00 if you are from the US) I understand you can do this via Western Union online service for only about $6 fee when it is indicated as a non immediate pickup and using a checking account. You make the payment to: Irwin POMA FLORES.

RECEIVER'S FIRST NAME: Irwin

RECEIVER'S PATERNAL NAME: POMA

RECEIVER'S MATERNAL NAME: FLORES

COUNTRY: (Peru)

(This is the only person authorized to receive Western Union Payments for SAS Travel -Peru so only use these details.)

However if you are going to send larger amounts it has to be done via a Western Union office. Upon transferring the money email us the email confirmation reciept from Western Union with your reservation code and amount paid to: robyn@sastravelperu.com, reservas@sastravelperu.com and caja@sastravelperu.com -to confirm your booking deposit.

deposit option 2.-

PAY A BOOKING-DEPOSIT ONLINE with MASTER CARD,VISA .- USD$ 315.00 per person (USD$ 300.00 + 5% card charge) (or USD$ 385.00 p/person if you want us to purchase your Huaynapicchu Ticket). Payments by credit card will carry a surcharge of 5%.

(Visa card holder MUST BE affiliated to Verified by Visa)
deposit option 3.-

PAY A BOOKING-DEPOSIT ONLINE with PAY PAL .- USD$ 318.00 per person (USD$ 300.00 + 6% PAY PAL FEE) (or USD$ 388.00 p/person if you want us to purchase your Huaynapicchu Ticket). Payments by PAY PAL must include the additional 6% surcharge and the confirmation from Pay Pal needs to be emailed to robyn@sastravelperu.com and reservas@sastravelperu.com or feel free to Skype us: sas.travel

deposit option 4.-

bank transfer has large fees so best to pay as one FULL PAYMENT. ie $640 base price per person - Transferring money to a Bank in Peru Bank in Peru:

Banco Continental BBVA Peru. Swift Code: BCONPEPL

Branch: Cuenta de Ahorros USD$ Account Name: Marquez Viajes y Servicios EIRL.

Account Number: 0011 0200 0100098293 32 Address: Avenue el SOL 366 Cusco-Peru.

(Please add a USD$ 40.00 Bank fee that is taken from this end by the Peruvian bank.)

Best for group booking ie 3 person mínimum Please send us an email to recieve bank details.

Or if you have an Australian bank account there are no extra fees for 2014 to transfer to our Australian Bank account. Please email robyn@sastravelperu.com or skype sas.travel to receive the Westpac bank details. This can only be for a domestic bank transfer within Australia. If done internationally a fee of $40 will be charged.

As soon as we receive your deposit we will proceed purchasing your Permits for Inca Trail trek, tickets for Huaynapicchu if requested. We will send you a final confirmation of your tour with detailed information within 12 working hours.

If you don`t receive your Confirmation within 18 hours please send an email to:

robyn@sastravelperu.com or feel free to Skype: sas.travel or call us.

FINAL PAYMENT:

You must pay the full balance of your tour 1 month before the date of your tour departure using any of the payment options above. If you need to amend or add anything to your final confirmation invoice ie rental of sleeping bags or trekkking poles etc you should contact us at least 6 weeks prior to the tour. This is done by responding to the email with your final confirmation and indicating the rental ítems to be added and then we can adjust your invoice accordingly and reconfirm the exact balance you need to pay by emailing you within that week. (you need to add the 5% credit card comission or 6% Pay pal commission or other fees depending on which payment method you choose.

You then can enter the same ONLINE SYSTEM with your reservation reference code or contact us for bank details. Once we receive your payment in full we send you a further email with your confirmation and last minute details.
Terms & Conditions
TERMS and CONDITIONS -4 DAY INCA TRAIL TREK TOUR TO MACHU PICCHU.

1.- You must advise SAS Travel of any medical problems or allergies. You need to be in good physical health and if your health is questionable, then you should consult a doctor re high altitude trekking. If you are over the age of 65, then you will need to present us with a current medical certificate.

2.- You must advise your guide if you wish to leave the group or the camping area for independent walks or sightseeing. If you are experiencing any problems with the service of the guide or tour please advise the guide in that moment so he can resolve any problems as soon as possible.

3.- HUAYNAPICCHU MOUNTAIN.- This ticket is not included in the trek. Due to limited availabilty, (only 400 people per day), we recommend you reserve and pay immediately. If this what you are interested in doing, please let us know as soon as possible make the payment (US$70.00 per adult / US$ 40.00 per student who send an ISIC student card at the time of payment) and please send us a copy of your payment and request to reservas@sastravelperu.com.. This ticket will be for the second turn at approx 10:30 after your guided tour of Machupicchu.

4.- FINAL PAYMENT: You must pay the full balance of your tour 1 month before the date of your tour departure using any of the payment options above. If you need to amend or add anything to your final confirmation invoice ie rental of sleeping bags or trekkking poles etc you should contact us at least 6 weeks prior to the tour. This is done by responding to the email with your final confirmation and indicating the rental ítems to be added and then we can adjust your invoice accordingly and reconfirm the exact balance you need to pay by emailing you within that week. (you need to add the 5% credit card comission or 6% Pay pal commission or other fees depending on which payment method you choose.

You then can enter the same ONLINE SYSTEM with your reservation reference code or contact us for bank details. Once we receive your payment in full we send you a further email with your confirmation and last minute details.

5.- The student US$40 discount for use of student cards is regulated by the park itself, not SAS Travel. All student ISIC cards are validated by the control of the park and only accepted if you scanned a clear copy of your valid ISIC card through with your deposit at the time of booking and it was confirmed. A Youth Travel card or International Teachers cards are not accepted by the control.

6.- You must carry your original passport and valid ISIC card (if applicable) on the trail, If you do not take the correct original passport as indicated in your permit, the control will annul your permit and refuse you entrance to the trail. If for any reason, you organize a new passport after we have purchased your permits, you must bring the old passport with you, or if this is impossible advise us in writing with a scan of the old passport and your new passport for us to present to the INC with official documentation to avoid problems. Administration charge for this formal change is (US$ 15 pp)

7.- Unless you hire an extra shared porter you need to carry your back pack, sleeping bag and a mattress (about 3.8 Kg), personal items, clothing and water for the day to drink, if you want an extra shared porter (for the full trip) you must have booked this with your original booking form as they require permits as well or send us an email immediately. (reservas@sastravelperu.com)

8.- Cancelation made by Clients:

8.- a.- Cancelation of tour once a permit has been registered up to 6 weeks in advance incurs a loss of (US$ 300.00) non refundable Booking fee.

8.- b.- Cancelation of tour within 6 weeks to 2 weeks of departure incurs a loss of 60% of total tour cost...

8.- c.- Cancelation of tour within 2 weeks to 5 days of departure incurs a loss of 80% of total tour cost...

8.- d.- Cancelation of tour within 5 days - 36 hours of departure incurs a loss of 90% of total tour cost...

8.- e.- Cancelation of tour within 36 hours of departure incurs a loss of total tour cost...

However we can organise an alternative tour to visit Machu Picchu joining your group and utilising your permit, completing the tour as normal from here within this cancellation penalty charge if train tickets are available . The only extra charge is the cost of the train to Aguas Calientes. US$ 65.00 pp or with a Vistadome upgrade US $77.00 pp. Simple Accommodation in Aguas Calientes is provided.

9.- Change of dates is not possible after a permit has been processed. It is non transferable nor refundable Permits. The deposit will be forfeited. Please note that we do this because we are prohibited to re-sell your spot after you have cancelled. However you can use part of the permit for Machupicchu admission in other tour such as Lares, Salkantay, or train tours to Machupicchu, if the entrance dates match, etc .

10.- The Inca Trail Classic 4D/3N package includes: Train transport return to Cusco depends on train company availability. The train company only confirm the train schedule option to trekking agencies a few days before a trek for one way tickets from Aguas Calientes in high season dates. The train schedule offered could be anywhere between 4pm and 9pm and usually requires a private bus connection from Ollantaytambo to Cusco provided by SAS Travel. Our preference would be a train departure between 16:30 pm – 5:30 pm but needs to have enough seats available to accommodate the group and usually this is not an issue except around large festivals such as Inti Raymi, Independence day and Easter.

11.- Train tickets: Changes to schedules or dates when train tickets have been finalised incurs an administration charge of US$ 10 per ticket. At times a change of date may only be possible with an upgrade and so the difference in price would need to be paid.

12.- If you become ill or injured on the trail and are unable to continue, a porter will be provided to accompany you back to an area with emergency assistance capabilities. helicopter air lifts and medical assistance are paid at the expense of the passenger, if you fail to complete the tour due to illness we will assist you to meet with your group at Machupicchu to recommence your tour at that point, although there will be no refund from the original payment, we will however, present you with a document to certify illness and which can be used to present to your travel insurance company.

13.- SAS Travel will take all reasonable care in providing service to our clients to avoid accident, illness, loss of personal property and will only employ suitably qualified staff. We accept responsibility for the actions of our own employees. SAS Travel cannot however be responsible for any action or event that was unforeseeable or unavoidable. We also cannot be responsible for improper acts by clients or other third party. You are totally responsable for your own personal property and rented equipment.

14.- SAS Travel does not take responsibility for additional costs due to unfavorable weather conditions, natural catastrophe, strikes, accidents, illness, injury, loss of personal items, etc. It is the clients responsibility to carry insurance to cover these types of events. We reserve the right to modify or cancel the program due to any of the unforeseen conditions listed above.

15.- In extreme cases when " Inca trail to Machupicchu" is declared closed for safety reasons SAS Travel can replace your trek with an alternative trek such as 4 Day Lares trek or 4 day Choquequirao trek and your booking deposit money will be used for this or if you prefer an alternative tour such as 4 day Lake Titicaca package or Jungle trip etc to give you some of the many options.

16.- Travel Insurance.- We srrongly recommend that full travel insurance is taken, which includes cover, under certain circumstances, against the loss of deposit or cancellation charges. Please note that no reimbursements are given when cancellations occur or for any unused services.

SAS Travel will do everything possible to assure a safe and enjoyable trip but we will not accept any responsibility for damages, injuries, losses, expenses due to delays, for any cause whatsoever, this applies to any person or property in connection with any service we or our intermediaries provide, which result directly or indirectly from acts of God or forces mayor.

I have read and accept the conditions.