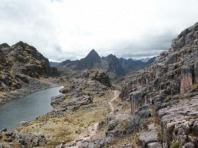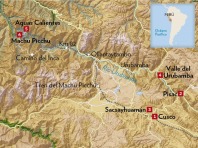 Price Information
US$ 690.00 p/person
(Based on Double / Triple accommodation)
Please Note
US$ 690.00 (Minimum 6 person).
--
6-9 person US$ 690 per person.
4-5 person US$ 790 per person.
2-3 person US$ 940 per person.
Price is based in number of participants in the group tour.
---
This trek is possible in 5 Days for experienced hikers with an early departure from Cusco.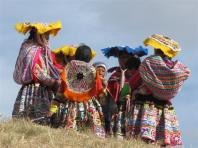 Overview
Auzangate Mountain is the highest mountain in the Cordillera Vilcanota. The Cordillera Vilcanota is an impressive range of mountains which include the massive Nevado de Ausangate (6,385m) and three others tops over 6000m.
It's excellent trekking circuit offering to the traveller everything you could want: spectacular mountain scenery, snow-capped peaks, hot springs, turquoise lakes, glaciers, herds of llamas and alpacas, picturesque villages and traditionally dressed Quechua people. This is a moderate to challenging trek, not technical with several high passes and often freezing cold nights so be prepared. This beautiful six day trek starts and finishes at the small Andean village of Tinqui and takes you around the massif of Ausangate mountain and over three high passes (two of them over 5000m).
It is essential to be properly acclimatized for this hike spending at least two or three days in Cusco (or equivalent altitude) before starting.

The peak of Auzangate is considered by the local people to be a sacred Apu and it is the central most powerful point of pilgrimage for today's Quechuas descendents. This fascinated trek can be also combined with famous Inti raymi fest, Sun`s festival in Cusco or the winter solstice fest in Qoyllor rity snow capped mountains opposite from Ausangate.
Difficulty
Distance: 74 km Duration: 6 Days
When to go: Best from April to October
Altitude: 3,800m/12,464ft to 5,165 m/ 16,941ft
Difficulty: Moderate to Challenging
Modality: Trekking, scenic and Cultural
Location: Mountain range Vilcanota -Cusco.
Day Temperature:15 ºC to 25 ºC / Night temperature:4ºC to -10º C
Remark: 2-3 day acclimatization required.
Briefing
At 7.00 pm at your hotel or at our Office Calle Garcilaso 270, it takes 20-30 minutes if you want also it can be at your hotel.
Auzangate Mountain Trek. Full Loop 6Day/ 5Night plus Rainbow, Red Mountain.
Last Minute Information
DAILY DEPARTURES !!!

(Best period for this Trek from April to November) You must book online and pay a deposit in advance (4-1 month before)

2 person minimum.

--

HOW TO BOOK AND CONFIRM.-

Choose your preferred date on the Calendar

(Leaving Dates)

fill out with all the requested details, complete details on

traveling with:

of persons with you, soon you will receive a reservation code (Purchase Number) then pay online a booking deposit with Visa or MC or thru Paypal US$ 200.00 per person.

--

Final Balance of your tour.- Must be paid at your arrival to Cusco or 1 month before the day of your tour. In case you would like to go in a small group we will advertise in order to find other hikers then the rate could be less according to the information shown in our website or pay in US$ cash upon your arrival to Cusco 3-2 Days before.
Special Offer
BOOK a Tour with SAS Travel and GET a 15% DISCOUNT in our MARQUESES Boutique Hotel in Suite, Deluxe or Standard rooms plus a FREE pick up from airport at your arrival to Cusco. Reservations at: [email protected]
---
Find more information here: www.hotelmarqueses.com "Charming and Amazing Hotel, Great Location one block near centre, Wonderful Staff and Excellent three star Hotel". © 2018 TripAdvisor LLC
Distance: 74 km
Duration: 6 Days
When to go: Best from April to October
Altitude : 3,800 masl to 5,165 masl
Difficulty: Moderate to Challenging
Modality: Trekking, scenic and Cultural
Location: Mountain range Vilcanota - Cusco
Day Temperature: 15 ºC to 25 ºC / Night temperature : 4ºC to -10º C
Remark : 2-3 day acclimatization required.
Program Itinerary
What is Included:
Private 4x4 transportation to Tinqui (day 1) and return to Cusco (day 6)

Horses to carry all the camping equipment, food, fuel

Cooking equipment and Passengers belongings (8 kg per person)

SAS provides a duffle bag for your belongings

All 15 meals during the trip (5 lunches / 5 dinners / 5 breakfasts)

Expert bilingual guide English /Spanish. (guides in French, German by request)

Cook, assistant,horsemen /assistants

Camping equipment tents for 2 person and mattress are provided

Dinning tent

Toilet tent

Boiled water is provided during the trek.
What is not Included:
Sleeping Bags Down US$25 for 4 nights

Trekking poles a pair US$20

Snacks, dried fruits, raisins, energy cereal bars, chocolates

Back Pack $20

Hot springs 5 soles:

Optional Tips for the crew, Guide cook and horseman.
We recommend that you bring:
Change of clothes for the whole period of the trek & a daypack

SAS provides a duffle bag to transport your belongings ( 8 Kg each)

Minus 5 º C down sleeping bag

Hiking boots, strong footwear, ideally trekking or sport shoes

Trekking poles: Poles with metal tips are allowed on this trek

Warm clothes : layers for variable temperature especially at night

Thermals : Gloves / scarf : wool socks / woolen hat for cold nights

minus 9 ºC

T-shirts and trekking pants that zipoff to short pants for a

comfortable day walks

Flash light or head torch and batteries

Camera and extra batteries (batteries consume more quickly under

cold conditions)

Sun block / hat to protect you from the sun, rain and cold and

sunglasses

Personal medical kit

Rain jacket or poncho (plastic ponchos can be purchased in Cusco)

Toiletries / toilet paper / small towel

2 litre water bottle : disposable water bottles are not recommended

Original passport

Extra money for drinks & tips, souvenirs etc (in soles)

Emergency money at least 200 extra soles

Bathing clothes for the hot springs.Optional

Thermal Rest inflatable mattress

Snacks: biscuits, energy bars, chocolate, fruits, muesli, etc.

Social activities toward the children in our hike to Upis, Pacchanta, Jatun Finaya in Ausangate Please feel free to bring with you some warm clothes, toys, books and school equipment not necessarily new, and generic medicines for respiratory infections, flu, influenza, bronchitis, headaches, etc. the children will appreciate enormously with their unique smiles.
Recommendations
Bring a warm clothes for the night and day. Temperatures can descend to Minus 6dC at night.

Trekking poles

Sun is very strong at this part of the Andes, a good sun cream block is essential,

A very good down sleeping bag and warm clothes are neccesary
Please Note
TRAVEL INSURANCE:

We recommend you to obtain a personal Travel Insurance, including Medical Problems, Baggage loss or damage. If you need help to find a travel Insurance Company please let us know.

Eg, Nomad Travel Insurances.
PRIVACY POLICY:

All the information you provide us, full name, passport number, nationality, date of birth, telephone number, and address or your credit card info will be used strictly to process your trip arrangements. This information will not be shared with anyone.
Booking Information
Firstly.-

Before you book your tour we urge you to read all the information, descriptions, general details, booking conditions and tour notes for your trip.

Step 1.- CLICK ON: AVAILABILITY AND BOOKING**
Step 2.- REGISTER your TOUR and fill in your personal details in separate forms.

You will receive a Reservation Code (eg: 240611001) It is possible to pay for 2 or more person with 1 Reservation Code, so we can secure your train tickets and tour together.
Terms & Conditions
1. You must advise SAS travel of any medical problems or allergies. You need to be in good physical health and if your health is questionable, then you should consult a doctor. If you are over the age of 69, then you will need to present us with a current medical certificate.

2. You must advise your guide if you wish to leave the group or the camping area for independent walks or sightseeing. If you are experiencing any problems with the service of the guide or tour

please advise the guide in that moment so he can resolve any problems as soon as possible.

3. You must pay for your tour in full by 12:00 noon, 2 days before your departure.

Payment of your balance in the Cusco SAS office is requested in cash. US $ is easier but if you choose to pay in soles the rate charged is generally 3.3 soles = US$1

4.- A 8 Kg porter service for your belonings.

5. Change of dates is only possible if the group is still left with more than a minimum and you are changing to an establised departure date. Change of date has a fee of $25 .

Cancelation :

7. a Cancelation of tour up to 2 months before departure incurs a loss of the $200. non refundable deposit.

7. b. Cancelation of tour within 2 months and 1 month of departure incurs a loss of 40% of total tour cost...

7. c. Cancelation of tour within 1 month and 1 week of departure incurs a loss of 60% of total tour cost...

7. d. Cancelation of tour within 1 week - 48 hours of departure incurs a loss of 75% of total tour cost...

7. e. Cancelation of tour within 48 hours of departure incurs a loss of 85% of total tour cost...

8. If you become ill or injured on the trail and are unable to continue, a porter and mule will be provided to accompany you back to an area with emergency assistance capabilities. Helicopter air lifts and medical assistance are paid at the expense of the passenger. If you fail to complete the tour due to illness we will assist you to meet with your group at Machupicchu to recommence your tour at that point. There will be no refund from the original payment, however we will prepare a document to certify illness which can be used to present to your travel insurance company.

9. SAS Travel will take all reasonable care in providing service to our clients to avoid accident, illness, loss of personal property and will only employ suitably qualified staff. We accept responsibility for the actions of our own employees. SAS Travel cannot however be responsible for any action or event that was unforeseeable or unavoidable. We also cannot be responsible for improper acts by clients or other third party. You are totally responsable for your own personal property and rented equipment.

10. SAS Travel does not take responsibility for additional costs due to unfavorable weather conditions, natural catastrophe, strikes, accidents, illness, injury, loss of personal items, etc. It is the clients responsibility to carry insurance to cover these types of events. We reserve the right to modify or cancel the program due to any of the unforeseen conditions listed above.

11.- Ausangate trek is recommended in dry season. Unexpected rain can cause snow falls causing difficult trekking conditions and possibly closure of the pass. In the case of snow falls SAS can not be held accountable for the need to take an alternative route. You would also need good quality trekking boots and equipment to protect you against snow related conditions, cold and glare. In extreme cases when "Ausangate trek" is declared closed for safety reasons SAS travel can replace your trek with an alternative trek such as 5 Day Salkantay Trail or 4 day Lares trek and your booking deposit money will be used for this or if you prefer an alternative tour such as 4 day lake Titicaca package or Jungle trip etc.to give you some of the many options.