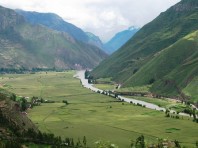 Price Information
US$ 390.00 p/person
(Based on Double / Triple accommodation)
Please Note
Student rate USD$ 370.00 per person when University Student card is sent with payment or before (Single supplement additional $20.00).
---
UP-GRADE VISTADOME TRAIN: Add Vistadome train service return to Cusco (One way US$60 per person) (In and return both ways with Vistadome US$ 100 per person)
UP-GRADE ACCOMMODATION: With Hotel Inka Tower Extra $35 per person ; with Andina Luxury Hotel $46 per person ; or with Mapi Inkaterra Hotel $90 per person. (To confirm please write in Notes in the booking format) or email at: reservas@sastravelperu.com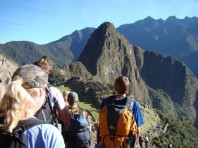 Overview
A perfect balance of professional guides to lead you through the mysteries held in these polished stones and ornate structures built by a people of incredible wisdom and fascinating organisation and then enough free time for you to adventure on a hike within Machupicchu or just meditate in its surrounds ....this is for everyone!
Is it for me?
This tour is probably the most popular way to combine these 2 tours to utilise the interesting facts about the culture and history of the Sacred Valley as an introduction and backdrop to the wonder of Machupicchu. Making the best use of your time to reduce backtracking and especially as until July there is no train track between Cusco and Ollantaytambo you need to get to Ollantaytambo to take the train to Aguas Calientes so it is not only your best option but one of your few!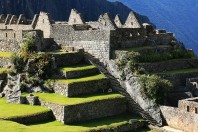 Difficulty
Our tours at Machu Picchu sanctuary starts very early to avoid the crowds and before big groups arrives and packed the Sanctuary Park, personalized guided tour for group of friends, families (4-8 person group) !! Other tour groups in Machu Picchu are with 20-25 person. Excellent guides with years of experience.
Briefing
Better starting days for this tour are on Sunday or Tuesday or Thursday. Best to avoid Saturdays as Sunday in Machu Pichchu is usually more packed.
Transport
Tourist bus and Expedition Train (Perurail). with reserved seats ,very comfortable train service
http://www.hotelmarqueses.com/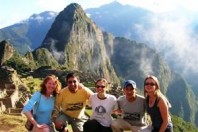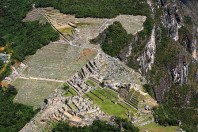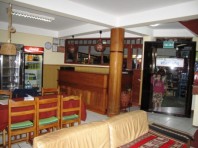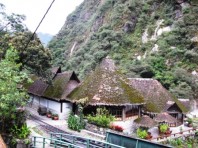 Sacred Valley Guided Tour, Aguas Calientes, Machupicchu."COMBO" Tour 2D/1N -Daily Departures!
Last Minute Information
DAILY DEPARTURES ! !

(Minimum 2 person).

Pick up from your Hotel/Hostal

Excellent experienced guides in a small group.

---

ENJOY and EXPLORE the Sacred Valley Tour and the Classic Train tour to Machu Picchu plus Huayna Picchu, but with extra night in Aguas Calientes, gives you plenty of time in Machu Picchu to enjoy it from early morning. After your guided tour at Machu Picchu you can walk to Huaynapicchu moutain (Optional and extra $25 pp) or you can walk to the Inca bridge or walk to Gate of the Sun.

The permits for Machu Picchu citadel, Huaynapicchu mountain (Optional) and train tickets are AVAILABLE year around, book ONLINE and pay a deposit shortly so we can ensure a tour.

---

Our Price: US$390 per person
US$370 with Univ Student card or under 16 y/o.
Huayna Picchu or Montaña US$25 Extra

Optional. Book in advance due limits spots.

---

Walk to Inca Bridge or walk to Gate of the Sun -Intipunku to have great views and see the Huaca 17 (original and ancient entrance to Machupicchu and where now finish the famous Inca Trail.

---

HOW TO BOOK:

Choose on the Calendar the date of your preference (Leaving Dates) -left side. Select the month and click on your interested date. Fill it out with your personal details, then below fill out details of your group in Traveling with, once you have finalized you will receive an email with a reservation code (Purchase number) to pay online a booking deposit with Visa or MC or through Paypal on Step 3. Booking deposit required US$ 200.00 per person. Or See below for more details in:

Booking Information.

---

ENJOY THE WALK TO HUAYNAPICCHU MOUNTAIN (OPTIONAL).-

Walking to Huayna Picchu mountain takes 2 Hrs up and down, programmed at 11:00 am after your guided tour in Machu Picchu. Those tickets are so limited so please let us know at the time of your booking.
Special Offer
BOOK a Tour with SAS Travel and GET a 10% DISCOUNT in our MARQUESES Boutique Hotel in Suite, Deluxe or Standard rooms plus a FREE pick up from airport at your arrival to Cusco. Reservations at: reservas@hotelmarqueses.com
---
Find more information here: www.hotelmarqueses.com "Charming and Amazing Hotel, Great Location one block near centre, Wonderful Staff and Excellent three star Hotel". © 2018 TripAdvisor LLC
This tour is a great combination of the famous Sacred Valley tour and the classic Train tour to Machu Picchu, so for those who only have 2 days. A sightseeing and short walks guided tour,
Early departs so we will visit sites before other groups so we avoid the crowds.
Your guide will show we tried to show you places and things that are not commontly seen. Stops in Miradors for classic great pictures, see the traditional Market in Pisac hike and guided tour in the Inca town of Pisac Ollantaytambo,
Urubamba the biggest town on the valley for a typical lunch, late at the afternoon we take a Afternoon tourist train to Aguas Calientes town, our staff from Viajeros Hostel will wait for you at the train station to take you just 4 minutes walk to Viajeros Hostal. By 7:00 pm we enjoy a Dinner and meet our guide for Machu Picchu. Early breakfast and at 5:00 am we are taking the first bus for 30 minutes toward the sanctuary. Guided tour in this marvelous place, visit of the most relevant temples and areas scorted by your experienced guide, best spots for pictures then extra free time to explore by your own. You can stay in the sanctuary until 12-13 Hrs. 1 Hr walk to Aguas Calientes. Free time to Hot springs. Afternoon return by train to Ollantaytambo and a private transport to Cusco or direct train return to Cusco.
Program Itinerary
What is Included:
On Day 1: Guided Sacred Valley tour from Cusco to visit Pisac Market & Ruins and Ollantaytambo.

Train ticket at 4.36 pm from Ollantaytambo, arriving to Aguas Calientes 6.10pm (in high season the train times may be slightly different due to availability).

Reception and Transfer to Viajeros Hostel, Dinner and breakfast

Bus from Aguas Calientes to Machu Picchu

Admission Ticket for Machu Picchu sanctuary.

Guided tour in English (approx 2-3 hours )

Bus from Machupicchu to Aguas Calientes

Train return (generally 4.43 pm) to Ollantaytambo and transport on to Cusco (in high season the train times may be slightly different due to availability) or Direct train to Cusco.

Transfer from Train Station to your Hotel in Cusco. 30 Minutes.
What is not Included:
Entrance fees on Sacred Valley tour 70 soles

Lunch on Day 1 in Urubamba on the Sacred Valley (25-45 soles)

Lunch on Day 2 in Aguas Calientes. Bring snacks or request a packed lunch at Hostal.

Drinks in your dinner.

Hot Springs 15 soles. -Bring a bathing suit.

Huayna Picchu or Montaña Ticket. Extra $ 25.00 pp. Book in advance in high season.

Single room extra of US$20.00 for single traveller.

---

Packed Lunch for your Tour at Machu Picchu.

US$12.00 each.

Includes: 2 Sandwichs: 1 Chicken and salad + 1 Ham and Cheese sandwich)

750 ml bottle of water or 750 ml bottle of soda/ cool drink, 2 fruits (mandarine, banana) 1 chocolate or packet of biscuits.

Vegetarian Packed Lunch:

Includes: 2 Sandwichs: 1 Curried egg sandwich + 1 cheese, tomato, avocado and salad sandwich), 750 ml bottle of water or 750 ml bottle of soda/ cool drink, 2 fruits (mandarine, banana) 1 chocolate or packet of biscuits.

Please request the night before at reception.
Additional Options:
We recommend that you bring:
Original Passport and University student card if applicable and booked as student.

You only need to carry a day pack.

Water to drink 1.5 Lt , a Camera

Comfortable sturdy shoes or hiking boots

Rain jacket/poncho, Change of clothes

Basic toiletries, Sun lotion/ sunscreen, hat for sun.

Insect repellent,Torch (optional)

Extra money for drinks, souvenir and gratuities.
Please Note
The tickets for

Huayna Picchu Mt

are limited only 400 spots per day (you must please book in advance 7-6 months before -book online (or email us: reservas@sastravelperu.com) and pay online with your code, generally tickets run out quicker in the high season months: from May to August.

Huayna Picchu Mt tickets has 2 session times:

1st group starts from 7/8:00 am to...13: Hrs

2nd group starts from 10/11:00 am ...15:Hrs

Huayna Picchu Mt walk is to be avoided if you suffer vertigo and both climbs are to be considered dangerous in bad weather.

Machu Picchu Montaña tickets.-

Also you must book in advance, most people book when permits for Huayna Picchu are sold out. Machu Picchu Montaña is located at the south direction of the sanctuary and need to walk up 564 meters generally takes 3-4 hours as it is much higher than the Huayna Picchu Mt walk 360 metres up.Thus the views from Machu Picchu Montaña are considerably better views from the higher vantage point looking over not only Machu Picchu sanctuary but also the landscapes surrounding and mountains beyond. Also Montaña Machu Picchu is way less crowded but challenging walk.
Booking Information
Select the month and date and click on the Calendar the Departure Date (Leaving Date) of your preference. Then fill out with your personal details and details of your group. (If you are travelling as a couple, or with more persons you must book and pay with one reservation Code.) But please complete details of your companion on lines below:

Travelling with:

(write Full names, Passport number, Age and Nationality). Once you finish sending us all your details you will receive a Reservation Code (eg: 240611001). Then you just need to pay your deposit online on Step 3 (pay for 2 or more person in your group with ONE reservation code, so we can guarantee all your permits, tickets for Machupicchu, train tickets and tour all together in a group.)

BOOKING DEPOSIT REQUIRED.-

USD$ 200 per person.

1.- Pay on Step 3 a booking deposit ONLINE with VISA or Mastercard.- US$ 210 per person. (US$ 200+5% card fee). Payments by credit card will carry a surcharge of 5%.

2.- Pay a booking deposit with Paypal.- US$ 200.00 per person. (Payments by Paypal will carry a surcharge of 6%.).

3.- For group bookings and payments please contact: robyn@sastravelperu.com

FINAL PAYMENT:

We require a full payment of your tour transferring 1 month before OR pay in our office in Cusco 5-3 days before of your departure date in USD$ cash.
Terms & Conditions
1.- Once you arrive to Cusco please come to our office to get final details of your tour (our office is located at Calle Garcilaso 270 near Hotel Marqueses and San Francisco Plaza), bring your passport and university student card if applicable.

2.- The tour starts from our office in Cusco at 08:20 am, by 16:45 Hrs 2 Hrs Expedition train ride to Aguas Calientes town, night in Aguas Calientes Dinner. Bring a daypack for a 2 day trip, pack lunch, water for the 2nd day, most of your luggage leave it in your hotel in Cusco. Train return to Cusco leave at 16.00 Hrs. At Poroy station our staff will meet you for your transfer to your hotel.

3.- The cost of this tour is in US$ Dollar cash (extra 5% credit card commission or 6% Paypal commission). Cost of tour is based on double occupancy room, extra US $20.00 for single travelers for single room

4.- Please note Hostel Viajeros is not a 3 star hotel but is clean, safe and comfortable. If you are wanting an alternative accommodation this can be organized, these are some upgrade options and the corresponding supplemental cost based on double occupancy see on

Additional Options:

5.- The student US$20 discount for use of student cards is regulated by Park office itself, not SAS Travel. All student University cards are validated by the control of the park and only accepted if you send us a scanned a copy of your valid university student card through with your deposit at the time of booking and it was confirmed. (A Youth Travel card is not accepted for this discount by the control).

6.- Changes to schedules or dates can only be made if there is availability in the alternative date and when train tickets have been finalized this incurs a further administration charge of $40 fee. At times a change of date may only be possible with an upgrade train service and so the difference in price would also need to be paid.

7.- Final payment.- You must pay the full balance of your tour 1 month before the date of your tour departure (you need to add the 5% credit card commission or 6% Pay pal commission or other fees depending on which payment method you choose. You then can enter the same Online System http://sastravel.online-booking.co/pay.php with your reservation reference code or contact us for bank details. Once we receive your payment in full we send you a further email with your confirmation and last minute details. (If you arrive 2-1 days before to Cusco you can pay in cash USD$ or Soles.

8.- We strongly suggest you arrive to Cusco at least 2 days before the date of this tour. Please let us know your hotel contact details once you have confirmed this or if you need assistance in booking a hotel in Cusco let us know.

9.- CANCELATIONS BY CLIENT:

Cancelation of tour once you have received a written confirmation incurs a loss of booking deposit -Non refundable booking deposit.

Cancelation of tour within 45 to 22 days before date of tour departure incurs a loss of 70% of total tour cost.

Cancelation of tour within 21 to 9 days before departure incurs a loss of 80% of total tour cost.

Cancelation of tour within 8 days to 48 hours before departure incurs a loss of 100% of total tour cost.

SAS Travel does not take responsibility for additional costs due to unfavorable weather conditions, natural catastrophe, strikes, accidents, illness, injury, loss of personal items, etc. It is the clients responsibility to carry insurance to cover these types of events. We reserve the right to modify or cancel the program due to any of the unforeseen conditions listed above.

Note: All itineraries are subject to change due to circumstances beyond our control including, weather, road or trail conditions.