IMPORTANT:
Permits for Inca Trail Trek 4, 5 Days on April, May and June 2019
are sold out
-so we encourage you to book as soon as possible for treks on March, July, August, September, October. Otherwise check out our
Alternative treks
.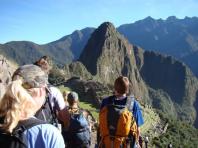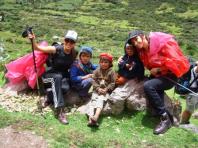 Price Information
US$ 690.00 p/person
(Based on Double / Triple accommodation)
Please Note
US$ 640.00 with University student card or under 16.
---
PRIVATE TOURS.
Daily Departures.
2-3 person group US$ 1,200 each
4-5 person group US$ 840 each
6-8 person group US$ 690 each
---
with the option to get other trekkers to join in your booked date and build up a small group, so price will be reduced, the price of tour will be upon number of participants.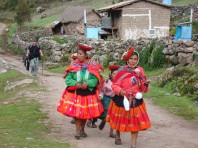 Overview
This trek takes us into the Lares region of the Peruvian Andes, passing green valleys, tranquil mountain lakes and high passes, with breathtaking views of snow-capped Andean peaks rising to just under 6,000 meters. Our route takes us through many small village communities that offer a rare & fascinating insight into traditional Andean life. Finally we make our way by train to Aguas Calientes and continue on to Machu-Picchu, the legendary Lost City of the Incas. We have plenty of time to explore this renowned and fascinating site, climb to Huayna Picchuand walk to Sun-Gate as well if you like.
Group Service
Depart from: Cusco
Duration: 4 Day/3 Night
Highlights: no crowded campsites or trails, walking with the local andean people, Ollantaytambo, Sacred Valley and Machupicchu !
Is it for me?
If you are interested in trek the Inca Trail and permits are totally sold out This may at first seem totally devastating but there are some great Alternative treks to Machu Picchu such as this which do not require the same permits and so are available. This is not just a perfect alternative if you miss out on Inca trail permits but many people choose this trek instead of Inca trail for its cultural aspect of visiting remote andean villages on and off the beaten track style trek. Where the inca trail has become a bit too popular Lares still has moments when you are the only people to be gazing over the stunning emerald lake from a high mountain pass! There will most probably be some alpacas accompanying you. There are less Inca arquelogical sites along the trail itself until you get to Machu Pîcchu but if you like awesome scenery and alpacas then this is for you!
Also this is a great trek if you have already visited Machu Picchu and just want to do another high altitude 3 day trek as you can return to Cusco from Yanahuarra instead of going on to Machu Picchu and this cuts the cost of course as well!
HUAYNA PICCHU MOUNTAIN WALK.- We include this walk up the mountain Huaynapicchu after your trek, if you book before permits run out. It takes 2 hours and you can start after your guided tour in Machupicchu.

BOOK EARLY ... to avoid disappointment
Remember there are a limited number of spaces available for MachuPicchu and Huaynapicchu mountain for each day so call us now with your questions or book online to reserve your spot !
HOW COMPARE TREKS TO MACHU PICCHU.
4 Day Inca Trail:Challenging
5 Day Salkantay Trek:Challenging
4 Day Lares trek: Moderate.
5 Day Choquequirao :Challenging
3 Day Huchuy trek: Moderate.
2 Day Short Inca Trail: Easy
Difficulty
Distance: 34 Km/ 21 Miles
When to go: Best from April to October
Altitude:2750m/8883ft to 4780m/15134ft
Difficulty: especially in the second day of the trek (arriving to the 4780 mtrs pass on day 2,) you will most likely feel difficulty breathing in altitude, will have to stop frequently to regain your breath and will find you have very little energy and will need to walk far slower than usual. It is very common to feel extremely short of breath while ascending and this is always a shock at the end of the first day and arriving to the pass on the second day as it is a steady continuous climb to the pass. This is to be expected and every one finds this very difficult so state of mind is very important at this point..but well rewarded once you reach the top of the pass!
..we walk in the footsteps of the local people, farmers, arieros and their mules along rocky trails. My feet still hurt!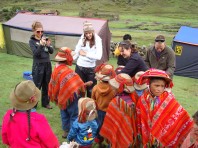 Briefing
Briefing 7pm night before your trek departure at our SAS office.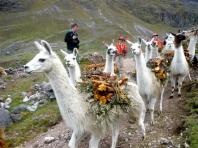 Transport
Tourist bus and Train
Recommended Hotels
We highly recommend Marqueses Boutique Hotel in Cusco, it is a beautiful and charming Colonial house built at the end of XVI century that has recently been restored and refurbished, located just one block from Cusco`s mayor Plaza. This great location is part of its popularity, close to all of the most important tourist attractions in the famous capital of Inca`s Empire. Well known for its incomparable hospitality and professional service. We can reserve the hotel and transfers you from the airport on your arrival and back on your return, you will enjoy a safe visit, wonderful attention and be pleasantly surprised by the warmth of the Andean Hospitality.

Due to the safe and strategic location you are within easy walking distance of the many historical places, museums, restaurants, cultural, artistic and traditional places of the Imperial Inca City.

SAS Travel Tour Operator & Agency offices are located alongside Hotel Marqueses so we at SAS Travel can assist you at any time.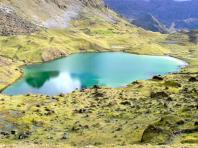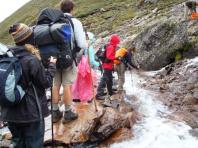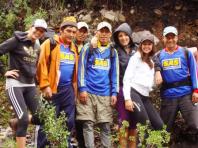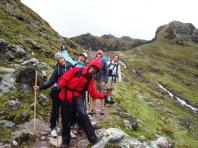 Lares Trek, MachuPicchu & Huaynapicchu 4Day /3Night -Group Service. USD$ 660 pp
Last Minute Information
Permits for Machu Picchu, Huaynapicchu, train tickets are limited, FIRST COME, FIRST SERVE BASIS...

Book online, get a code and pay a deposit in advance (7-2 months in advance). SEE below our Confirmed Fixed departures dates:

Small group 6-12 person. US$ 660 per person (Based in shared room )

---

CONFIRMED FIXED DEPARTURES ON:
JANUARY:

12, 16, 19, 23, 26, 31

MARCH:

1, 5, 9, 12, 16, 19, 23, 26, 31

APRIL:

1, 5, 9, 12, 16, 19, 23,24, 26, 30

MAY:

1, 5, 9, 12, 16, 19, 23, 26, 28, 31

JUNE:

1, 5, 9, 12, 16, 19, 23, 26, 30

JULY:

1, 5, 9, 12, 16, 19, 23, 26, 31

AUGUST:

1, 5, 9, 12, 16, 19, 23, 26, 31

SEPTEMBER:

1, 5, 9, 12, 16, 19, 23, 26, 30

OCTOBER:

1, 5, 9, 12, 16, 19, 23, 26, 31

NOVEMBER:

1, 5, 9, 12, 16, 19, 23, 26, 30

DECEMBER:

1, 5, 9, 12, 16, 19, 23, 26, 31

---

DAILY DEPARTURES for PRIVATE TOURS with the option to build up a small group for you with other hikers and price will be reduced and upon number of participants. (2 person minimum) Book Now!.

(If you have a group of 4-6 person and your interested starting date IS NOT LISTED ABOVE ...then we can open a new departure date, Book Now!.

---

ENJOY THE WALKING TO HUAYNA PICCHU MOUNTAIN.-

The Entrance Ticket for this spectacular walk is included, it takes 2 hours in and back... but there are Limited places!... (this is another strong reason why to book in advance.) Only 200 tourists a day are able walk to Huayna Picchu mountain at 11am. (When permits for Huayna Picchu Mt have already run out, sold out... then we will offer you to walk to Montana Machu Picchu) which takes 4 hours in and back... of course Huayna Picchu walk is by far the cherry of the cake! so book on shortly!.

---

HOW TO BOOK

Once you have checked our group departures. Choose your interested / preferred Departure Date (Leaving Date) on the Calendar (left side). Fill in your details and group as is requested in the format. Pay a booking deposit ONLINE of $200 per person on Step 3 with Visa or MC or Paypal with your reservation code. For Private tours or for dates not listed, just choose on the calendar your interested departure date and fill out your details, get a reservation code, then pay a deposit to confirm.

---

SPECIAL: 8 Day / 7 Night Lares Valley trek to Machupicchu, Cusco, Sacred Valley and Hotel Marqueses Package.

Cusco, Sacred Valley, Lares Valley hike with 8 Kg porterage service. Find more information here:

Lares 8 Day Package(Based in Double accommodation). Free up-grade to Deluxe or Suite room).
Special Offer
BOOK a Tour with SAS Travel and GET a 10% DISCOUNT in our MARQUESES BOUTIQUE Hotel in Suite, Deluxe or Standard rooms plus a FREE pick up from airport at your arrival to Cusco. Reservations at: [email protected]
---
Find more information here: www.hotelmarqueses.com "Charming and Amazing Hotel, Great Location one block near centre, Wonderful Staff and Excellent three star Hotel". © 2018 TripAdvisor LLC
LARES VALLEY TREK & MACHU-PICCHU 4DAYS /3NIGHTS
Our Lares trail the nicest and the challenging trek -the one not crowded yet, start near Urubamba on the Sacred Valley of the Inkas (Pumahuanca valley, Puma Pass, Cuncani, Lares hot spring.) takes you into the Lares region of the Peruvian Andes, passing throught small villages that offer a rare and fascinating insight into traditional Andean life, beautiful green valleys, lakes and high passes, turquoise color lagoons, an ancient inka trail, colorful dressed local people and impressive flocks of llamas and alpacas, with breathtaking views of snow-capped Andean peaks rising to just under 6,000 meters, see the ancestral farm customs, andean traditions and amazing textiles. Finally afternoon on Day 3 we make our way by train to Aguas Calientes town and continue on to Machu-Picchu, the legendary Lost City of the Incas. We have plenty of time to explore this well known and fascinating wonder, climb to Huayna Picchu, walk to Sun-Gate etc. Lunch in Aguas Calientes and train return to Cusco.
Program Itinerary
What is Included:
Collection from your hotel from 05:30 to 05:45 am or meet at Hotel Marqueses.

Private SAS Travel bus to Pumahuanca-Urubamba (starting of our trek.)

2 person Igloo tents (large and comfortable) and a roll pad mattress.

English speaking experienced professional mountain guide.

(6-8 ppl with1 guide) 2 Guides for a group of 9-17 participants.

6 kilos porterage service for your personal items eg: extra clothes, sleeping bag, toiletteries to be carried by mules, A duffle bag is lend for each passenger. (so you just need to carry your small daypack with bottle of water and everything you will need during the day). A duffle bag is lent to you.

Full board meals 4 Breakfast, 4 Lunches, 3 Dinners. (Buffet Style Peruvian Gourmet Cuisine).(Vegetarian, vegan or special diet meals upon request)

Dining tent and cooking tents with tables and chairs.

Experienced Chef, assistants and cooking equipment and kitchen tent.

First-aid kit including emergency oxygen tank

Mules to carry tents, mattress, food, cooking equipment.

Hot water for washing purposes.

Boiled water to fill in your bottles each morning.

Vistadome train from Ollantaytambo to Aguas Calientes

Hostel in Aguas Calientes (Private rooms) Double Accommodation. Dinner.

Early on Day 4th Bus ticket to Machuppicchu from Aguas Calientes.

PeruRail 1st Class train from Aguas Calientes to Cusco or (train to Ollanta and private transport to Cusco).

Admission Ticket to Machu Picchu Archaeological Complex.

Complete guided tour in Machu Picchu, time to explore on your own,

Ticket to Huaynapicchu mountain (walk to the top without a guide, trail is well marked) If Huaynapicchu tickets are sold out we offer Machupicchu montaña walk instead.

Free storage in Cusco for your belongings at Hotel Marqueses near SAS Travel office.
What is not Included:
Water to drink on Day 1

Sleeping Bags USD$ 25.00

Dinner on Day 4th

Bus ticket down to Aguas Calientes $12 pp / or 1 hr walk.

Tips for your crew: Cooks, horse herders, guides are at your discretion... well appreciated.
Additional Options:
We recommend that you bring:
Backpack or a daypack to carry water to drink and personal items.

A warm and good Sleeping Bag (Minus 8ºC) : (Can be rented at SAS office)

Hiking boots (sneakers or running shoes are not recommended)

Trekking poles

Warm clothes layers for variable temperatures especially at night

Flashlight with extra batteries necessary

Camera & Extra Film & Batteries / Charger

Sun Protection : Hat, Sunscreen, Sunglasses

Thermals, Wool Socks & Woolen Hat for cold nights

Gloves, Scarf

Insect Repellant for Valleys and Machupicchu

Rain Poncho / Good rain jacket

Toiletries, Toilet paper, small towel

Bathing clothes for the hot springs

Trekking pants or similar

Water bottle, Water purification tablets.

Personal medical kit

Original passport and ISIC student card is applicable

Extra money for souvenirs, drinks & tips to your staff

OPTIONAL : Little presents for kids of Communities along the trail such as school supplies, second hand clothes, toys, etc.
Please Note
HINTS FOR A FANTASTIC HIKE.-

ALTITUDE SICKNESS.-

- It is possible you will feel the effects of altitude on arriving in Cusco,(3,400m/ 11,152ft) especially if you fly from sea level, eg Lima.

- It is best to wait at least 2,3 days (acclimatization time) before setting out on the trail.

- Bring a comfortable water bottle and start drinking liquids to keep you hydrated since you leave home.

- Once you are settle at hotel have a couple of cups of coca leaf tea with bit of sugar and try to sleep additionally drink water as much as you can.

- Do not drink alcohol, smoke or take sedatives.

- Try to eat light your first days.

- In high altitude you breath rapidly and shallow causing you to dehydrate more quickly.

- Drink extra water or coca tea to avoid this as coffee also tends to cause dehydration.

- On the trail do not drink water from waterfalls and streams. (Bottled water is sold en route).

- We provide drinkable boiled water at the campsites and refill your bottles.

- You can purchase bottled water in all shops and hotel.

- If you have any medical conditions, allergies or special food requirements etc. Please write this clearly in the registration book.

WATER.-

We suggest you take a 1.5 or 2. litres bottle of water on the first day and then you can refill this on the trek. We boil water each night which is available after breakfast each morning for your water bottles. We still suggest you take water purification tablets or filters for any unboiled water you take directly from streams or Waterfalls etc. You can buy bottle water from the 3rd afternoon in Ollantaytambo and onwards.

TEMPERATURES.-

during the day...If you are walking in the sun it is very hot and feels like 26 degrees celcius, but when you walk through the forest or in the shadow of a mountain it can feel like 14 degrees almost immediately. At night it could get to -5 degrees celcius if you are really unlucky but more likely just freezing ! Main hint for dealing with the temperatures is to try and keep your body temp as regular as possible by using layering of clothes so when you feel cool put on an extra layer before you get cold and if you start to feel warm take off a layer before you perspire which will leave you with a chill later if you don´t take care..

The weather from Dec through to early March is usually the wettest on the trail.

Somedays it may be drizzly all day or you may have a burst of rain and clear skies for the rest of the day or it could be wet off and on all day. You need good rain gear for walking as well as something to protect your pack. We have dining tents for all meals so you are protected at this time.

TIPPING for your STAFF.-

As for all American countries, tipping is normal and it is apart of the experience. Generally groups prepare a collective tip at lunch on the last trekking day which is shared out between the cook,assistant, horse helders. The recommended amount for this purpose is US$ 40 - US$50 per client.
Frequently Asked Questions
Booking Information
SEE our Confirmed Open departures. Select the month and date and Click on the Calendar the Departure Date (Leaving Date) of your preference. Then fill out with your personal details and details of your group. (If you are travelling as a couple, or with more persons you must book and pay with one reservation Code.) But please complete details of your companion on lines below: Travelling with: (write Full names, Passport number, Age and Nationality). Once you finish sending us all your details you will receive a Reservation Code (eg: 240611001). Then you just need to pay your deposit online on Step 3 (pay for 2 or more person in your group with ONE reservation code, so we can guarantee all your permits, tickets for Machupicchu, train tickets and tour all together in a same group.)

---

BOOKING DEPOSIT REQUIRED.-

USD$ 200 per person.

1.- Pay on Step 3 a booking deposit ONLINE with VISA or Mastercard.- US$ 210 per person. US$ 200+5% card fee. (Payments by credit card will carry a surcharge of 5%).

2.- Pay on Step 3 a booking deposit with Paypal.- US$ 212 per person. US$ 200+6% card fee. (Payments by Paypal will carry a surcharge of 6%).

---

FINAL PAYMENT:

We require a full payment of your tour 1 month before the date of your tour departure using any of the payment options above OR Transfer with Western Union/Money Gram OR pay in our office in Cusco in USD$ cash 5-3 days before of the date of your tour departure.(You must provide your Visa or MC details as a guarantee so your trip will be totally confirmed.)
Terms & Conditions
1.- You must advise SAS Travel of any medical problems or allergies. You need to be in good physical health and if your health is questionable, then you should consult a doctor. If you are over the age of 69, then you will need to present us with a current medical certificate as Lares trek goes to 4600 masl. (2,3 days acclimatization days previous this trek is highly recommended and also a good physical condition is strongly advised ).

2.- You must advise your guides if you wish to leave the group or the camping area for independent walks or sightseeing. If you are experiencing any problems with the service of the guide or tour please advise the guide in that moment so he can resolve any problems as soon as possible.

3.- If you get vertigo we do not want to climb Huayna Picchu for any reason then indicate No in the reservation format and write this in the comments section. (Limited spaces so Book from 5-4 months in advance. If Huaynapicchu mountain passes are sold out, Montaña walk is an alternative.

4.- You must carry your original passport and valid ISIC card (if applicable) on the trail, If you do not take the correct original passport as indicated in your permit, the control will annul your permit and refuse you entrance to the trail. If for any reason, you organize a new passport after we have purchased your permits, you must bring the old passport with you, or if this is impossible advise us in writing with a scan of the old passport and your new passport for us to present to the INC with official documentation to avoid problems. Administration charge for this formal change is (US$ 15 pp). (Group Service with minimum of 6 Passengers).

5.- The student US$20 discount for use of student cards is regulated by the park itself, not SAS Travel. All student ISIC cards are validated by the control of the park and only accepted if you scanned a clear copy of your valid ISIC card through with your deposit at the time of booking and it was confirmed. A Youth Travel card or International Teachers cards are not accepted by the control.

6.- We include in this trek a 6 kilos for porterage for your camp belongings (Mattress,sleeping bag and personal clothes, a duffle bag is provided) due to the strenous nature of the trek but if you will require more let us know. If you have no experience in high altitude trekking please hire more porterage. This is a serious requirement and 3 kilos more is only US$30 for the entire trek so well worth it.

7.- Please note Hostel Viajeros is not a 3 star hotel but is clean, safe and comfortable. If you are wanting alternative accommodation this can be organised, these are some upgrade options and the corresponding supplemental cost based on double occupancy see Recomendations. Please let us know of this request at the time of booking.

8.- CANCELATION MADE BY CLIENT:

A.- Cancelation of the tour once you have paid a deposit and received a confirmation incurs in the loss of the booking deposit. (US$ 200.00) per person. Non-refundable booking deposit.

B.- Cancelation of tour within 45 days to 31 days before departure incurs a loss of 70% of total tour cost...

C.- Cancelation of tour within 30 days to 8 days before departure incurs a loss of 80% of total tour cost...

D.- Cancelation of tour within 7 days - 48 hours of departure incurs a loss of 90% of total tour cost...

E.- Cancelation of tour within 48 hours of departure incurs a loss of total tour cost...

9.- However if you are unable to participate on this tour we can organize an alternative tour to visit Machu Picchu joining your group and utilising your train tickets and entrance, completing the tour as normal from Aguas Calientes (Day 3 and 4, Train to Aguas Calientes, Night in a Hostal, bus to Machu Picchu, Guided tour, Lunch at Aguas Calientes and Train return to Cusco.

10.- Change of dates is only possible if the group is still left with more than a minimum and the train tickets and Machu Picchu entrance have not been finalised. US$ 25.00 is charged.

Change of dates when train tickets have been finalised incurs a further fee as Peru rail also charges for changes of dates. This administration charge of US$20.00 per ticket in this case is incurred. At times a change of date may only be possible in an upgrade to a higher standard carriage and so the difference in price would need to be paid additionally.

11- If you become ill or injured on the trail and are unable to continue, a porter and mule will be provided to accompany you back to an area with emergency assistance capabilities. Helicopter air lifts and medical assistance are paid at the expense of the passenger. If you fail to complete the tour due to illness we will assist you to meet with your group at Machupicchu to recommence your tour at that point. There will be no refund from the original payment, however we will prepare a document to certify illness which can be used to present to your travel insurance company.

12- SAS Travel will take all reasonable care in providing service to our clients to avoid accident, illness, loss of personal property and will only employ suitably qualified staff. We accept responsibility for the actions of our own employees. SAS Travel cannot however be responsible for any action or event that was unforeseeable or unavoidable. We also cannot be responsible for improper acts by clients or other third party. You are totally responsible for your own personal property and rented equipment.

13.- SAS Travel does not take responsibility for additional costs due to unfavorable weather conditions, natural catastrophe, strikes, accidents, illness, injury, loss of personal items, etc. It is the clients responsibility to carry insurance to cover these types of events. We reserve the right to modify or cancel the program due to any of the unforeseen conditions listed above.

14.- Lares trek is recommended in dry season (From April to November. Unexpected rain can cause snow falls causing difficult trekking conditions and possibly closure of the pass. In the case of snow falls SAS Travel cannot be held accountable for the need to take an alternative route. You would also need good quality trekking boots and equipment to protect you against snow related conditions, cold and glare. In extreme cases when "Lares trail to Machu Picchu" is declared closed for safety reasons SAS Travel can replace your trek with an alternative trek such as 5 Day Choquequirao trek and your booking deposit money will be used for this or if you prefer an alternative tour such as 5 Day lake Titicaca package or Jungle trip etc to give you some of the many options.

15.- We strongly recommended to organize a Travel Insurance. Eg: (Nomade Travel Insurance).