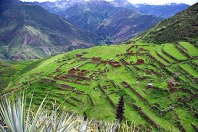 Leaving Frequency
2 Passengers are minimum to confirm this trek as a private tour in any new date not shown in our Confirmded Departures.
Book online on Step 2 (AVAILABILITY & BOOKINGS)
We generally run this trek as a small group tour and the number of people determine the price.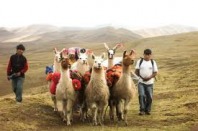 Price Information
US$ 160.00 p/person
(Based on Double / Triple accommodation)
Please Note
Private tour -Daily Departures
2 person US$ 160.00 each
3 person US$ 140.00 each
4 person US$ 100.00 each
Recommended Hotels
For Private tour requests which include private transport both ways
2 person US$ 160.00 each
3 person US$ 140.00 each
4 person US$ 100.00 each
Huchuy Qosqo 1 DAY TREK
Special Offer
If you request a new date (and it is 2 months before departure and not within 7 days of another date for the same tour), then if we are unable to get others to join you and confirm the group price then we can provide 3 nights for the price of two in Hotel Marqueses to compensate for the higher cost of the tour as private.. This offer is not for those requesting a private tour only for those requesting group tour if we cannot get 4 other people for their requested date.
Huchuy Qosqo The Little Cusco is an archeological site north of Cuzco, Peru it was originally an administrative and military center as Pisaq, with many constructions around, Inca buildings with perfect fine stones work, graneries structures called Collcas to store and preserve food, because it was an important agricultural center to produce corn. Its name is Quechua for Little Cusco It lies at an elevation of 3650 meters (11,800 feet), above the 3000-meter high town of Lamay and the Sacred Valley. The site received its name in the 20th century previously it had been known as Kakya Qawani. Pedro de Cieza de León, in his Second Chronicle of Peru, claimed that the palaces were built by Viracocha, the Eighth Inca. Amongst a large number of buildings, some stone, some adobe, is a kallanka (great hall), 40m long. Providing water to the site is an Inca built irrigation channel, lined with stones for about 800m. The site is inaccessible by public road.
Program Itinerary
Day 1: Cusco - Patabamba,Huchuy Qosqo, Lamay – Cusco
(please organize with your hotel the night before to have an early breakfast or a packed breakfast)
Approx 05:30 am transfer from your hotels, with private vehicle for 1.5 hours to Patabamba community located at 3700 masl. On route we pass Saqsaywaman and Tambomachay before arriving to the Sacred Valley of the Incas. Beautiful Andean village with amazing landscapes in the land of great wool weavers, they use ancestral Inca tecniques to create amazing textiles. We will pass a few small communities such as Siwas, Qenqo and Pumamarka where you can see locals farming their lands with potatoes and bean crops as their ancestors did. This little valley is beautiful with a lot of native trees, flowers and bushes. Our trek will start with a gentle walk of a small ravine after 2 hours then we need to climb around 400 meters to the reach Pumamarka ruins, the walk from here is one hour to reach the Inca site of Huchuy Qosqo, recently restored by archaeologists, located at 3,450 mals from this point it is clear to see many beautiful mountains as Chicon, Pitusiray, Sawasiray, Waccaywilca or Veronica ancient sacred mountains "Apus" so respected and venerated by the locals Incas- Quechuas descendents living in this valleys for centuries. This Inca site is amazing, we arrive and have enough time to rest, relax and recover with a delicious pack lunch, then we will be ready for our guided tour to visit and explore this interesting Inca complex.
Then we start our all walk down to Lamay, about 2 hours with stops.
Transfer back to Cusco with Guide in a private transport.
What is Included:
Collection from your hotels at 05.30 -05:45 am

Transfer in private vehicle to Patabamba (starting point of the trek)

Experienced english speaking guide

Meal: 1 packed lunch and drinks,

First-aid kit

transport from Lamay to Cusco in private transport
What is not Included:
We recommend that you bring
A daypack with a change of clothes for the whole period of the trek

Rain jacket or poncho (plastic ponchos can be purchased in Cusco)

Strong footwear, ideally trekking or sport shoes

Snacks: biscuits, energy bars, chocolate, fruits,

Camera, film and batteries (batteries consume more quickly under cold conditions)

Hat to protect you from the sun, rain and cold

Insect repellent, minimum recommended 20% DEET

Sun bloc.