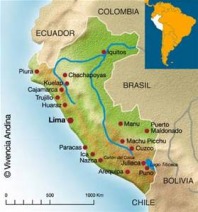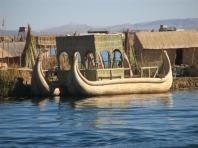 Leaving Dates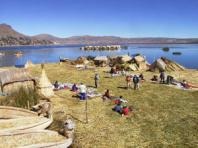 Price Information
US$ 460.00 p/person
(Based on Double / Triple accommodation)
Please Note
Single Supplement for single travelers additional USD 120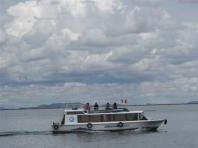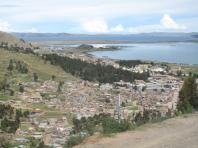 Is it for me?
a great extension to link you from Peru to Bolivia!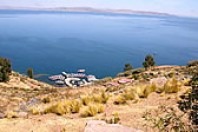 Transport
Turisbus coach and motor boat for Island tour
Puno to La Paz. 4 Days 3 Nights featuring tours to the Island of the Sun and Tiwanaku La Paz Bolivia.
Last Minute Information
DAILY DEPARTURES !!!

You must book and pay a deposit well in advance. For high season (May to October, 5-4 months in advance.) Low season (November to April, 3-2 months in advance.)

FAST COUPLES or GROUPS BOOKING:

Choose on the Calendar the date of your preference, fill out with your personal details, then below fill out details of your group in

Traveling with:

once you have finalized you will receive an email with a Reservation Code (Purchase number) to pay a booking deposit with. (If you would like to pay your booking deposit individually, then you must book each of you separatelly.)

HOW TO BOOK AND CONFIRM.-

Choose your preferred date on the Calendar

(Leaving Dates)

fill out with all the requested details, you can book for 2 or more person just complete details on

traveling with:

soon you will receive a reservation code (Purchase Number) and you can pay a booking deposit of US$ 200.00 per person (or the total cost of the tour) through Western Union to Mr: Irwin POMA FLORES (Peru)

or

Pay a booking deposit ONLINE on Step 3:

TO PAY

with Master Card or Visa card US$ 200.00 + 5% $210.00 per person. OR pay with Paypal USD$ 200.00 plus 6%.(USD$ 212.00 pp)

Final Balance of your tour must be paid at your arrival to Cusco or before.
TOUR INCLUDES.- 06.20 am Pick up from your hotel in Puno and transfer to the Bus terminal. Tour transport to Copacabana. A night in the beautiful Hotel Rosario del Lago overlooking Lake Titicaca and then 2 further nights in La Paz, situated in a bowl like valley at 3640 meters above sea level, and surrounded by the Royal Mountain Range of the Andes and the Altiplano, or high plateau, an area of many contrasts, rich in cultural diversity. Old Spanish neighborhoods, the Plaza Murillo Square where you will find the government buildings and the Cathedral, the Witches Market, the Moon Valley with its curious geological formations, the colourful street markets, and some residential neighborhoods. La Paz is the highest administrative capital in the world where houses cling to the surrounding steep slopes and beautiful , majestic mountains such as Mount Illimani (6,400 meters above the sea level) overlook the city.
A tour to the pre-Incas archaeological ruins of the Tiwanaku Culture (1.700 b.c.) outside of La Paz is included and if you have time stay a further night and go to the Valley of the moon!
Program Itinerary
Day 1: Puno - Copacabana
Pick up from your hotel at 07:30 A.M. Departure at 08:00 A.M. Transfer by bus to the Sanctuary of Copacabana to enjoy lunch in Khota Kahuana Restaurant at Hotel Rosario del Lago. Board the motorboats to the Island of the Sun. On this legendary island, visit the Pilkokaina Inca Palace and enjoy a short walk or sail to the Gardens, Stairs and Fountain of the Inca. As we ascend to Yumani village, we have a magnificent view of the lake set to the backdrop of Mount Illampu. By night, enjoy Lake Titicaca's delicious trout at Hotel Rosario del Lago.
LD
Hotel Rosario del Lago
Day 2: Isla del Sol - La Paz
After breakfast, visit the beautiful baroque-Moorish style Virgen de la Candelaria church and the handicraft market. You can climb the Calvary, where one may witness the synthesis of native religious beliefs and Christianity in the rituals of the Yatiris or priests. Concentration at the lobby into the Hotel Rosario del Lago at 13:00 pm. Departure at 13:30 pm Tourist bus to La Paz Bolivia.
B
Hotel in La Paz
Day 3: Tour of Tiwanaku Site
Pick up from your hotel at 08:00 A.M. Departure at 08:30 A.M. A full day trip, visiting the pre-Incas archaeological ruins of the Tiwanaku Culture (1.700 b.c.), featuring the famous Sun Gate and the Bennett monolith, recently returned from La Paz, after almost 70 years. Return to La Paz late at the afternoon at 6 pm approx.
BL
Hotel in La Paz
Day 4: End of our service.
This day you can leave your hotel after 10:00 am.
End of our services.
What is Included:
Entrances fee

shared Touristic bus

Motorboat in the Sun Island

Bilingual guide (English-Spanish)

1 dinner, 2 lunches and 3 breakfasts.

2 nights in Hotel Rosario in La Paz or similar for option 3*

1 night in Hotel Rosario del Lago in Copacabana.
Additional options