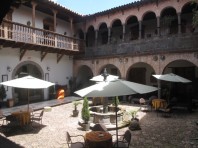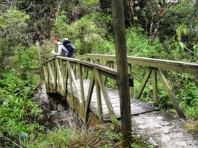 Leaving Frequency
To check our Confirmed departures for the actual Salkantay trek which is Day 4 of the tour please click on:
AVAILABILITY & BOOKINGS.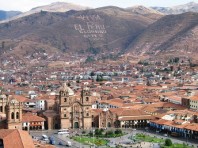 Price Information
US$ 840.00 p/person
(Based on Double / Triple accommodation)
Please Note
US$ 750.00 with ISIC student card
Single Supplement for solo traveler US$ 240.00
===============================
From May 1 st 2014*
USD$ 795.00 per person.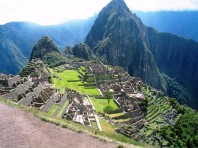 Overview
Combining the beauty of the Sacred Valley with archealogical mysteries and bustling markets of Pisac Ollantaytambo and Chincheros with this trek that takes you around Mount Salkantay, the second largest mountain in the Cusco region ( 6271m/20,568ft),  On the first night, you'll camp within clear sight of the snow capped peak of Salkantay mountain.  The second day will be the longest day of the tour, and while you work a bit harder to get there, the views at the top are even more rewarding.  The walk to reach the famous Apacheta Pass at 4,600m/15,088ft) (the Inca Trail's 'Dead Woman's Pass' is only 4,200m/13,776ft)) is not strenuous neither very steep, afterward it is mainly descent into a more tropical area passing Andenes and Chaullay on the far side of the mountain. 

We`ll take the forty five minute train ride from the famous Hydro Electric Dam and then spend the rest of the 4th evening relaxing in the town and hotsprings of Aguas Calientes.  Early in the morning you take the bus (or walk if desired) up to Machu Picchu for your guided tour, a well deserved reward but many say the trek is a prize in itself!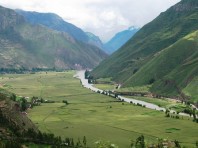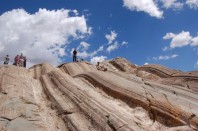 Difficulty
Distance:50 km trek
Duration: 5 Days
When to go: Best from April to October
Altitude: 2,800 masl to 4,600 masl
Difficulty: Moderate to Challenging.
Modality: Trekking, Archaeological and Cultural
Location: Mountain range Vilcabamba - Cusco
Day Temperature: 15 ºC to 25 ºC /
Night temperature: 4ºC to - 7º C
Note: 2-3 day acclimatization required.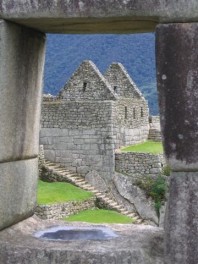 Briefing
The night before of your trek at 7:00 pm at SAS Travel office.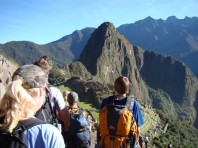 Transport
bus, train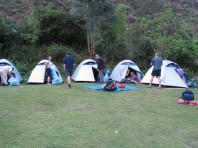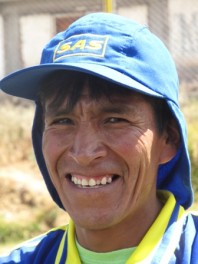 Salkantay Trek & Cusco 9Day / 8Night
We can if you request, provide flight quotes for E tickets Lima -Cusco - Lima if you require. You can also add on extensions to Lake Titicaca, the Amazon and or Arequipa. You can get a better idea of the Hotel Marqueses and programs by looking at some photos on the website www.hotelmarqueses.com
Program Itinerary
Day 1: WELCOME CUSCO... Arrival to CUSCO TRANSFER TO YOUR HOTEL
Arrival to Cusco. Reception in Cusco airport and Transfer to your Hotel in Cusco, Rest and acclimatize as you are now at 3,400 mts above sea level.
Optional Afternoon : At 13:45 pm Guided Cusco City Tour : Koricancha " Sun Temple" , Cusco Principal Cathedral, Saqsayhuaman Inca Complex,Tambo Machay, Qenqo and Puca-Pucara. (Entrance fees 105 Soles (38US$) to pay directly) Overnight Hotel Marqueses.
Hotel Marqueses
Day 2: SACRED VALLEY TOUR WITH BUFFET LUNCH PISAC MARKET & RUINS, OLLANTAYTAMBO, CHINCHEROS
Sacred Valley Tour with a Buffet Lunch in Urubamba, At 8.30am meet at SAS Travel office or transfer from your hotel at earlier time if coordinated. In a tourist bus, we travel from Cusco past Saqsaywaman & Tambomachay, over the mountains toward the Sacred Valley. We descend 1500 feet to the valley floor of the sacred Urubamba river and the village of Pisac where we will visit a traditional market and you can buy some local souveniers. We then drive up to explore the extensive ruins of Pisac with stunning views over the valley. On the guided walk into the Citadel of Pisac you can observe temples, residences, altars, channels, carvings, tunnels/caves and the famous Intihuatana "The hitching post of the Sun",

For those who would prefer to spend more time in the market instead of visiting the ruins, advise your guide so he can organise a time and place to pick you up when returning through the market.

We continue on to Urubamba where we stop for you to buy lunch. A further 30 mins drive takes us to Ollantaytambo surrounded by the sacred mountains, where we will again discover the magnificence of the Incan constructions, the amazing temple of the Sun, enormous blocks of rock perfectly carved and polished, stone water fountains, stairs, terraces and the beauty of the local people in their traditional dress, all surrounded by the sacred mountains and Valley of Patacancha and Willoq.
On our return, we quickly visit the famous church and archeological site in Chincheros, arriving to Cusco at about 6.30-7:00pm.
Breakfast Lunch
Hotel Marqueses
Day 3: FREE DAY TO RELAX IN CUSCO OR ACTIVITIES:
Free Day to relax in Cusco and preparing your pack for your Salkantay Trek.
Optional River Rafting in Urubamba river Class III or Mountain Bike tour in Moray, Maras and Salineras US$ 35 pp ; Return to the Hotel Overnight. Marqueses Hotel.
(1/2 Day Private Tour to Maras, Moray and Salt Mines US$ 35 each, lunch and entrance fees not included).
Breakfast
Hotel Marqueses
Day 4: CUSCO - MOLLEPATA - SAYLLAPATA - SORAYPAMPA - SALKANTAYPAMPA camp.
06.00 am. Departure by our private transport to Mollepata town at 2,850 mts.  A beautiful 3 hour scenic journey through Izcuchaca and Limatambo, with a stop for breakfast and panoramic views of the "Mountain of Salkantay" in the Cordillera of Vilcanota. We can see spectacular views of the chains of snow capped Vilcabamba, the colorful village of Mollepata and the lush Apurimac River Valley. At this point due to the dirty and rocky road conditions we transfer into another truck or minibus.  After passing Cruzpata 3200 mts, then Challacancha, we arrive to our trailhead in Sayllapata at 3,600 masl where we meet our Arrieros "horsemen" and trekking staff (Cook and Assistants). We commence treking with a gradual climb of 250 meters for about 2 and a half hours through a pristine Andean valley landscape before arriving to Soraypampa.  There after visiting a spectacular glacial lake we have lunch.  We continue after lunch with a gentle climb for approximately 2 and a half to 3 hours through more unspoiled Andean valley to Salkantaypampa. This first Camp is located at 3,950 masl.    
Breakfast Lunch Dinner
Camping
3950 masl
2850 masl
12km approx
Day 5: SALKANTAYPAMPA - COLLPAPAMPA
After an early breakfast we start trekking a moderate climb from approx 07:00am for 3 hours to reach the Apacheta Pass at 4,590 masl. From this point we can appreciate spectacular views of Cusco's second highest peak, the stunning snow capped Mount Salkantay (6,264 mts) and also the snow capped mountains Humantay and Huayanay, white river, small lakes and moraines. In the Apacheta Pass you can leave a piece of rock carried from the bottom as a present from you to the Apacheta. (In Inca times the walkers used to leave at the top their shoes, clothes, jewels or simply a piece of rock as an offering.) There is an option to take a nice walk from the Pass for 40 minutes to see an amazing lake of Soraycocha located just off the trail.
We continue 2 hrs downhill to lunch in Huayracmachay, and then, depending on the group ability, weather and walking conditions, the guide will decide whether to camp 2-3 hrs downhill walk in Rayan-niyoc at 3100 mts or travel a further 2km to camp at Collpapampa 2920 mts for experienced trekkers. Very nice camping near a natural hot spring pools.  
Breakfast, Lunch, Dinner + Camping facilities.
Breakfast Lunch Dinner
camping
4590 masl
2920 masl
16km to Rayan-niyoc or 20km to Chaullay
Day 6: COLLPAPAMPA - LLUSCAMAYO - LA PLAYA
We start the trek 07:00am with 3 hours easy hiking from Collpapampa, where we will be introduced to a high Jungle zone called Ceja de Selva.  Here we will see different kinds of plants, fruits, flowers, birds ectetera plus coca and banana crops can be observed.  You will have time to shower in a waterfall, take amazing pictures, and with luck we can observe the famous Peruvian National Bird "Gallito de las Rocas". We stop at Lluscamayo 2,400m for lunch and free time to rest before the 3 hour walk to our last campsite in La Playa 2,350 masl. A small village is located here with electricity and a shop   Breakfast, Lunch, Dinner + Camping facilities.
Breakfast Lunch Dinner
camping
2920 masl
2350 masl
Day 7: LA PLAYA - LUCMABAMBA - LLAQTAPATA - HIDROELECTRICA / AGUAS CALIENTES
Approx 07:30 am we begin our trek to the village Lucmabamba where we see the remains of an Inka trail. We follow this rising trail, from which we will see coffee, banana and passion fruit plantations and a lovely view of the Santa Teresa Valley. After climbing for 4 hrs to reach Llaqtapata 2,700 masl we can enjoy some free time to rest and observe the mountain of Machupicchu (Inca city) and some of this arqueological site from afar. Then 2 hours downhill to the Hydroelectric Plant at 1,870m where we have the last lunch with all of our staff. The arrieros, horses and donkey herders will prepare their return back to Soraypampa and we head to Aguas Calientes town. At 16:30pm we will take a 45 minute train journey to Aguas Calientes town 2,000 masl where a Special Dinner and finally a comfy bed in the "Hostal Viajeros" await us.

* Walking poles recommended for the 2 final hours downhill. Optional evening bathe in the hotsprings 10 minutes walk from the town.
Breakfast Lunch Dinner
Viajeros Hostal or if you would prefer to upgrade to a hotel see recomendations
2350 masl
2000 masl
12km approx
Day 8: AGUAS CALIENTES - MACHUPICCHU - CUSCO
Early walk (approximately 1.5 hours uphill from Aquas Calientes) or bus for 25 minutes to the Citadel of Machupicchu, guided tour for 3 hours and plenty of free time for further exploring, photos and optional climb of the mountain Huayna Picchu, Temple of the Moon, or the Gate of the Sun. Generally around 1pm people walk down the steps back to Aguas Calientes for the Buffet lunch and at approx 16:00 hrs we take our return train to Ollantaytambo with bus connection arriving to Cusco city around 9:00 pm. 
Breakfast Lunch
Hotel Marqueses
Day 9: Adios Cusco
Adios Cusco Free morning then transfer to the airport for your fly to Lima or Arequipa-Puerto Maldonado ( Extension Trips )
Breakfast
What is Included:
Transfer from Airport at your arrival to Cusco.

4 Nights in Boutique Hotel Marqueses Cusco.

Cusco and Inca Sites guide tour.

Sacred Valley guided tour Pisaq, Ollanta,

5 Day Salkantay trek with 6 Kg portarage service

(Permits and Entrance fees for Machupicchu)

Accomodation in Aguas Calientes. Private rooms.

Huaynapicchu Ticket at 11:00 am For people who book at last minute there may not be any Huaynapicchu permits left and so we can buy the Machu Picchu mountain permit instead .. If you have a ISIC card you must scan it through at the time of booking for the purchase of the Huayna Picchu permit..
What is not Included:
Flight tickets. Transport to Cusco.

USD$ 65 pp Entrance fees for Cusco and Valley tour.

Sleeping bag for low temperatures minus 5-6 dc.

Dinner on the 5 th Day of your Salkantay trek.

The bus down from Machupicchu to Aguas Calientes US$9

Tips for your crew guides cooks, horse herders $30-40 approx

(Every SAS`s staff receive a fair and decent payment immediately after they end their trip, tips are optional also are a great gesture of esteem to them)
We recommend that you bring
Backpack & daypack :

Down sleeping bag : (can be rented at SAS office for $25 )

Sturdy Hiking boots

Warm clothes and trekking pants. not jeans

layers for variable temperatures specially at night

Flash light with extra batteries

Camera, extra film & batteries

Sunprotection : sunscreen : sun hat : sunglasses

Thermals : wool socks : Gloves / scarf and woolen hat for cold nights

Insect repellent

Rain poncho : a good rain jacket

Toiletries / toilet paper / small towel

Bathing clothes for the hot springs

Water bottle : water purifying tablets optional

Personal medical kit

Original passport and ISIC student card if applicable

Extra money for souvenirs, drinks & tips. ( 200-300 soles)

Trekking poles optional but with rubber tips
Additional options
Recommendations
■Please Note: Hostel Viajeros in Aguas Calientes town is not a 3 star hotel but it is clean, safe and comfortable with a friendly and very helpfull staff. They have private Twin, Double and Triple rooms, with small private bathrooms and hot gas water system. Hostel Viajeros has one of the best locations in town, being very central at the foot of the bridge, only few blocks from Train and Bus Station and you don`t have to do anymore long uphill hikes to get to your room! It is about 10 minutes from the hot spring pools. We try to include an economical accommodation option for this tour package to make it accessible for everyone but recommend that if you are wanting better accommodation in Aguas Calientes to celebrate your accomplishment of the Inca Trail trek or tour then please request one of the recommended hotel Upgrades below.

■If you are wanting alternative accommodation this can be organized. These are some upgrade options and the corresponding supplemental cost based on double occupancy.

■.

■To guarantee your UP-GRADE hotel reservation, please include the payment of it in your tour booking deposit, so we can reserve and pay for your hotel in advance. All Hotel policies require full payment of your accommodation 20-45 days prior your reservation date.

■.

■UP-GRADING HOTELS in Aguas Calientes:

■Upgrade price is per person based on 2 people sharing a room.

■Extra Supplement per person:

■Hotel Presidente US$25.00 per person.

■Green Nature US$25.00 per person.

■Hotel Santuario US$44.00 per person.

■Hotel Andina Luxury US$46.00 per person.

■Mapi -INKATERRA US$ 90.00 per person.

■(Include Dinner and Breakfast)

■Hotel Hatuchay Tower US$145.00 per person

■Hotel INKATERRA US$ 260.00 per person

■(Include Dinner and Breakfast)

■Sumaq Hotel 5 stars US$ 210.00 per person.

■(Include Dinner and Breakfast)

■.

■(Hotel in Machupicchu)

■Sanctuary Lodge US$ 490.00 pp

■.

■IMPORTANT: You must present your passport with the TAM immigration slip to all hotel accommodations. The national sales tax (18%) is charged to all Peruvian citizens and foreigners staying 60 consecutive days or more. In case the room is shared by both a taxable and non-taxable guest at the same time, the sales tax will be applied to the whole room. So please take every caution to not lose this piece of paper. You need to bring it to the Cusco office for your checkin.
Frequently Asked Questions
Booking Information
Thank you for deciding to register for a SAS Travel tour !

Step 1.-

CLICK:

CONFIRMED GROUP DEPARTURES
Step 2.-

Select your tour and fill out with your personal details. If you are travelling as a couple, or with more persons you must book and pay with one reservation Code. But please complete details of your companion or group on lines below:

Travelling with:

(write Full names, Passport number, Age and Nationality). Once you finish sending us all your details you will receive a Reservation Code (eg: 240611001). Then you just need to pay your deposit, pay for 2 or more person in your group with ONE Reservation Code, so we can guarantee all your permits, tickets for Machupicchu, train tickets and tour all together in a group.

How to make your deposit and confirm your spots on the tour:

Step 3.-

PAY A BOOKING-DEPOSIT with WESTERN UNION: US$ 300.00 per person through in order to: Irwin Poma Flores DNI 46612452 (SAS Travel, Cusco PERU) Upon transferring the money email us the Money Transfer Number (MTCN) copy of your reservation and amount paid to: office@sastravelperu.com and david@sastravelperu.com to confirm your deposit. We will confirm your reservation on the same day.

Step 3.-

PAY A BOOKING-DEPOSIT ONLINE with MASTER CARD or VISA.- US$ 315.00 per person. (US$ 300.00 + 5% card charge). Payments by credit card will carry a surcharge of 5%. As soon as we receive your deposit we will procced purchasing your Permits for Inca Trail trek, tickets etc . We will send you a final confirmation of your tour with detailed information shortly.

If you don`t receive your Confirmation within 48 hours please send us an email to:

office@sastravelperu.com or feel free to Skype us: sas.travel.info or call us.

FINAL PAYMENT:

The remaining balance needs to be paid at your arrival to Cusco in US$ Dollars cash or Peruvian soles (Exchange rate 2.90 Soles for US$1). Payments with credit / debit cards are accepted with a commission of 8%, Travelers' cheques with 3% only at our Office in Cusco.

Final payments of your tour IN ADVANCE

with card it is possible, it will be with 5% extra or you can transfer the balance through Western Union.
Terms & Conditions
SAS Travel Cusco Perú - CONDITIONS of SALKANTAY TREK

5 DAYS / 4 NIGHTS MINIMUM 6 PAXS

1. You must advise SAS travel of any medical problems or allergies. You need to be in good physical health and if your health is questionable, then you should consult a doctor. If you are over the age of 65, then you will need to present us with a current medical certificate as Salkantay trek goes to 4600 mtrs.

2. You must advise your guide if you wish to leave the group or the camping area for independent walks or sightseeing. If you are experiencing any problems with the service of the guide or tour

please advise the guide in that moment so he can resolve any problems as soon as possible.

3. You must pay for your tour in full by 12:00 noon, 2 days before your departure.

Payment of your balance in the Cusco SAS office is requested in cash. US $ is easier but if you choose to pay in soles the rate charged is generally 3.0 soles = US$1 You can withdraw US$ or soles from the many ATM machines. Generally more economic on debit cards.

If a final payment is not made by 12 noon the day before any tour or service such as the Inca trail, the total balance will be charged to the credit card + the 5% commission.

4. The student US$20 discount for use of student cards is regulated by the park itself, not SAS travel. You must carry the valid ISIC card (if applicable) on the trail to Machu Picchu with you or pay the further $20 at the control.

5. We inlcude 6 kilos for porterage due to the strenuos nature of the trek but if you will require more let us know.

If you have no experience in high altitude trekking please hire more porterage. This is a serious requirement and 3 kilos more is only $20 for the entire trek so well worth it.

6. Change of dates is only possible if the group is still left with more than a minimum and the train tickets have not been finalised. US$ 25 is charged.

Change of dates when train tickets have been finalised incurs a further fee as Peru rail also charges for changes of dates This administration charge of $20 per ticket in this case is incurred. At times a change of date may only be possible in an upgrade to a higher standard carriage and so the difference in price would need to be paid additionally.

Cancelation :

7. a Cancelation of tour up to 2 months before departure incurs a loss of the $150. non refundable deposit.

7. b. Cancelation of tour within 2 months and 1 month of departure incurs a loss of 50% of total tour cost...

7. c. Cancelation of tour within 1 month and 1 week of departure incurs a loss of 70% of total tour cost...

7. d. Cancelation of tour within 1 week - 48 hours of departure incurs a loss of 90% of total tour cost...

however we can organise an alternative tour to visit Machu Picchu joining your group and utilising your train tickets and entrance, completing the tour as normal from Ollantaytambo day 3.

7. e. Cancelation of tour within 48 hours of departure incurs a loss of total tour cost...however we can organise an alternative tour to visit Machu Picchu joining your group and utilising your train tickets and entrance, completing the tour as normal from Ollantaytambo day 3.

8. If you become ill or injured on the trail and are unable to continue, a porter and mule will be provided to accompany you back to an area with emergency assistance capabilities. Helicopter air lifts and medical assistance are paid at the expense of the passenger. If you fail to complete the tour due to illness we will assist you to meet with your group at Machupicchu to recommence your tour at that point. There will be no refund from the original payment, however we will prepare a document to certify illness which can be used to present to your travel insurance company.

9. SAS Travel will take all reasonable care in providing service to our clients to avoid accident, illness, loss of personal property and will only employ suitably qualified staff. We accept responsibility for the actions of our own employees. SAS Travel cannot however be responsible for any action or event that was unforeseeable or unavoidable. We also cannot be responsible for improper acts by clients or other third party. You are totally responsable for your own personal property and rented equipment.

10. SAS Travel does not take responsibility for additional costs due to unfavorable weather conditions, natural catastrophe, strikes, accidents, illness, injury, loss of personal items, etc. It is the clients responsibility to carry insurance to cover these types of events. We reserve the right to modify or cancel the program due to any of the unforeseen conditions listed above.

11.- Salkantay trek is recommended in dry season. Unexpected rain can cause snow falls causing difficult trekking conditions and possibly closure of the pass. In the case of snow falls SAS can not be held accountable for the need to take an alternative route. You would also need good quality trekking boots and equipment to protect you against snow related conditions, cold and glare. In extreme cases when "Salkantay trail to Machupicchu" is declared closed for safety reasons SAS travel can replace your trek with an alternative trek such as 4 day Choquequirao trek and your booking deposit money will be used for this or if you prefer an alternative tour such as 4 day lake Titicaca package or Jungle trip etc.to give you some of the many options.

12. When paying the balance in Cusco, there will be a * 3% comission if you choose to use travellers cheques and a 5% comission for use of credit card.

I have read and accept the conditions