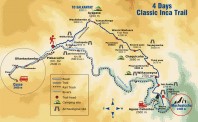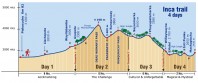 Leaving Frequency
OUR CONFIRMED DEPARTURES: AVAILABILITY & BOKINGS
(Availability and Bookings / Disponibilidad y Reservaciones)
Daily Departures upon your request.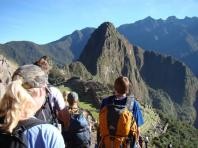 Price Information
US$ 980.00 p/person
(Based on Double / Triple accommodation)
Please Note
DAILY DEPARTURES !!
3-4 person USD$ 1,290 p/person.
5-8 person USD$ 980 p/person.
.
The price of this tour is determined by the number of participants.
If you interest is walking this tour in a small group and you still would like to join 2 or 4 person to make lower costs, please let us know, so we can try to find other interested people. AVAILABLE DEPARTURES IN NOV,DIC and JAN,MARCH,APRIL,MAY, JUNE,JULY 2014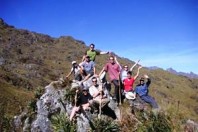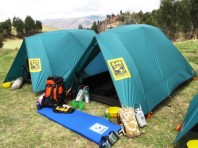 Is it for me?
It is important to be in good physical condition to make this moderate rated but truly rewarding trek. If you want to visit a number of stunning Inca sites linked by a beautiful stone pathway built in the midst of the most incredible scenery in rising altitudes. A good mix of culture, nature, archaeology and scenic beauty. ..then this is for you! Book early, Get in shape, Get good boots and have fun... !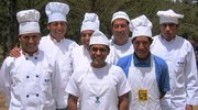 Difficulty
Moderate
Highest point 4,200 mts.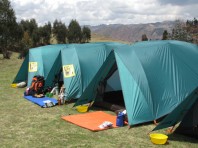 Briefing
Inca Trail Classic 4D/3N - Private Service.-This special Inca Trail in a private service can depart any date as long as there are Permits available. This permits are required and is important to reserve in advance, You need to book 4-6 months before due to the Permits. For last minute booking please check the availability permits link.
For 20-30 minutes, the night before of your trek at 6:00 pm at your hotel.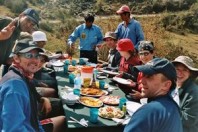 Recommended Hotels
Huaynapicchu Ticket.- Just recently from July 24th the National Culture Institute encharged of the control of visitor to Machupicchu started a new regulation for people interested in climbing the 300 mt mountain Huaynapicchu, limiting to 400 visitors per day in 2 turns (7:00am and 11:00am)
The cost is USD$ 70 pp and tickets can be reserved and pay online of the park: www.machupicchu.org.pe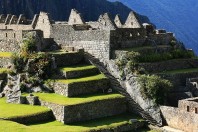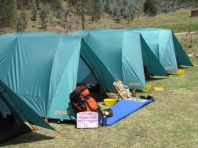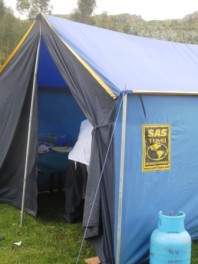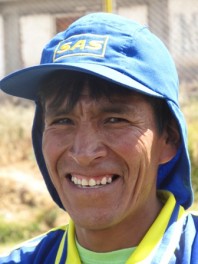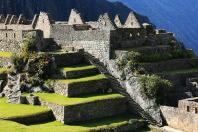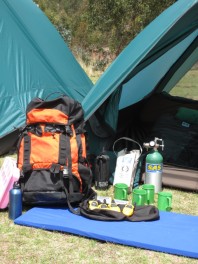 You are here: Inca Trail to MachuPicchu > Inca Trail Classic 4Day/3Night -Private Service
Inca Trail Classic 4Day/3Night -Private Service
Last Minute Information
DAILY DEPARTURES

The permits for Inca Trail trek are so limited, only 200 permits available per day FIRST COME, FIRST SERVED. You must book and pay a deposit well in advance. For high season (May to October, 6-4 months in advance.) Low season (November to April, 4-3 months in advance.) See on Step 1:

AVAILABILITY

Book ONLINE on Step 2:

BOOKINGS

Get a Code (Purchase Number) and pay a booking deposit of US$ 400.00 p/person with:

Western Union

to Mr: Irwin POMA FLORES. (Peru) OR

Pay a booking deposit ONLINE on Step 3:

TO PAY ONLINE

with Master Card US$ 420.00 p/person. Book and pay as soon as possible to avoid disappointments.

FAST COUPLES or GROUPS BOOKING:

Please sellect the tour and departure date required, then fill out your personal details on Step 2, then below fill out details of your group in Traveling with: once you have finalized you will get a Reservation Code (Purchase number) to pay with. For any assistance Call or Skype us and we can confirm your permits in only few minutes with our english/french speaking staff.

WHAT WE HAVE FOR YOU:

The best itinerary and campsites for each night, including Wiñaywayna camp on the third night.

Pick up from your hotel at 05:00 am on Day 1.

Tour with the best Inca Trail guides, extraordinaire chefs (Gourmet Peruvian meals) and well respected and better paid porters (The Blue Label Team)

. Treated drinkable water provided on route.

Packed snacks in Machupicchu and snack lunch with Pisco Sour in Aguas Calientes, before your train to Cusco.

Confirmed and Guaranteed Daily departures on any date you wish.

Welcome group of friends, couples or solo travellers.

New and decent tents and equipment.

100% Operated by SAS Travel.

Free Luggage Storage in Cusco at Hotel Marqueses..

TICKET FOR HUAYNAPICCHU MOUNTAIN.-

(Those trekkers who want to climb the Huaynapicchu Mt. once they finished Inca Trail trek need to pay a deposit ONLINE of US$ 385.00 pp with Master Card or Visa card, so we can purchase your Ticket for the 2nd turn at 11:00 am OR a ticket for the next day, just send us an email.)

Inca Trail trek with SAS Travel...

...an spiritual pilgrimage throughout the Inca Trail and Machupicchu for your mind, body and soul... unique adventure for your senses !

Quality tours with a special personal touch !!
Special Offer
4 Nights for the price of 3 in MARQUESES BOUTIQUE Hotel in Cusco or FREE Up-grade to Delux rooms for the price of Standard room. To get this offer you must quote it at the time of booking and payment is required in $ USD cash. Please book through this website but you must indicate your tour with SAS Travel (This offer is only valid for accomodation dates from JAN 1st 2013 to APRIL 15th 2013). For months May- Aug- Stay 4 Nights FREE Up-Grade to Suite for the price of Delux rooms ..... to get this offer you must quote it at the time of booking and payment is required in $USD cash. www.hotelmarqueses.com
The best itinerary for a Private Small Group Inca Trail hike...!!!
Day 1: Cusco - Ollanta - Km 82 Piskacucho - Ayapata 1st Camping.
Day 2: Ayapata, Dead woman`s pass, Llulluchapampa, Pacaymayo camp.
Day 3: Chakicocha, Aobamba, Phuyu, Intipata, Winaywayna, Aguas Calientes.
Day 4: Aguas Calientes -Machupicchu,(Huaynapicchu) Aguas Calientes, Cusco.
(* Entranece fee to Huaynapicchu mt walk extra of USD$ 70 per person).
.
ADVANTAGES OF INCA TRAIL 4D/3N -PRIVATE SERVICE:
- Daily departures in small group, (4 person mínimum).
- Pre-Departure briefing the night before of your tour in your hotel.
- Maximum of 8 person (Open new departures upon your request.)
- Pick up from you Hotel in Cusco and Private van to Km 82,start of your trek.
- 7 Kg personal porter, SAS provide a duffle bag for the porter.
- Porters to carry camping equipment, tents and cooking gear.
- Experienced english speaking mountain guide, expert cooks team.
- Full board meals for the entire tour: 3 Breakfast, 4 Lunches, 3 Dinner.
- Avoiding the busiest 3rd night Camp at Wiñay Wayna, camp or Hotel in AC.
(3rd Night Camp at Puente Inka or Hotel in AC. Enjoy Machupicchu twice.)
(Arrive to Machupicchu through the Sun´s gate and enjoy magic sun-set.)
- Early tour at Machupicchu, walk to discover with your expert guide.
- Guided tour and interpretation at Machupicchu, extra time to explore.
(Plenty time in your own to visit all the areas and sectors of Inca sites)..
- Climb Huaynapicchu mountain after your tour (Extra US$70 per person).
- Walk to Inca Bridge... highly recommended !! no extra cost.
- Accommodation in Aguas Calientes in private rooms.
- (Hot water shower and beds in Aguas Calientes -Hotel for the 3rd night.)
- Natural hot springs in Aguas Calientes; Optional for 10 Soles extra.
- New Eureka comfortable tents "Outfitters 4" tent for 2 person, pillows
- Thermal rest mattress, toilet tent, cooking and dinning tent,
- Emergency First-aid kit and Oxygen.
- Bus down to Aguas Calientes, Vistadome 1st Class train return to Cusco.
- Transfer to your hotel in Cusco.
(Optional start from Ollantaytambo or Urubamba after your Sacred Valley tour.)
Also you can add an extra night at Aguas Calientes, visit and explore the full day at Machupicchu and we can organize your train return to Cusco on Day 5th

Walking Inca Trail to Machupicchu with SAS Travel; Fully portered trek where your comfort is our prime responsibility, we make sure that you get the best experience of your holiday while you interact with the locals, explore and rediscover remote ancient Inca buildings, learning some Quechua words and history, take in the stunning landscape surrounding you and simply feel one with mother nature, while we carry your gear, prepare your meals, set up your camps and take care of all your requirements. At SAS Travel we want you to worry about nothing but getting the maximum out of your trip... just exceeding your expectations !!
Program Itinerary
Day 1: Cusco - Ollanta - Km 82 Piskacucho - Ayapata 1st Camping.
Early pick-up from your hotel will begin around 5:00 am. We will meet at our departure point, Plaza Regocijo, by 5:30 to board our private transportation. Make sure you carry your original passport or ISIC card. Our journey from Cusco to Piskacucho takes approximately 3 hours, with many beautiful views of the Sacred Valley, the Urubamba River, Andean towns, and the Inca town of Ollantaytambo. Along the way, we will stop to stretch our legs, use the bathroom, and enjoy breakfast, before continuing on to Piscacucho (2,680 m / 8,790 ft). There we will meet our camp crew and the porters who will carry our belongings during our 35-mile hike. Passports in hand, we clear the official Inca Trail check point, cross a suspension footbridge across the Urubamba River, and begin our trek with a gentle climb. We have three hours on relatively level terrain as we follow the course of the river, rewarded with superb views of Mount Veronica (5,750 m). The easy walk passes through a forest of giant cactus and native bushes. At Miskay we take the trail to the left, ascending gradually to Willkaraccay high above the mouth of the Cusichaca River and across from the Inca town of Llactapata (Terrace Town). Our vantage point is from a flat bluff above the extensive site, which was built as a fort because it commands the entrance to the Cusichaca Valley. The terracing system was used during Inca times for growing maize, a prestige crop that needed irrigation in the dry highlands. After a short rest, we continue another 15 minutes down to our lunch site at Tayaroc. Our path is adorned with native flowers and bromeliads growing in the boulders along the left side, and by majestic views of the mountains in both valleys. Walking times are always approximate, depending on weather conditions, group ability and other factors. After lunch, another 3-4 hours will bring us to the village of Wayllabamba (3,000 m / 9,840 ft), followed by an uphill climb through woods and along a stream to our first camp at Ayapata (3,300 m / 10,824 ft). You will be rewarded with Te Macho and a buffet dinner. Buenas Noches!!!

Meals: BLD
Accommodation: Camping
Maximum Altitude: 3,300 m/10,824 ft
Minimum Altitude: 2,680 m/8,790 ft
Distance Travelled: 12 km approx
Approximate Walking Time: 6-7 hours / Ascent up: 620 m
Day 2: Ayapata, Llulluchayoq, Dead woman`s pass, Pacaymayo, Runkuracay, Sayacmarka, Chakicocha.
After breakfast, we depart from the Ayapata camp around 7:00 am. This is our longest day, but one rewarded with spectacular views down several valleys and up to the surrounding snow-covered peaks. We will put in a 5-hour hike to reach our lunch camp in the Pacaymayo Valley, then another 3-4 hours to our night camp at Chakicocha.

We begin with a 900-m ascent up to the Warmiwanusca (Dead Womans) Pass at 4,200 m/13,776 ft. Along the way, we ascend steeply uphill through the Corralpunku Valley to the Llulluchayoc Zone, where you can see several species of birds. With luck we will see hummingbirds, falcons and black-chested buzzard eagles. We will soon enter a beautiful cloud forest, or polylepis woodland, and the treeless grasslands of the puna. From this point, you can see the highest pass ahead. The path climbs for two more hours along a large number of steps, some of them newly laid to protect the mountain from erosion. You can walk at your own pace, stopping to catch your breath whenever you like. This last hard climb brings us to Dead Womans Pass, the first of two that we will cross today.

Once the full group reaches this pass, we take a rest break before beginning a steep descent into the Pacaymayo Valley on the other side. You will find that your energy returns as we proceed along this downhill segment toward a generous lunch and rest.

In the afternoon we begin a second ascent, this time to the ruins at Runcuracay, located a bit below the Runcuracay Pass (3,950 m / 12,956 ft). From the pass, in clear weather, you can look back to the Dead Womans Pass and forward to a breath-taking sweep of snow-capped peaks. These include the 6,000-m Pumasillo (Pumas Claw) massif. From here, most of the trail is downhill or gently undulating until we reach the impressive ruins at Sayacmarca.

After some exploration, another 20 minutes bring us to Chakicocha (3,400 m / 11,000 ft). This will be our coldest night on the trail, at around +3 degrees C in December and -4 C in June. Tea time and Buffet Dinner.

Meals: BLD
Accommodation: camping
Maximum Altitude: 4,200 m/13,776 ft
Minimum Altitude: 3,000 m/9,840 ft
Distance Travelled: 16 km approx
Approximate Walking Time: 7-8 hours / Ascent up: 900 m
Day 3: Chakicocha, Aobamba Valley, Phuyupatamarka, Intipata, Winaywayna, Aguas Calientes.
At sunrise, you will catch sight of Sayacmarca back along the trail, perched on the side of one of the many mountains that surround our campsite. Today´s hike is exceptionally beautiful because we will pass the ruins of Phuyupatamarca, Winaywayna and Intipata, and enjoy dramatic vistas of the Aobamba Valley. This stretch of the trail is of well-kept paved stone, still in great condition after many centuries. Your lungs will appreciate the fact that today´s hike is much more down than up, and significantly shorter than yesterday´s.

In getting to Phuyupatamarca (the Town of the Clouds), we will pass through the first of two short, natural tunnels in the mountains. After visiting this site, we will descend about 2,000 stone steps to Winaywayna. If you have not had any knee problems up to this point, you may after this descent. If you have had prior knee injuries, we recommend the use of trekking poles, and perhaps an extra porter, to relieve some of the stress on your joints.

Around mid-day, we will arrive at the site of Winaywayna the last of the remarkable ruins enroute, which we will explore and have a guided visit (2,700 m / 8,856 ft). After we will visit the adjacent site of Intipata with its dramatic terrances on the left side of the road. There is a bar and a small gift shop, and best of all, hot showers for a small fee. There will also be many more trekkers gathering here.

After visiting the complex of Wiñaywayna we have our lunch and time for a rest before we continue with our last section of our trek for about 1.5 hour toward the Sun´s Gate Inti-punku , natural mirador of Machupicchu here you can make really nice pictures and contemplate the beauty of the arounds.

From Inti Punku, a final easy 40-minute hike will bring us to the entrance to Machu Picchu itself. The trail ends at a series of terraces, which present classic views of the overall city. We will continue on to explore the site, with explanations provided by the trek guides. Now on front of Machupicchu you will have time to appreciate this marvelous and magical place from the top levels near farming terrains permiting spectacular views, after we dedicate enough time we start to walk down for 10 minutes toward Machupicchu´s main gate to board a private bus to Aguas Calientes town, where staff of Viajeros Hotel are waiting for us. After settle in our 2,3 private rooms, your guide will take you to the natural hot springs for a couple of hours to relax and indulge your muscles then return for our dinner at the Hotel. This option is open to your final desire, we do propose as well a camp in Puente Ruinas if you don`t want to end in Aguas Calientes town, with this last option you can enjoy the beauty of the sunset and spend in Machupicchu for at least 1 hour then we walk for 40 minutes to this camp , but next morning early we have big chances to get the passes to climb Huaynapicchu mountain (USD$ 70 pp not included)..

Meals: BLD
Accommodation: camping
Maximum Altitude: 3,750 m/ 12,300 ft
Minimum Altitude: 2,700 m/8,856 ft
Distance Travelled: 10 Km approx.
Approximate Walking Time: 5-6 hours / Descent : 700 m
Day 4: Aguas Calientes -Machupicchu, (Waynapicchu) Aguas Calientes, Cusco.
We will get up very early around 4:30 am we will take the first bus to Machupicchu ( 30 minutes) then walk for 10 minutes to the higher part for overlooking Machu Picchu for the first rays of the sunrise.

The formal tour will end around mid day, after which there will be a couple of hours for more exploring on your own, or to just collapse under a tree in the central Plaza area. For those still with energy and interested to climb the Huaynapicchu mountain this can be arranged by your guide.

Additional options: If your legs, lungs and energy still hold up after our four days of hiking, it may be possible to climb the peak of Huayna Picchu, behind the main site. However, special permits are required and they are issued in limited quantities. So if you are interested, talk with your guide at the initial briefing for the trek, and remind them on the third night to make arrangements. If permits are not available, you may instead hike to the Inca Bridge or climb Machu Picchu mountain, both located near the site, but staying at Aguas Calientes town you will have a big chance for this.

In the early afternoon, lunch will be provided at Viajeros Hotel down in the town of Aguas Calientes. There you will also be able to store your backpack, take a shower and/or look around the town a bit before catching the train back to Cuzco.

Meals: BL
Accommodation: Not Included,
Maximum Altitude: 2,700 m / 8,856 ft
Minimum Altitude: 2,400 m / 7,872 ft (Machupicchu)
Distance Travelled: 8 Km approx plus exploration of Machu Picchu
Approximate Walking Time: 6-7 hours / Descent : 300 m
What is Included:
Pre-departure briefing at 7:00 pm the night before of your tour in our office.

Collection from your hotel in Cusco from (05:00 am) or Sacred Valley (07:20 am).

Private bus to km 82 –Piskacucho village (trek starting point)

Breakfast in Urubamba in our farm house, bathrooms available.

11 Full meals for the entire tour (4 Breakfast, 4 Lunch 3 Dinner) + snacks (vegetarian,vegan option, gluten,wheat free or special diets upon your request.)

2 expert SAS gourmet mountain cook, assistants.

Permit for Inca Trail Park and Machupicchu Sanctuary.

Porters to carry camping equipment, tents, table,stools and cooking gear.

2 Excellent experienced top tour guides (9-16 person / 6-8 with 1 tour guide)

2 expert SAS gourmet mountain cooks, assistants.

Dining and kitchen tent, camping tables and stools

Happy hour with macho-tea and hot drinks every afternoon on camp.

Boiled water provided from 2nd day.

A gentle start to the day with a wake up coca tea in your tent.

2 person per tent (clean,new spacious 4 person dome igloo tent)

Thick, comfortable sleeping mattress, (Pillows by request)

Buckets of hot water for washing in your tent every day.

Emergency First-aid kit and Oxygen assistance..

Toilet tent with biodegradable system.

3-4 guided tour in Machupicchu and extra time for yourself.

Snack at Machupicchu before your tour.

Bus down from Machupicchu to Aguas Calientes town.

Lunch in Aguas Calientes after Machupicchu tour.

Time to go to the hot springs or shop around the village.

7 Kg porter for your personal belongings.

Tourist Expedition train return to Poroy Station and bus to Cusco (Return to Plaza Regocijo end of our tour.)

SAS Travel Travel Highlights:

Visit and guided tours of the 7 Inca archaeological sites en route.

Boiled purified water after breakfast to refill your bottles.

11 nutritious, delicious buffet meals with fresh, high quality ingredients, high in energy value and prepared carefully to avoid illness by our excellent cooks.

Vegetarian food and specialised diets by request, combination of International and Peruvian Cuisine 4 Breakfast ,4 Lunches, 3 Dinners.

Fairly treated porters carry the equipment, tents, food, cooking gear and dining tents.

Accommodation, personal equipment, enough food, transport, permits and entrance fees for our porters and cooks.

Health Insurance for our porters, cooks, assistants and field crew.

Free storage for your backpack in Aguas Calientes.

Free and safe Storage while you are on tours in Hotel Marqueses.

Inca Trail Survivor Certificate signed by your guides.

Confirmed Vistadome Deluxe train return to Cusco.

Biodegradable soap and hand cleansing gel.

Free transfer from Cusco`s airport and special rate at Hotel Marqueses.

Book with confidence, no extra charges with debit/credit cards bookings.

100% Operated by SAS Travel, we never put you with other operators.

We guarantee 100% Peruvian SAS top tour leaders.

Personal 6 Kg porter for the entire trek.

GROUP SIZE : 2 person minimum.

(Price according number of passenger)

If your preference is walking this private tour in a small group please let us know, so we can open a departure date and advertise to get other with the same plans as you.
What is not Included:
Sleeping bag (to hire for 4 Days US$ 25)

A pair of Trekking poles US$20 for entire trek.

Hot Shower on 3rd night (5 soles), Hot Springs (10 soles)

Tips for your staff, guides, cooks, porters etc. ( US$25-US$30 approx )
We recommend that you bring
Original passport and original ISIC student card if applicable : imperative

A Backpack

Sleeping bag -8º C

Hiking boots

Trekking poles:

Warm clothes : layers for variable temperature especially at night.

Thermals : Gloves / scarf : wool socks / woolen hat for cold nights:

T-shirts and trekking pants that zipoff to short pants for a comfortable day walks

Flash light : head torch

Camera and extra batteries

Sunprotection : sunscreen : sun hat and sunglasses

Personal medical kit / insect repellent :

Rain Gear: poncho/ a good rain jacket :

Toiletries / toilet paper / small towel

2 litre water bottle : disposable water bottles are not permited in Machu Picchu site.

Extra money for drinks & tips, souvenirs etc ( soles or dollars )

Bathing clothes for the hot springs.
Please note
For last minute booking please check availability in Inca Trail Permits.

Or you can call us to reserve and book for your private trek.

In low season ( December to April ) 1 or 2 months before.

This trek also can be accommodated to depart from Ollantaytambo, so you can start walking early the first past of the trek and avoid the crowds.

After visiting the Sacred Valley you can stay in Ollantaytambo, also help a bit to cope with the altitude because it is lower altituted than Cusco.
Frequently Asked Questions
Booking Information
Thank you for deciding to register for a SAS Travel tour !

Step 1.-

CLICK:

http://www.sastravelperu.com/bookings/index.php
Step 2.-

Select your tour Inca Trail Classic 4D/3N -Private Service and please complete your personal details in each format. (Registration is personal ie you need to do a separate format for each person travelling). Fill in the names of all your companions in the travelling with section: If you are travelling as a couple, or with more people it ispreferable that you pay the total deposit amount with just one reservation code.

Once you finish sending us all your details you will receive a reservation code (eg: 240611001). Then you just need to pay your deposit, pay for 2 or more person in your group with ONE Reservation Code, so we can guarantee all your permits, tickets for Machupicchu, train tickets and tour all together in the same group.

How to make your deposit and confirm your spots on the tour:

Step 3.-

PAY A BOOKING-DEPOSIT with WESTERN UNION: US$500.00 per person through in order to: Irwin Poma Flores DNI 46612452 (SAS Travel, Cusco PERU) Upon transferring the money email us the Money Transfer Number (MTCN) copy of your reservation and amount paid to: office@sastravelperu.com and david@sastravelperu.com to confirm your deposit. We will confirm your reservation on the same day.

Step 3.-

PAY A BOOKING-DEPOSIT ONLINE with MASTER CARD or VISA.- US$ 500.25 per person. (US$ 500.00 +5% card charge). Payments by credit card will carry a surcharge of 5%. As soon as we receive your deposit we will procced purchasing your Permits for Inca Trail trek, tickets etc . We will send you a final confirmation of your tour with detailed information shortly.

If you don`t receive your Confirmation within 48 hours please send us an email to:

office@sastravelperu.com or feel free to Skype us: sas.travel.info or call us.

FINAL PAYMENT:

The remaining balance needs to be paid at your arrival to Cusco in US$ Dollars cash (Exchange rate 2.90 Soles for US$1). or Travelers' cheques with 3% only at our Office.

Payments with credit / debit cards need to be made 2 weeks prior to the Inca Trail and only accepted with the commission of 5% included. You should contact us 2 weeks prior to the tour responding to the email with your confirmation requesting any final items to be added and then we can reconfirm the exact balance to be paid plus the 5% commission. You then can enter the same online system with your reference code and make the balance payment.

If you prefer not to use the online system you can skype sas.travel and we can do a manual payment for you quickly and easily. Or you can use Western Union.
Terms & Conditions
SAS TRAVEL TERMS & CONDITIONS OF THE 4 DAY INCA TRAIL TO MACHU PICCHU

( Private Service )

1.- You must advise SAS Travel of any medical problems or allergies. You need to be in good physical health and if your health is questionable, then you should consult a doctor. If you are over the age of 65, then you will need to present us with a current Medical Certificate.

2.- You must advise your guide if you wish to leave the group or the camping area for independent walks or sightseeing. If you are experiencing any problems with the service of the guide or tour please advise the principal guide in that moment so he can resolve any problems as soon as possible.

3.- You must pay for your tour in full by 12:00 noon, 5-2 days before your departure. If you want to pay your final balance in advance using a card please contact us, you can do this providing your cards details and authorization. We accept US$ Dollar cash or Peruvian currency Soles at our office in Cusco when paying the final balance. Our rate exchange is S/ 2.90 Soles for US$1 or cash US$. (You can withdraw Soles or US$ from the many ATM machines. Generally more economic on debit cards).

If a final payment is not made by 12 noon the day before any tour or service such as the Inca trail trek, the total balance will be charged in US$ Dollars to your credit card plus the 5% commission.

4.- The student US$40 discount for use of student cards is regulated by the park itself, not SAS Travel. All student ISIC cards are validated by the control of the park and only accepted if you scanned a clear copy of your valid ISIC card through with your deposit at the time of booking and it was confirmed. A Youth Travel card is not accepted by the control.

5.- You must carry your original passport and valid ISIC card (if applicable) on the trail, If you do not take the correct passport as indicated in your permit, the control will annul your permit and request to pay a new Entrance admission. If for any reason, you organize a new passport after we have purchased your permits, you must bring the old passport with you, or if this is impossible advise us in writing with a scan of the old passport and your new passport for us to present to the INC with official documentation to avoid problems. Administration charge for this formal change is US$15

6.- Personal shared porter for 6 Kg is included in your trek, a duffle bag is provided at your briefing, still you need to carry a personal daypack with your belongings water bottle, camera and snacks.

7.- Change of dates is not possible after a permit has been processed and due to the Park regulations. It is non transferable nor refundable Permits. The deposit will be forfeited. Please note that we do this because we are prohibited to re-sell your spot after you have cancelled.

8.- Cancelation made by Clients:

8.- a.- The Cost of the tour is based on the number of participant in the trek, if cancelation produce the deposit will be forfeited to cover fees payments.

8.- b.- Cancelation of tour once a permit has been registered up to 6 weeks in advance incurs a loss of booking deposit (US$250.00 non refundable.)

8.- c.- Cancelation of tour within 6 weeks to 2 weeks of departure incurs a loss of 60% of total tour cost...

8.- d.- Cancelation of tour within 2 weeks to 5 days of departure incurs a loss of 80% of total tour cost...

8.- e.- Cancelation of tour within 5 days - 36 hours of departure incurs a loss of 90% of total tour cost...

However we can organise an alternative tour to visit Machu Picchu by train with overnight in Aguas Calientes joining your group and completing the tour as normal from here.

8.- f.- Cancelation of tour within 36 hours of departure incurs a loss of total tour cost...however we can organise an alternative tour to visit Machu Picchu joining your group and utilising your permit, completing the tour as normal from here within this cancellation penalty charge if train tickets are available . The only extra charge is the cost of the train to Aguas Calientes. US$60.00 or with a Vistadome upgrade US $79.00

9.- The full package includes: Transport to Cusco the train return depends on train company availability. The train company only confirm the train schedule option to trekking agencies a few days before a trek for one way tickets from Aguas Calientes in high season. The train schedule offered could be anywhere between 4pm and 9pm and usually requires a private bus connection from Ollantaytambo to Cusco provided by SAS Travel. Our preference would be a train departure between 5pm - 6pm but needs to have enough seats available to accomodate the group and usually this is not an issue except around large festivals such as Inti Raymi, Independence day and Easter.

10.- If you become ill or injured on the trail and are unable to continue, a porter will be provided to accompany you back to an area with emergency assistance capabilities. helicopter air lifts and medical assistance are paid at the expense of the passenger, if you fail to complete the tour due to illness we will assist you to meet with your group at machupicchu to recommence your tour at that point, although there will be no refund from the original payment.we will, however, present you with a document to certify illness and which can be used to present to your travel insurance company.

11.- SAS Travel will take all reasonable care in providing service to our clients to avoid accident, illness, loss of personal property and will only employ suitably qualified staff. We accept responsibility for the actions of our own employees. SAS Travel cannot however be responsible for any action or event that was unforeseeable or unavoidable. We also cannot be responsible for improper acts by clients or other third party. You are totally responsable for your own personal property and rented equipment.

12.- SAS Travel does not take responsibility for additional costs due to unfavorable weather conditions, natural catastrophe, strikes, accidents, illness, injury, loss of personal items, etc. It is the clients responsibility to carry insurance to cover these types of events. We reserve the right to modify or cancel the program due to any of the unforeseen conditions listed above.

13.- In extreme cases when " Inca trail to Machupicchu" is declared closed for safety reasons SAS Travel can replace your trek with an alternative trek such as 7 day Lares trek or 7 day Choquequirao trek and your booking deposit money will be used for this or if you prefer an alternative tour such as 4 day lake Titicaca package or Jungle trip etc.to give you some of the many options.

14.- Final Payments.- We accept US$ cash or Soles at our office in Cusco when paying the final balance. Payments with cards with 5% comission.

15.- Travel Insurance, we recommend that full travel insurance is taken, which includes cover, under certain circumstances, against the loss of deposit or cancellation charges. Please note that no reimbursements are given when cancellations occur or for any unused services.

SAS Travel will do everything possible to assure a safe and enjoyable trip but we will not accept any responsibility for damages, injuries, losses, expenses due to delays, for any cause whatsoever, this applies to any person or property in connection with any service we or our intermediaries provide, which result directly or indirectly from acts of God or forces mayor.

I have read and accept the conditions.

Signature and Date.