Very Important:

Rains and Flooding Across Peru

The Government of Peru continues to assess the effects from unseasonably heavy inland rains and associated flooding along the coastal areas of Peru. Rains are expected to continue for few more weeks. The most widespread, severe effects are in the northwest of the country, in the regions of Tumbes, Piura, Lambayeque, and La Libertad.

More concentrated incidents of flooding, mudslides, and inundated roads and bridges have occurred around Lima and the Ica Region. Some roads in the central highlands, especially in the regions of Ancash and Junin, have experienced travel delays and disruptions. Areas in the south of the country around Cusco and Arequipa have been affected less severely by the rains than areas farther north. Our Tours and treks in Cusco have not been affected at all, the trains are running as normal, tours visiting sites and we don´t have delays neither cancelations of our trips.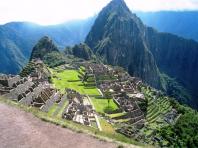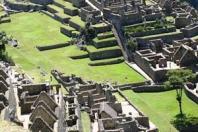 Price Information
US$ 320.00 p/person
(Based on Double / Triple accommodation)
Please Note
Student rate with ISIC student card USD$300 per person.
Accommodation not necessary in this tour)
Is it for me?
If your time is limited and you don`t want to miss out this unique wonder in South America Machupicchu this is a great option too, with an early train departing from Cusco and the chance to take the train back around 17:27 or 19:00 so you have more time at Machupicchu.
Difficulty
Easy. If you are staying in Ollantaytambo rather than in Cusco see additional options section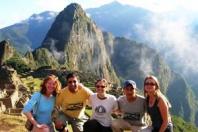 Briefing
Complete information will be provided at the time of booking the tour.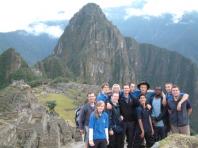 Transport
Bus, Train and walk.
Machupicchu with EXPEDITION train Guided Tour 1 Day.
Last Minute Information
Our Price: US$320 per person
US$300 with ISIC Student card or under 16 y/o.

--

Daily Departures !!!

The permits for Machupicchu citadel, and train tickets are limited year around, FIRST COME, FIRST SERVE BASIS.... so you must book and pay a deposit shortly so we can ensure a tour. Please send your reservation as soon as possible...

(Small group 6-10 ppl for Machu Picchu, guided by expert experienced guides, extra free time for your own exploring)

---

HOW TO BOOK:

Choose on the Calendar the date of your preference (Leaving Dates) -left side. Select the month and click on your interested date. Fill it out with your personal details, then below fill out details of your group in Traveling with, once you have finalized you will receive an email with a reservation code (Purchase number) to pay online a booking deposit with Visa or MC or through Paypal on Step 3. Booking deposit required US$ 210.00 per person. Or See below for more details in:

Booking Information.
Special Offer
BOOK a Tour with SAS Travel and GET a 15% DISCOUNT in our MARQUESES BOUTIQUE Hotel in Suite, Deluxe or Standard rooms plus a FREE pick up from airport at your arrival to Cusco. Payment of accommodation is required in $ USD cash or Soles cash directly in Reception. To reserve please contact Miguel at: [email protected] but you must also indicate your tour reservation code with SAS Travel
---
Find more information here: www.hotelmarqueses.com "Charming and Amazing Hotel, Great Location one block near centre, Wonderful Staff and Excellent three star Hotel". © 2016 TripAdvisor LLC
4 hours Tourist Expedition train ride approx into this spectacular land of the Incas, amazing views of valleys, Inca farming terraces, snow capped mountains, and sub-tropical jungle near the low Jungle. Aguas Calientes is set in 2,000 mts, then a shuttle bus will transport you to the top 2,400 mts back into the fantastic history to this magic place, sacred and mysterious town without name known as Machu-Picchu. " The Old Sacred Mountain " And your expert tour guide will guide you and help you to understand better this magical 7th wonder place. If you have time it is much nicer to do a 2 Day 1 Night tour called the 2 Day Sunrise/Classic Machupicchu or The Sacred Valley & Machu-picchu Tour.
Program Itinerary
What is Included:
Pick up at 06:30am from your hotel to Poroy or Ollanta train station.

Expedition train ticket from Poroy or Ollanta to Aguas Calientes.

Expedition train ticket return to Cusco or Ollanta and Private bus to Cusco.

Tourist bus from Aguas Calientes to Machu picchu ( 25-30 minutes ).

Admission entrance ticket for Machu-picchu sanctuary.

Guided tour in English (2 hours approximately) (2 hrs free time to explore in your own).

Tourist bus from Machu Picchu to Aguas Calientes.

Transfer from train station to your hotel.

Tip for guide -optional.
What is not Included:
Lunch available US$ 12 per person in Hostel Viajeros -Aguas Calientes.

Sanctuary Hotel restaurant US$45 for a lunch, even snacks are expensive or bring a snacks and drinks with you.
We recommend that you bring:
You only need to carry a small day pack, with water to drink, camera and rain jacket or poncho / or change of weather gear, basic toiletries, hat for the sun , sunscream, insect repelent for mosquitoes and comfortable shoes or runners, some extra money for lunch, snacks and souvenirs.

Bring your original passport and your ISIC student card with you if you have booked as a student.
Please note
Please be ready for your transfer from your hotel 45 mins before the train departure so as not to delay the transfer of other passengers.

Remember you must take your bus down 1 hour before the departure time of your train.

PeruRail train Company remind to bring only a small day-pack ( 5-6 kls weight packs)

Please bring your original passport.

You can get a free classic stamp in Machupicchu if you want !!
Booking Information
1.- Once you have checked availability, registered and provided your details -or group details online and generate a reservation code or purchase number.

2.- Pay a booking deposit online with your reservation code or purchase number with VISA or Mastercard.- US$ 210.00 per person

3.- Pay a booking deposit with your reservation code or purchase number through Paypal.- US$ 200.00 per person. (Payments by PayPal will carry a surcharge of 6%.) OR

4.- For Australian citizen you can transfer your payment to Wespack or transfer to our Bank in Peru. For more details please e-mail us to: [email protected]

---

FINAL PAYMENT:

We require a full payment of your tour transferring 1 month before the day when your tour start OR pay in our office in Cusco 5-4 days before of your departure date in USD$ or Peruvian Soles cash.
Terms & Conditions
1.- Final payment: You must pay the full balance of your tour 1 month before the date of your tour departure using any of the payment options above. (you need to add the 5% credit card commission or 6% Pay pal commission or other fees depending on which payment method you choose. You then can enter the same ONLINE SYSTEM http://sastravel.online-booking.co/pay.php with your reservation reference code or contact us for bank details. Once we receive your payment in full we send you a further email with your confirmation and last minute details. (If you arrive 5-4 Days before to Cusco you can pay in cash USD$ or Soles.

2.- Bring your Passport, Immigration card (and ISIC card if applicable ) to our office at your arrival to Cusco. Bring a day backpack for a day trips. Train company don´t allow luggages on the train.

3.- The student US$20 discount for use of student cards is regulated by the site and INC itself, not SAS Travel. All student ISIC cards are validated by the control of the park and only accepted if you scanned a clear copy of your valid ISIC card through with your deposit at the time of booking and it was confirmed. A Youth Travel card is not accepted by the control.

4.- We strongly suggest you arrive to Cusco at least 2 days before the departure of this tour. Please let us know your hotel contact details once you have confirmed this or if you need assistance in booking a hotel in Cusco let us know.

5.- In this tour we try to get the 6.40am morning Vistadome train from Poroy ( Cusco) and the later return Vistadome train departing Aguas Calientes arriving back to Cusco around 7.40pm to allow enough time to fully explore in Machu Picchu.

6.- Changes to schedules or dates can only be made if there is availability in the alternative date and when train tickets have been finalized this incurs a further administration charge of $10 per ticket. At times a change of date may only be possible with an upgrade and so the difference in price would also need to be paid.

7.- CANCELATIONS BY CLIENT:

Cancelation of tour once you have received a written confirmation incurs a loss of 40% of total tour cost.

Cancelation of tour within 45 to 22 days before date of tour departure incurs a loss of 60% of total tour cost.

Cancelation of tour within 21 to 9 days before departure incurs a loss of 80% of total tour cost.

Cancelation of tour within 8 days to 48 hours before departure incurs a loss of 100% of total tour cost.

SAS Travel will take all reasonable care in providing service to our clients to avoid accident, illness, loss of personal property and will only employ suitably qualified staff to our clients to avoid accident, illness, loss of personal property and will only employ suitably qualified staff. We accept responsibility for the actions of our own employees. SAS Travel cannot however be responsible for any action or event that was unforeseeable or unavoidable. We also cannot be responsible for improper acts by clients or other third party. You are totally responsible for your own personal property and rented equipment.

SAS Travel does not take responsibility for additional costs due to unfavorable weather conditions, natural catastrophe, strikes, accidents, illness, injury, loss of personal items, etc. It is the clients responsibility to carry insurance to cover these types of events. We reserve the right to modify or cancel the program due to any of the unforeseen conditions listed above.

I have read and accept the conditions.