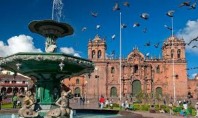 Leaving Dates
Price Information
US$ 540.00 p/person
(Based on Double / Triple accommodation)
Please Note
US$ 520.00 per person with ISIC student card.Please send us your card at the time of booking. Single Supplement for solo traveler US$ 80.00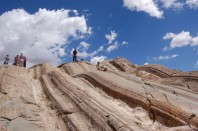 Overview
For any bookings recieve a free Up-grade to Deluxe rooms at our Marqueses Boutique Hotel. Please quote this offer when booking. Also we can offer private tours to places of your interest as the Andean Living Museum to alpacas, llamas, vicuñas, etc and expert Andean weavers in their natural environment near Pisac.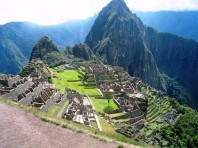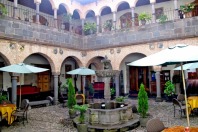 Difficulty
The most difficult part is acclimatising to Cusco´s altitude. Visiting the sites in the comfort of good quality transport is a delight but does require some walking up and down stairs.
Transport
bus and train
Adventure Cusco & Culture 6 Day
Last Minute Information
DAILY DEPARTURES !!!

The permits for Machupicchu citadel and train tickets are limited, FIRST COME, FIRST SERVED. You must book and pay a deposit well in advance. For high season (May to October, 5-4 months in advance.) See on Step 1:

AVAILABILITY

Low season (November to April, 3-2 months in advance.) Book ONLINE on Step 2:

BOOKINGS

Get a Code (Purchase Number) and pay a booking deposit of US$ 300.00 per person through Western Union to Mr: Irwin Jesus POMA FLORES (Peru)

or

Pay a booking deposit ONLINE on Step 3:

TO PAY

with Master Card or Visa card extra 5% US$ 315.00 per person. Book and pay as soon as possible to avoid disappointments.
Special Sacred Valley Pisac Market & Ruins, Magic of Cusco ,San Blas the artist barrio & Machupicchu
This itinerary has been very popular for those with only a short time to spend in Cusco who prefer not to hike the trail but go in classic style by train and overnight below the Lost City of the Incas.
We can if you need provide flight quotes for E tickets Lima -Cusco - Lima if you require. You can also add on extensions to Lake Titicaca, the Amazon and or Arequipa. You can get a better idea of the Hotel Marqueses and programs by looking at some photos on the website www.hotelmarqueses.com
Program Itinerary
Day 1: Arrival to Cusco
Reception in Cusco airport and transfer to Marqueses Hotel Cusco. Rest and acclimatize as you are now at 3,400 mtrs above sea level. If you are feeling up to it..Optional Afternoon: Guided Visit to the City as well as the nearby Inca Ruins of Tambomachay, Puca Pucara, Quenko and Sacsaywaman. ( or this can be done on your free day 5th. Return to the Hotel Overnight. Marqueses Hotel with Breakfast included.
Hotel Marqueses
Day 2: Sacred Valley of the Incas
At 08:45 am departure from Cusco in direction of the Sacred Valley. This Tour includes a Visit to the Pisac colourful Handcraft Market, the Ollantaytambo Inca Fortress and Return to Cusco via Chinchero town and Market. Overnight at the Marqueses Hotel.
Breakfast Lunch
Hotel Marqueses
Day 3: 2 Day Special Tour to Machupicchu
Early Breakfast before departure by train to Aguas Calientes. On arrival to Aguas Calientes you are met by staff of Viajeros Bed and Breakfast Hostal at the train and accompanied to the hostal to settle into your rooms. Free afternoon to soak in the famous hot springs and explore Aguas Calientes below Machu Picchu. Maybe walk to the Mandor Water Fall,Puente Ruinas the old Train Station or visit the renewed Machupicchu Site Museum.( Opened recently this year ) Overnight at the Viajeros Bed and breakfast. Dinner included in the Hostal.
Breakfast Dinner
Hostel Viajeros or would you like to upgrade here see more info below
Day 4: Machupicchu -Cusco
Early breakfast before the 6.00am bus to Machu Picchu. For a Guided tour followed by free time to further explore and maybe climb Wayna Picchu, Sungate or Inca bridge , Buffet lunch awaits you after the 45min walk down the trail back to Aguas Calientes (bus optional $6.00) Afternoon: Return by train to Cusco (and bus at times from Ollantaytambo) and transfer to Hotel Marqueses (Breakfast and Lunch Included)
Breakfast Lunch
Hotel Marqueses
Day 5:
Cusco Free Day to recuperate or Choose from a variety of one day activities that you can nominate on your arrival to Cusco. Rafting / Mountain Biking / Horse Riding ; Cusco University Inca Museum, Artist neiborhood of San Blas or just Shopping. Also can be exchanged with Day 2 to allow tour of Sacred Valley Overnight in Cusco. Marqueses Hotel with breakfast included.
Breakfast
Hotel Marqueses
Day 6: Adios al Cusco
Transfer to airport for your flight back to Lima. OR Extension flights or Transport to Puno -Lake Titicaca, the Amazon - Puerto Maldonado or Colca Canyon in Arequipa.
Breakfast
What is Included:
Transfers in and out

Sacred Valley with Buffet Lunch & City Tour with Private Transport and English speaking Tour Guide

4 nights in Standard Private Rooms in Hotel Marqueses Breakfast included

1 night in Hostel Viajeros in Aguas Calientes Breakfast included

2 Day Classic tour to Machupicchu with 3 meals included

Bus down to Aguas Calientes $7.00
What is not Included:
Lima-Cusco / Cusco Lima Flight Tickets & Airport Taxes

Entrance fees to the sites of Sacred Valley and City tour

required to purchase (Cusco Tourist Ticket 130 soles approx US$45)

Half price for students with ISIC card.

+*Entrance to Koricancha (or Qorikancha) 10 soles

+*Entrance to Cathedral 25 soles

Meals when not indicated

Hot springs 10 soles

Tips for your guide.
We recommend that you bring
Specifically for the overnight train tour to Machupicchu

You only need to carry a small day pack with water bottle, camera, rain jacket/poncho, change of clothes, basic toiletries, sun hat/sunscreen, insect repellent, torch, comfortable sturdy shoes or hiking boots, extra money. All bedding and towel is provided in accomodation.
Additional options
Recommendations
If you have time then come to Cusco earlier as there is so much to do here! we can easily add extra nights to your package and make a special deal for you.

ACCOMMODATION in Lima

Hotel Leon de Oro us$110 Double Private Room with Breakfast included.

OPTIONAL EXTRA On arrival to Lima . Reception at the Airport followed by transfer to the hotel to rest before flight tomorrow. Two hotel options and transfers included. For more info on this option request info.

Casa Andina Hotel us$85 Double Private Room with Breakfast included.

Montereal Hotel us$74 Double Private Room with Breakfast included.

Melodia Hotel De Luxe us$75 or us$50 Standard Double Private Room with Breakfast included.

Embajadores Hotel us$ 75 Double Private Room with Breakfast included.

Hotel Kamana us$ 60 Double Private Room with Breakfast included.
Booking Information
Firstly.-

Before you book your tour we urge you to read all the information, descriptions, general details, booking conditions and tour notes for your trip.

Step 1.- CLICK ON: AVAILABILITY AND BOOKING** (SEE Availability for Incatrail trek permits, is recommended to book 6-3 months before)
Step 2.- REGISTER your PACKAGE NAME and personal details of each of you in separate forms.

You will receive a Reservation Code (eg: 240611001) It is possible to pay for 2 or more person with 1 reservation code.

Step 3.- PAY A BOOKING DEPOSIT

US$300.00 per person through

WESTERN UNION Money Transfer

in order to:

Irwin Poma Flores DNI 46612452 (SAS Travel, Cusco PERU)

Upon transferring the money email us the Money Transfer Number (MTCN) copy of your reservation and amount paid to: office@sastravelperu.com and david@sastravelperu.com to confirm your deposit. We will confirm your reservation on the same day.

PAY YOUR BOOKING DEPOSIT ONLINE.-

with Master Card or Visa: US$ 315.00 per person. (US$ 300.00 include 5% card charge.)

FINAL PAYMENT:

The remaining balance needs to be paid at your arrival to Cusco in Peruvian soles or US$ Dollars cash (Exchange rate 2.90 Soles for US$1). Payments with credit / debit cards are accepted with a commission of 8%, Travelers' cheques with 3% only at our Office in Cusco. Full payment of Package in advance will be with 8% extra.

PACKAGE PRICE INCLUDE:

Tourist Buses and De Luxe Expedition train tickets, accommodation in 3 start hotels, excursions with English speaking guides, 24 hours emergency assistance to ensure you have a peace of mind and safe vacation and all in and out transfers to airports, train station or bus terminals. This means when you get off a bus, plane, or train, you will be met by one of our SAS Travel english speaking representatives, who will drive you to your hotel or to your next tour. ( Breakfast in all your Hotels, Meals are included when are indicated)

PRICES DO NOT INCLUDE:

International air fares to Peru, meals other than those specified in your itinerary, personal expenses, personal insurance, and tips. Entrance fees to the archaeological sites in the tours (165 Soles or US$ 65) to pay directly to controlers.

TRAVEL INSURANCE:

We recommend you to obtain a personal Travel Insurance, including Medical Problems, Baggage loss or damage. If you need help to find a travel Insurance Company please let us know.

Eg, Nomad Travel Insurances.
PRIVACY POLICY:

All the information you provide us, full name, passport number, nationality, date of birth, telephone number, and address or your credit card info will be used strictly to process your trip arrangements. This information will not be shared with anyone.
Terms & Conditions
Please read the information below to learn more about your booking with SAS Travel.

You can book any of our Packages just as they are described on our web site or we can customize an itinerary to meet your exact needs and requirements.

As soon as we receive your booking on-line OR the reservation booking form we will start processing your tour reservations and will send you a promt confirmation by e-mail .

Please note that each Package has a certain deposit amount depending of the character of your tour.

One of our Agents will contact you in a few days to e-mail the official confirmation for your tour including your Reservation Code and Hotel Names.

The balance needs to be paid at your arrival to Cusco in US$ Dollars cash or in Peruvian soles to the exchange rate of the date. Payments with credit / debit cards are accepted with a commission of 5%, Travelers' cheques with 3%.

On your arrival in Cusco city, or in Lima if is that the case all Travel Vouchers & Tickets will be given to you.

We expect to receive your flight detail re-confirmation 48 hours before your arrival just to ensure there are no last minute changes

in the mean time please feel free to contact us if you require any assistance.

TOUR PRICE: Our Trip Prices includes: domestic airfares, bus or train tickets, accommodation in 3 start hotels, excursions with English speaking guides, 24 hours emergency assistance to ensure you have a peace of mind and safe vacation and all in and out transfers to airports, train station or bus terminals. This means when you get off a bus, plane, or train, you will be met by one of our SAS Travel english speaking representatives, who will drive you to your hotel or to your next tour.

PRICES DO NOT INCLUDE: International air fares to Peru, airport taxes, meals other than those specified in your itinerary, personal expenses, personal insurance, and tips. Entrance fees to the archaeological sites I the tours.

TRAVEL INSURANCE: We recommend you to obtain a personal Travel Insurance, including Medical Problems, Baggage loss or damage. If you need help to find a travel Insurance Company please let us know. Eg, Nomad Travel Insurances

DOMESTIC FLIGHT TICKETS: Flight tickets purchased in Peru to LAN are non refundable neither changeable, so please take notice of this when you organize your voyage.

CANCELLATION POLICY:

1. If you cancel your booking more than 90 days before departure, the cancellation fee is 50% of deposit.

2. If you cancel your booking 89 to 30 days before departure, the cancellation fee is 100% of deposit.

3. If you cancel your trip while traveling in Peru, the cancellation fee is 100% of Trip price.

PRIVACY POLICY: All the information you provide us, full name, passport number, nationality, date of birth, telephone number, and address or your credit card info will be used strictly to process your trip arrangements. This information will not be shared with anyone.