Very Important:

Rains and Flooding Across Peru

The Government of Peru continues to assess the effects from unseasonably heavy inland rains and associated flooding along the coastal areas of Peru. Rains are expected to continue for few more weeks. The most widespread, severe effects are in the northwest of the country, in the regions of Tumbes, Piura, Lambayeque, and La Libertad.

More concentrated incidents of flooding, mudslides, and inundated roads and bridges have occurred around Lima and the Ica Region. Some roads in the central highlands, especially in the regions of Ancash and Junin, have experienced travel delays and disruptions. Areas in the south of the country around Cusco and Arequipa have been affected less severely by the rains than areas farther north. Our Tours and treks in Cusco have not been affected at all, the trains are running as normal, tours visiting sites and we don´t have delays neither cancelations of our trips.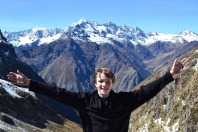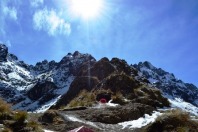 Price Information
US$ 540.00 p/person
(Based on Double / Triple accommodation)
Please Note
DAILY DEPARTURES !!!
2-3 person US$ 790 each
4-5 person US$ 690 each
6-9 person US$ 540 each
---
FIXED DEPARTURES:
GROUP TOUR US$ 540.00
Minimum 6 person
Difficulty
Distance: 45 km Duration: 4 Days
When to go: Best from April to October
Altitude: 3,800m/12,464ft to 5,165 m/ 16,941ft
Difficulty: Moderate to Challenging
Modality: Trekking, scenic and Cultural
Location: Mountain range Vilcanota -Cusco.
Day Temperature:15 ºC to 25 ºC / Night temperature:4ºC to -10º C
Remark: 2-3 day acclimatization required.
Briefing
At 7.00 pm at your hotel or at our Office Calle Garcilaso 270, it takes 20-30 minutes if you want also it can be at your hotel.
Transport
Private transport in and return to Cusco.
Auzangate Trek and Rainbow Mountain 4 Day / 3 Night Trek "NEW"
Last Minute Information
DAILY DEPARTURES !!!
How to Book

Choose your preferred Departure Date(Leaving Date) at the Calendar (left side) Fill in your details and group as requested and Pay a deposit on Step 3. Or follow instructions below in

Booking Information.

Select the month and date and click on the Calendar the Departure Date (Leaving Date) of your preference. Then fill out with your personal details and details of your group. (If you are travelling as a couple, or with more persons you must book and pay with one reservation Code.)
Program Itinerary
What is Included:
Transportation to Tinqui and Upis (Day 1) and return to Cusco (Day 4)

Horses to carry all the camping equipment, food, fuel ,Cooking equipment and Passengers belongings (8 kg per person) SAS provides a duffle bag for your belongings

All meals during the trip (4 lunches / 3 dinners / 4 breakfasts)

Expert bilingual guide English /Spanish. (guides in French, German by request)

Cook, assistant,horsemen /assistants

Camping equipment tents for 2 person and mattress are provided

Dinning tent

Toilet tent

Boiled water is provided during the trek.
What is not Included:
Sleeping Bags Down US$25 for 3 nights

Trekking poles a pair US$20

Snacks, dried fruits, raisins, energy cereal bars, chocolates

Back Pack $20

Hot springs 5 soles:

Optional Tips for the crew, Guide cook and horseman.
We recommend that you bring:
Change of clothes for the whole period of the trek & a daypack

SAS provides a duffle bag to transport your belongings ( 8 Kg each)

Minus 5 º C down sleeping bag

Hiking boots, strong footwear, ideally trekking or sport shoes

Trekking poles: Poles with metal tips are allowed on this trek

Warm clothes : layers for variable temperature especially at night

Thermals : Gloves / scarf : wool socks / woolen hat for cold nights minus 9 ºC

T-shirts and trekking pants that zipoff to short pants for a

Comfortable day walks

Flash light or head torch and batteries

Camera and extra batteries (batteries consume more quickly under cold conditions)

Sun block / hat to protect you from the sun, rain and cold and sunglasses

Personal medical kit

Rain jacket or poncho (plastic ponchos can be purchased in Cusco)

Toiletries / toilet paper / small towel

2 litre water bottle : disposable water bottles are not recommended

Original passport

Extra money for drinks & tips, souvenirs etc (in soles)

Emergency money at least 200 extra soles

Bathing clothes for the hot springs.Optional

Thermal Rest inflatable mattress

Snacks: biscuits, energy bars, chocolate, fruits, muesli, etc.

Social activities toward the children in our hike to Upis, Pacchanta, Jatun Finaya in Ausangate Please feel free to bring with you some warm clothes, toys, books and school equipment not necessarily new, and generic medicines for respiratory infections, flu, influenza, bronchitis, headaches, etc. the children will appreciate enormously with their unique smiles.
Booking Information
Select the month and date and click on the Calendar the Departure Date (Leaving Date) of your preference. Then fill out with your personal details and details of your group. (If you are travelling as a couple, or with more persons you must book and pay with one reservation Code.) But please complete details of your companion on lines below:

Travelling with:

(write Full names, Passport number, Age and Nationality). Once you finish sending us all your details you will receive a Reservation Code (eg: 240611001). Then you just need to pay your deposit online on Step 3 (pay for 2 or more person in your group with ONE reservation code, so we can guarantee all your permits, tickets for Machupicchu, train tickets and tour all together in a group.)

BOOKING DEPOSIT REQUIRED.-

USD$ 200 per person.

1.- Pay on Step 3 a booking deposit ONLINE with VISA or Mastercard.- US$ 210 per person. (US$ 200+5% card fee). Payments by credit card will carry a surcharge of 5%.

2.- Pay on Step 3 a booking deposit with Paypal.- US$ 212 per person. (US$ 200+6% card fee. Payments by Paypal will carry a surcharge of 6%.

---

FINAL PAYMENT:

We require a full payment of your tour transferring 1 month before OR pay in our office in Cusco 5-3 days before of your departure date in USD$ cash.