Very Important:

Rains and Flooding Across Peru

The Government of Peru continues to assess the effects from unseasonably heavy inland rains and associated flooding along the coastal areas of Peru. Rains are expected to continue for few more weeks. The most widespread, severe effects are in the northwest of the country, in the regions of Tumbes, Piura, Lambayeque, and La Libertad.

More concentrated incidents of flooding, mudslides, and inundated roads and bridges have occurred around Lima and the Ica Region. Some roads in the central highlands, especially in the regions of Ancash and Junin, have experienced travel delays and disruptions. Areas in the south of the country around Cusco and Arequipa have been affected less severely by the rains than areas farther north. Our Tours and treks in Cusco have not been affected at all, the trains are running as normal, tours visiting sites and we don´t have delays neither cancelations of our trips.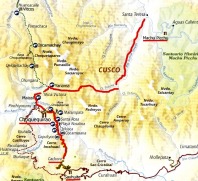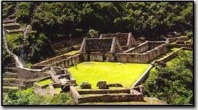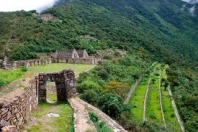 Price Information
US$ 1,890.00 p/person
(Based on Double / Triple accommodation)
Please Note
DAILY DEPARTURES.-
Departure dates upon your request and our Fixed Departure Treks:
SEE our AVAILABILITY page.
Include: MachuPicchu and Huaynapicchu Mt.
2 person US$ 1,890.00 each
3 person US$ 1,690.00 each
4-6 person US$ 1,390.00 each
7-10 person US$ 1,200.00 each.
The price of this tour will be according with the number of trekkers in this tour.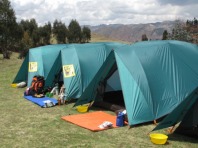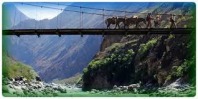 Difficulty
Difficult to Challenging.
Briefing
The night before of your tour at our office at 7:00 pm.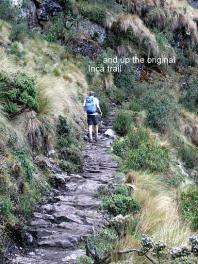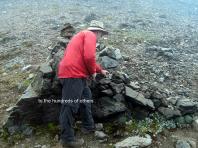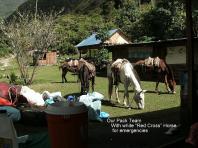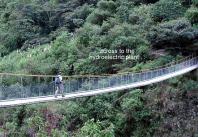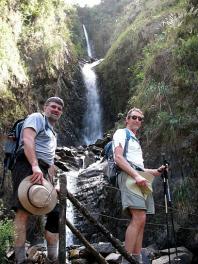 You are here: Trekkings to MachuPicchu (ALTERNATIVE TREKS) > Choquequirao Trek & MachuPicchu + HuaynaPicchu Mt. 8 Day/7Nights -Daily Departures.
Choquequirao Trek & MachuPicchu + HuaynaPicchu Mt. 8 Day/7Nights -Daily Departures.
Last Minute Information
DAILY DEPARTURES !!!

Participants required.- (2 people minimum). For group service please check out here our

OPEN GROUP FIXED DEPARTURES

Or try to gather a group of friends and build up your own group and you can select your preferred departure date. If you are a group of 2 and your preference is to hike this fantastic trek to Choquequirao, part of Salkantay trek, MachuPicchu and Huaynapicchu Mountain in a small group... it is possible, book this trip 5-4 months in advance...then we can try to get other trekkers and build up a small group for you. Cost of tour will be according with the number of trekkers in the group.

---

WHEN TO BOOK.-

You must book this tour and pay a deposit well in advance. (For high season (from May to October, 3 months in advance.) Low season (from November to April, 2-1 month in advance.)

---

BEST TIME TO HIKE.-

From end of April to end of December. (Not wet season).

ADVENTAGES.-

Not so crowded as other hikes around Cusco, you carry a small day pack, mules are provided to carry equipment and your belongings, amazing Inca sites located at the high jungle, impressive views of Apurimac Canyon.

---

HOW TO BOOK .-

Choose on the Calendar in this page the date of your preference (Leaving Date): Fill in out with your personal details and complete details of other participants in your group, once you have finalized you will receive a Reservation Code (Purchase number) to pay a booking deposit on Step 3. Pay a deposit online of $525.00 per person on Step 3 with Visa or MC or pay $500.00 per person with Paypal to SAS Travel Peru Or follow instructions below in

Booking Information.

---

ENJOY THE WALKING TO HUAYNAPICCHU Mt.-

This additional Ticket is included in this tour and takes 2 hours in and back (400 meters up). Walk to this emblematic mountain after your guide tour in MachuPicchu. We recommend to book online and pay a deposit well in advance to guarantee this additional pass.
Special Offer
BOOK a Tour with SAS Travel and GET a 15% DISCOUNT in our MARQUESES BOUTIQUE Hotel in Suite, Deluxe or Standard rooms plus a FREE pick up from airport at your arrival to Cusco. OR a FREE Sacred Valley tour to see Pisac, Yucay, Urubamba, Ollantatambo and Chincheros. (70 Soles Entrance fee to the ruins and lunch are not included.) Payment of accommodation is required in $ USD cash or Soles cash directly in Reception. To reserve please contact Miguel at: [email protected] but you must also indicate your tour reservation code with SAS Travel
---
Find more information here: www.hotelmarqueses.com "Charming and Amazing Hotel, Great Location one block near centre, Wonderful Staff and Excellent three star Hotel". © 2016 TripAdvisor LLC
Daily Departures for a Private tour
CHOQUEQUIRAW TREK + MACHUPICCHU 8 DAY TREK The old Inca Trail !!
Choquequirao or Choquekiraw means "Cradle of Gold" in Quechua Inca´s language, although this is probably not its original name. It is another "Lost City of the Incas" rediscovered officially late in 20th century located high on a ridge spur almost 1750 mts above the raging glacier-fed Apurimac River and surrounded by towering Salkantay and Humantay snow-capped peaks.
Choquequirao was build during the last days of the Inca empire in the government of the Inca Pachacutec 1490, by Tupac Inca Yapanqui, and probably after the Spanish invasion in 1532. Almost 40 years the Inca's held stand against the spanish conquerors (between 1536 - 1572). The construction of the different levels of temples, palaces, canals and aqueducts is really fantastic. "Choquequirao is the city which demonstrates the inspiring example of an elite Inca ceremonial center. A city dedicated to worship the "Pachamama" the andean mother earth "the Apus" mountain gods and divinities, the river and the elements of nature." Choquequirao finally burned down and left deserted. This happened probably after the execution of the last Inca, Tupac Amaru I in 1572.
Program Itinerary
What is Included:
Experienced English speaking Guide, Cook and Horseman

Private Transportation to Cachora,

Full board meals during the trek (vegetarian option or special diets by request

Camping Equipment Eureka tent for 2 person, dining tent, tables and chairs

Foam pad roll Mattress

Horses to carry camping equipment

1 Extra horse in case of emergency

Entrance Fees and Admission fee for Machupicchu

Tourist Train ticket return from Aguas Calientes to Cusco

1 Night in Hotel Viajeros in Aguas Calientes

6 Kg Porter for your personal belongings

A duffle bag is provided for your personal items

You need to carry small day-pack with camera, water and snacks.
What is not Included:
Up-Grade Vistadome train return to Cusco US$ 50 pp (Optional).

Sleeping Bags Down US$40 for 6 nights

Trekking poles a pair US$30

Back Pack 60 liters US$30

Bottle water, sodas or beers

Tips for your crew are optional not mandatory.

Optional Tips for the crew, totally to your discresion.
We recommend that you bring:
Personal sleeping Bag

Bottle of Water

2 liters of drinkable water for Day 1

Purification Tablets

Original passport in a plastic bag

Daypack with your daily personal items

Hiking shoes or waterproof boots

Raincoat or poncho

Water bottle, flashlight, hat, sun block, sunglasses

Warm clothes, Light clothes, 4 pairs of socks

Insect repellent

Tablets for the altitude Sickness, Coramine, Diamox

Extra plastic bags, to maintain our equipment dry during the rain season

Chocolates, candies or other snacks

Photo Camera with enough batteries
Please note
CHOQUEQUIRAO and MACHU-PICCHU Trek 8 Day and 7 Night.

-Private tour.

It's a mix of 2 amazing treks, Chokequiraw and a section of Salkantay mountain trek, we will pass from the Inca City of Chokequirao to Machupicchu, we need good trekking conditions and some experience, we also will see the difference between the Apurimac Valley(Chokequirao), and the Urubamba Valley(Machupicchu), altitude levels, landscapes and the variety of Plants and Animals. Distance: 110 km , When to go: Best from April to October,Altitude: 2,700 masl to 4,600 masl, Difficulty: Moderate

Daily Departures for Private tours.

We highly recommend you to include the walk to the mountain HuaynaPicchu in your tour to Machupicchu, it takes 2 hours and you can start after your tour finish, extra of US10 pp.

--

... A Machu Picchu without the crowds, without the vendors, without the long lines of buses snaking through the Peruvian countryside exists- and it's called Choquequirao. By ETHAN TODRAS-WHITEHILL.
Booking Information
Firstly.-

Before you book your tour we urge you to read all the information, descriptions, general details, booking conditions and tour notes for your trip.

Step 1.-

CLICK:

BOOKING HERE:
Step 2.-

Select your tour and fill out with your personal details. If you are travelling as a couple, or with more persons you must book and pay with one reservation Code. But please complete details of your companion or group on lines below:

Travelling with:

(write Full names, Passport number, Age and Nationality). Once you finish sending us all your details you will receive a Reservation Code (eg: 240611001). Then you just need to pay your deposit, pay for 2 or more person in your group with ONE Reservation Code, so we can guarantee all your permits, tickets for Machupicchu, train tickets and tour all together in a group.

BOOKING DEPOSIT REQUIRED.-

USD$ 500 per person.

1.- Pay a Booking Deposit with WESTERN UNION: US$ 500 per person through in order to Mr: Irwin POMA-FLORES (Peru). Upon transferring the money email us the Money Transfer Number (MTCN) copy of your reservation and amount paid to: [email protected] and [email protected]

2.- Pay a Booking Deposit ONLINE with VISA or Mastercard.- US$ 500 per person. (US$ 500+5% card fee). Payments by credit card will carry a surcharge of 5%.

3.- Pay a Booking Deposit with Paypal.- US$ 530 per person. (US$ 500+6% card fee. Payments by Paypal will carry a surcharge of 6%.

--

FINAL PAYMENT:

We require a full payment of your tour transferring 1 month before OR pay in our office in Cusco 5-3 days before of your departure date in USD$ cash.
Terms & Conditions
1.- YOU MUST ADVISE SAS TRAVEL OF ANY MEDICAL PROBLEMS OR ALLERGIES.

2.- YOU NEED TO BE IN GOOD PHYSICAL HEALTH.

3.- YOU MUST ADVISE YOUR GUIDE IF YOU WISH TO LEAVE THE GROUP, FOR INDEPENDENT WALKS OR SIGHTSEEING.

4.- IF YOU ARE EXPERIENCING ANY PROBLEMS WITH THE SERVICE OF THE GUIDE OR TOUR PLEASE ADVISE THE GUIDE IN THIS MOMENT SO HE CAN RESOLVE PROBLEMS AS SOON AS POSSIBLE.

5.- YOU MUST CARRY YOUR ORIGINAL PASSPORT AND STUDENT CARD (IF IS THE CASE) ON THE TRAIL, OTHERWISE A ADULT FEE WILL BE CARGED,

6.- CHANGE OF DATES IS NOT POSSIBLE AFTER THE TOUR HAS BEEN CONFIRMED AND PROCESSED, YOU MAY TRANSFER YOUR SPACE TO ANOTHER SUITABLE PERSON,THE BOOKING DEPOSIT WILL BE FORFEITED .

7.- CANCELATION OF TOUR WITHIN 6 WEEKS (42 DAYS) TO 1 WEEK (7 DAYS) OF DEPARTURE DATE INCURS A LOSS OF 80% OF TOTAL TOUR COST...

CANCELATION OF TOUR WITHIN 6 DAYS - 36 HOURS OF DEPARTURE INCURS A LOSS OF 90% OF TOTAL TOUR COST...

8.- CANCELATION OF TOUR WITHIN 36 HOURS OF DEPARTURE INCURS A LOSS OF TOTAL TOUR COST... HOWEVER WE CAN ORGANIZE AN ALTERNATIVE TOUR TO VISIT MACHU PICCHU BY TRAIN WITH OVERNIGHT IN AGUAS CALIENTES JOINING YOUR GROUP AND UTILIZING YOUR PERMIT WITHIN THIS CANCELLATION PENALTY CHARGE.

9.- THE PACKAGE INCLUDES: ACCOMMODATION IN AGUAS CALIENTES AND EXPEDITION TRAIN RETURN TO CUSCO.

10.- NO REFUND ON ORIGINAL PAYMENT. HELICOPTER AIR LIFTS AND MEDICAL ASSISTANCE ARE AT THE EXPENSE OF THE PASSENGER.

11.- YOU CAN HAVE A DOCUMENT TO CERTIFY ILLNESS AND PRESENT FOR YOUR TRAVEL INSURANCE.

12.- YOU ARE TOTALLY RESPONSABLE FOR YOUR PERSONAL PROPERTY AND HIRED EQUIPMENT.

13.- IF YOU BECOME ILL OR INJURED ON THE TRAIL AND ARE UNABLE TO CONTINUE, A PORTER AND MULE WILL BE PROVIDED TO ACCOMPANY YOU BACK TO AN AREA WITH EMERGENCY ASSISTANCE CAPABILITIES. HELICOPTER AIR LIFTS AND MEDICAL ASSISTANCE ARE PAID AT THE EXPENSE OF THE PASSENGER. IF YOU FAIL TO COMPLETE THE TOUR DUE TO ILLNESS WE WILL ASSIST YOU TO MEET WITH YOUR GROUP AT MACHUPICCHU TO RECOMMENCE YOUR TOUR AT THAT POINT. THERE WILL BE NO REFUND FROM THE ORIGINAL PAYMENT, HOWEVER WE WILL PREPARE A DOCUMENT TO CERTIFY ILLNESS WHICH CAN BE USED TO PRESENT TO YOUR TRAVEL INSURANCE COMPANY.

14.- SAS TRAVEL WILL TAKE ALL REASONABLE CARE IN PROVIDING SERVICE TO OUR CLIENTS TO AVOID ACCIDENT, ILLNESS, LOSS OF PERSONAL PROPERTY AND WILL ONLY EMPLOY SUITABLY QUALIFIED STAFF. WE ACCEPT RESPONSIBILITY FOR THE ACTIONS OF OUR OWN EMPLOYEES. SAS TRAVEL CANNOT HOWEVER BE RESPONSIBLE FOR ANY ACTION OR EVENT THAT WAS UNFORESEEABLE OR UNAVOIDABLE. WE ALSO CANNOT BE RESPONSIBLE FOR IMPROPER ACTS BY CLIENTS OR OTHER THIRD PARTY. YOU ARE TOTALLY RESPONSABLE FOR YOUR OWN PERSONAL PROPERTY AND RENTED EQUIPMENT.

15.- SAS TRAVEL DOES NOT TAKE RESPONSIBILITY FOR ADDITIONAL COSTS DUE TO UNFAVORABLE WEATHER CONDITIONS, NATURAL CATASTROPHE, STRIKES, ACCIDENTS, ILLNESS, INJURY, LOSS OF PERSONAL ITEMS, ETC. IT IS THE CLIENTS RESPONSIBILITY TO CARRY INSURANCE TO COVER THESE TYPES OF EVENTS. WE RESERVE THE RIGHT TO MODIFY OR CANCEL

I ACCEPT THIS CONDITIONS :