Very Important:

Rains and Flooding Across Peru

The Government of Peru continues to assess the effects from unseasonably heavy inland rains and associated flooding along the coastal areas of Peru. Rains are expected to continue for few more weeks. The most widespread, severe effects are in the northwest of the country, in the regions of Tumbes, Piura, Lambayeque, and La Libertad.

More concentrated incidents of flooding, mudslides, and inundated roads and bridges have occurred around Lima and the Ica Region. Some roads in the central highlands, especially in the regions of Ancash and Junin, have experienced travel delays and disruptions. Areas in the south of the country around Cusco and Arequipa have been affected less severely by the rains than areas farther north. Our Tours and treks in Cusco have not been affected at all, the trains are running as normal, tours visiting sites and we don´t have delays neither cancelations of our trips.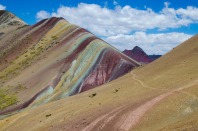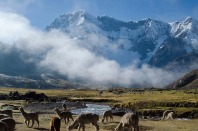 Price Information
US$ 298.00 p/person
(Based on Double / Triple accommodation)
RAINBOW TREK 2Day/1Night -Daily Departures !!!
Last Minute Information
DAILY DEPARTURES !!!

...HIGHLY RECOMMENDED TOUR.

---

HOW TO BOOK:

Choose on the Calendar the date of your preference (Leaving Dates, left side.) Select the month and click on your interested tour date the fill it out with your personal details, then below fill out details of your group in Traveling with, once you have finalized you will receive an email with a reservation code (Purchase number) to pay online a deposit with Visa or MC on Step 3. Or see below for more details in Booking Information.
RAINBOW TREK 2 Day/ 1Nigh
Aka: (Vinicunca trek, the rainbow mountain trek, Cerro Colorado, the colorful Mountain, Pucapunta mountain.
---
Daily departures !!!: (min 2 people) US$ 398 pp
Small group departures on: Monday & Thursdays. US$ 298 pp
Private 4x4 van
English speaking guide
Camping Equipment
Full board meals (Vegetarian option available)
---
RAINBOW TREK 2 Day/ 1Nigh Located at the south of Cusco and dominated by AUSANGATE range of Mountain (6371 m), this moved back area always remained isolated from the external influences Chilca and other andean villages, knew to keep intact much of their customs, traditions and habits of the pre-colonial period, its geological formations reveal all their splendour, in a contrast with the blue sky forming a formidable barrier enters the coastal desert and the Amazonian jungle, imposing cordillera Vilcanota counts almost as many glaciers as the White Cordillera.
Program Itinerary
What is Included:
Bilingual English speaking tour guide.

Private transport in and return to Cusco.

Comfortable Eureka Timberlime 4 Tent (2 ppl per tent)

Inflatable Thermal rest mattress and pillow

Dining tent with tables and chairs

Horses to carry all the equipment (food, tents, etc)

Horse to transport 6 kg of your personal gear

Duffle bag for your personal gear

Two breakfasts, two lunches and one dinner

Hot water for washing

Boiled and cold water to fill the water bottles.

Emergency oxygen bottle and medical kit.
What is not Included:
Sleeping bag $20 (you can rent one from us)

Trekking poles $20 (you can rent them from us)

Tips for the crew (guide, chef, wranglers) Not mandatory.
We recommend that you bring:
Original passport

Down or synthetic feather sleeping bag (can be rented from us)

Clothes (warm/winter jacket, rain pants, hiking boots, poncho, winter hat, gloves)

Water, snacks

Toiletries (toilet paper, wet wipes, personal towel)

Sun block, factor 35+ recommended

Head lamp,sunglasses and sun hat

Camera, Binoculars

Trekking poles (recommended especially for the steep descents, can be rented from us),
Booking Information
Select the month and date and click on the Calendar the Departure Date (Leaving Date) of your preference. Then fill out with your personal details and details of your group. (If you are travelling as a couple, or with more persons you must book and pay with one reservation Code.) But please complete details of your companion on lines below: Travelling with: (write Full names, Passport number, Age and Nationality). Once you finish sending us all your details you will receive a Reservation Code (eg: 240611001). Then you just need to pay your deposit online on Step 3 (pay for 2 or more person in your group with ONE reservation code, so we can guarantee a trip together.

together in a group.)

BOOKING DEPOSIT REQUIRED.- USD$ 200 per person.

1.- Pay on Step 3 a booking deposit ONLINE with VISA or Mastercard.- US$ 210 per person. (US$ 200+5% card fee). Payments by credit card will carry a surcharge of 5%.

2.- Pay a booking deposit with Paypal.- US$ 212 per person. (US$ 200+6% card fee. Payments by Paypal will carry a surcharge of 6%.

3.- For group booking and payments please contact: robyn(at)sastravelperu.com

FINAL PAYMENT: We require a full payment of your tour transferring 1 month before OR pay in our office in Cusco 5-3 days before of your departure date in USD$ cash.