Very Important:

Rains and Flooding Across Peru

The Government of Peru continues to assess the effects from unseasonably heavy inland rains and associated flooding along the coastal areas of Peru. Rains are expected to continue for few more weeks. The most widespread, severe effects are in the northwest of the country, in the regions of Tumbes, Piura, Lambayeque, and La Libertad.

More concentrated incidents of flooding, mudslides, and inundated roads and bridges have occurred around Lima and the Ica Region. Some roads in the central highlands, especially in the regions of Ancash and Junin, have experienced travel delays and disruptions. Areas in the south of the country around Cusco and Arequipa have been affected less severely by the rains than areas farther north. Our Tours and treks in Cusco have not been affected at all, the trains are running as normal, tours visiting sites and we don´t have delays neither cancelations of our trips.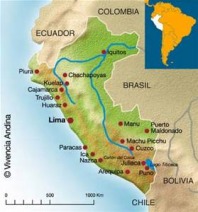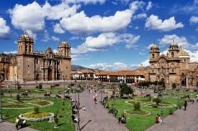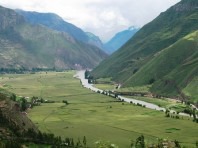 Price Information
US$ 1,998.00 p/person
(Based on Double / Triple accommodation)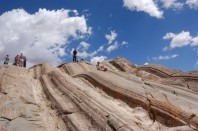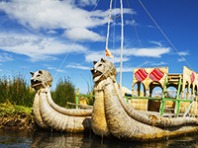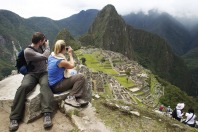 PERU & BOLIVIA. Cusco, Machupicchu, Puno Floating Islands, Copacabana, La Paz, Uyuni Salar 14 Day -Daily Departures.
Last Minute Information
DAILY DEPARTURES !!

HIGHLY RECOMMENDED TOUR.

---

HOW TO BOOK.-

Choose your preferred Departure Date (Leaving Date) at the Calendar (left side) Fill in your details and group as requested and Pay a deposit on Step 3 online with Visa or MC or through Paypal. Or follow instructions below in Booking Information. (If after booking your tour and you don´t receive an email from us please check out your spam box.)
CUSCO, MACHUPICCHU, PUNO FLOATING ISLANDS, COPACABANA, LA PAZ, UYUNI SALAR. 14 Days/ 13 Days.
Daily Departures.
---
Day 1: Arrive to Cusco. At 13:45 pm City Tour in Cusco, Saqsawaman, Koricancha. Hotel Marqueses
Day 2: Sacred Valley to Pisac full day, Ollantaytambo and Chincheros. Cusco. Hotel Marqueses
Day 3: Train Cusco to Aguas Calientes (MachuPicchu) Hotel Wiracocha or Presidente.
Day 4: Guided visit to Machu Picchu. Return to Cusco. Hotel Marqueses
Day 5: VIP Inka Express bus Cusco to Puno w lunch included. Hotel Qalasaya
Day 6: Lake Titicaca, Lake Los Uros,Taquile Night in local home
Day 7: Taquile Island. Return to Puno. Hotel Qalasaya
Day 8: Bus from Puno to Copacabana (Bolivia) Hotel
Day 9: Boat to Sun Islands Bus from Copacabana to La Paz.
Day 10: Day to see La Paz. 21:00pm: Overnight bus La Paz – Uyuni (10 hrs approximately).
Day 11: Incahuasi Island (Isla del Pescado)- Located in the middle of the salt desert, Incahuasi or Isla del Pescado
Day 12: San Juan. Tree Rock. Lagoons Laguna Colorada (Red Lagoon),
Day 13: The active volcano of "Ollague" and the following lagoons: Cañapa, Hedionda, Chiarcota.
Day 14: Red Lagoon - Green Lagoon – San Pedro de Atacama. This day we will leave very early to our tour (05:00 a.m). to be able to appreciate the Geisers better - fumaroles (volcanic area), but well-known as "Sun of Tomorrow" then we continue to the thermal waters - Polques, there we have breakfast, break, then continue to the "Green" lagoon located to the feet of the volcano Licancabur, to a height of 4.350 m.a.s.l., the green colour owes itself high content of magnesium that possess the geologic formations of the area, after our visit to the green lagoon we continue to the border "Emigration" and change the car to go to San Pedro de Atacama and you'll arrive around 13:00 pm. Included: Breakfast, shared jeep until the border "Hito Cajones" + transfer to San Pedro de Atacama. 4 Hrs to Calama from there you can flight to Santiago (Flight ticket not Included).. OR return to La Paz.
Booking Information
Select the month and date and click on the Calendar the Departure Date (Leaving Date) of your preference. Then fill out with your personal details and details of your group. (If you are travelling as a couple, or with more persons you must book and pay with one reservation Code.) But please complete details of your companion on lines below:

Travelling with:

(write Full names, Passport number, Age and Nationality). Once you finish sending us all your details you will receive a Reservation Code (eg: 240611001). Then you just need to pay your deposit online on Step 3 (pay for 2 or more person in your group with ONE reservation code, so we can guarantee all your permits, tickets for Machupicchu, train tickets and tour all together in a group.)

---

BOOKING DEPOSIT REQUIRED.-

USD$ 1,000 per person.

1.- Pay on Step 3 a booking deposit ONLINE with VISA or Mastercard.- US$ 1,050 per person. (US$ 300+5% card fee). Payments by credit card will carry a surcharge of 5%.

2.- Pay on Step 3 a booking deposit with Paypal.- US$ 1,060 per person. (US$ 300+6% card fee. Payments by Paypal will carry a surcharge of 6%.

---

FINAL PAYMENT:

We require a full payment of your tour transferring 1 month before OR pay in our office in Cusco 5-3 days before of your departure date in USD$ cash.